Honda celebrated its 60th anniversary at the World Cup in Assen
The Golden Wing brand brought together a luxury lineup in their 'hospitality' for such a special date: Doohan, Márquez, Freddie Spencer ...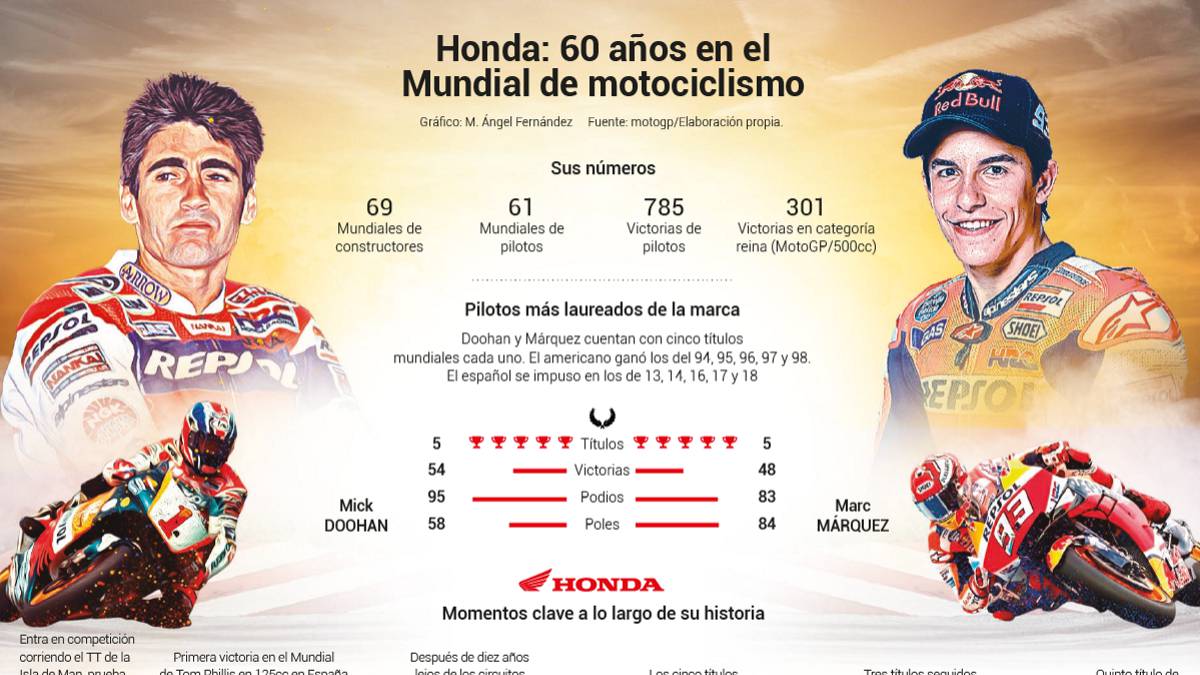 Luxury lineup at the 'hospitality' of Honda for the celebration of the 60th anniversary of the 'golden wing' in the World Motorcycle Championship: Tetsuhiro Kuwata, the director of HRC; Carmelo Ezpeleta, the CEO of Dorna; Jorge Viegas, the president of the FIM; Kunimitsu Takahashi, the first Japanese to win a GP with a Honda, in Germany 91; Freddie Spencer, three times world champion; Mick Doohan, five-time world champion; and Marc Márquez, heptacampeón of the world. And there could be many more, because it is the most successful factory of the championship, whose numbers and achievements are shown in the graphic that accompanies these lines. Everyone, how could it be otherwise, spoke wonders of Honda, and had reasons for it ...
" When I was a child I dreamed that I wanted to be a motorcycle world champion with a motorcycle built by myself. If I could achieve that dream it was clear that it was necessary to have a stable company with the most exacting precision equipment and an excellent level of internal design.These three demands prompted me to create a useful factory that would give us what it took to build my dream, but it was ironic that the more time I spent in creating that business, the farther I stayed from the races, the results obtained in the Sao Paulo race made us see what happens in other parts of the world and made us see what was necessary to to compete in the West, the progress was quite fast, but it was still necessary to establish a series of concepts to be able to win in the circuits and if something had to clear is not going to rest until we got it. Everything was in its place and our objective was to challenge the West, so our declared confession was to dispute the Tourist Trophy (the most international and recognized competition of the time), intention that we will look for until wasting the last energies and consequences with my companions of work ".
These words correspond to Soichiro Honda, president and architect of the birth of the Japanese giant of the two-wheel industry, which he sent to all his workers on March 20, 1954. The rest of the story is a endless victories in grand prizes (the first was Tom Phillis in the GP of Spain 61 of 125cc) and titles (the first were constructors, winning the 125cc and 250cc in 1961.) It was the beginning of a successful legend that still continues today and what remains ...
Photos from as.com