Hazard opts for two numbers
The Belgian showed up without a number on his back waiting for the exits. He could inherit the 7 from Mariano or the 11 from Gareth Bale.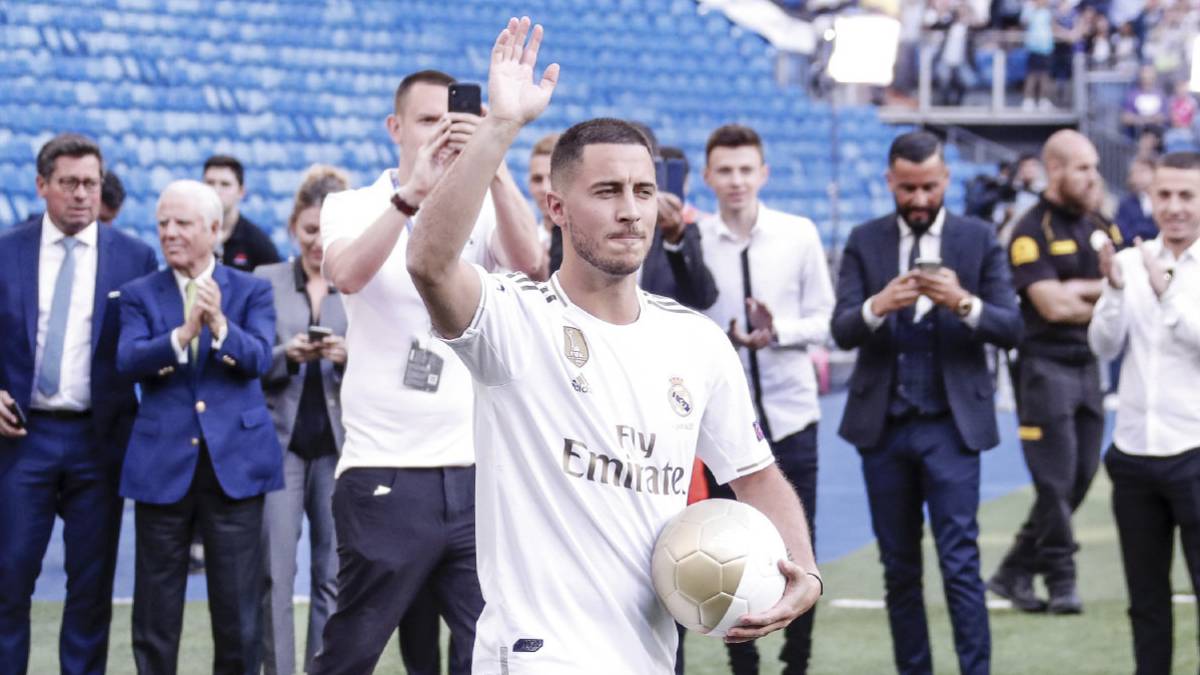 The dorsal that will take Hazard in Real Madrid is one of the big unknowns that have been of the presentation of the Belgian in the afternoon of this Thursday in the Santiago Bernabéu. As happened a day earlier with Luka Jovic, the footballer from Chelsea has stepped on the lawn of the white coliseum with no number on his back. In the locker room - where the t-shirts of the players with the typography of the numbers of last season still appeared - it was changed in the ticket office between the one of Fede Valverde (dorsal 15) and the one of Lucas Vázquez (dorsal 17), same space that Yesterday he used Jovic.
It does not seem probable, however, that Hazard will keep that number 16, the only free one besides 13. The most likely options are that the Belgian bears Mariano's 7 (and before Cristiano Ronaldo and Raúl) or the 11th 'property' of Gareth Bale, depending on how the departures of the Hispanic-Mexican and the Welsh can be made concrete. Last Friday, hours before officially announcing his signing, a photo of the official store of Real Madrid at El Prat Airport (Barcelona) where the shirt of Hazard with the bib number 7.
was posted on social networks was broadcast on social networks. who has played in recent seasons with Chelsea and the Belgium team is not available. Hazard even joked with the possibility of asking Luka Modric, his current owner at Real Madrid. "I talked to Modric through Kovacic, I told him if he left me on 10, but he said no, it's not important for me, it's important to play with this shirt and with this shield" .
Hazard started to use the 10 in its last season in the Lille (2011-2012) and it has conserved it in its Chelsea except in its two first seasons, in which it carried the 17 until Mata, with its exit to Manchester United, released the 10 In the selection of Belgium, he alternated between 7 and 10 in his beginnings as an international until he was consolidated with his current dorsal, wearing on occasion the 16.
Photos from as.com