González, García and Ana Carrasco: three of three in Jerez
An early celebration of Pratama has left the first Spanish triplet of the year in a 'cajón' that has been decided by 48 thousandths.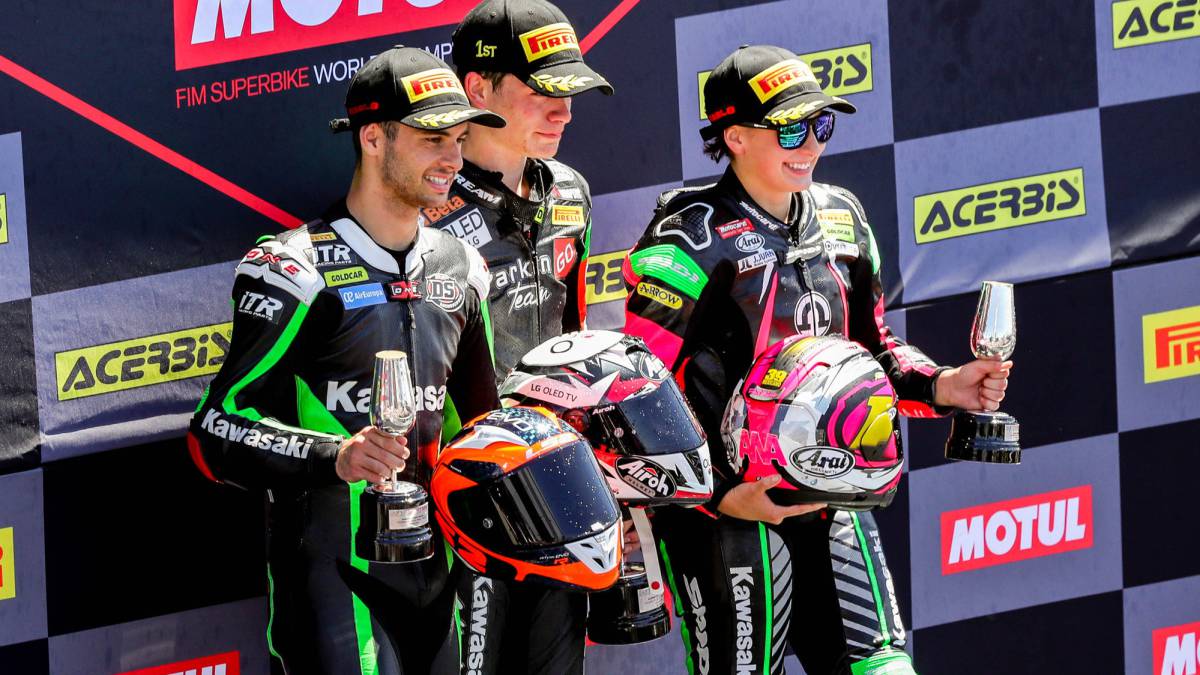 If the circuit of Jerez yesterday closed its track activity with Spanish flavor after the victory of Marc García and the third place of Ana Carrasco in Supersport 300, today the podium of the category has returned to shine at the top Spanish flag ... by triple game. There were three of our representatives, but the anthem sounded in honor of Manu González after having achieved a very tight victory by only 19 thousandths with respect to the pilot of the Junior DS, that he repeated again in the drawer, y 48 compared to the Murcia who traced his position on Saturday after taking advantage of the overconfidence that penalized Pratama in the final meters of the straight line.
All that happened on the second day of the day for the category. turn off the traffic light for the first time, an incident on the first round of a race scheduled to eleven in which s e have been involved Pedeneau, Deroue and Sanchez in turn three, forced to take red flag and interrupt the activity to set a new start to seven laps. In that boot, Garcia took the opportunity to take poleman Steeman's first place and take the lead while behind, the leader of the category and Ana Carrasco began to find their place in the head group.
Se repeated the image of Saturday and in the middle of a squad of pilots fighting for everything, the Murcia took the opportunity to become leader in the style of Jorge Lorenzo, leaving recorded a maneuver abroad in the curve 6. But Gonzalez has not been slow to respond and in that same turn has been placed in front to master a test in which he has made it very clear that he wanted to sign his name in the most jump. Both riders together with Garcia have managed to catch a few meters, that with three laps to go they have disappeared repeating a final in a group with everything to decide.
Steeman and Pratama have entered to be part of a fight that has faced its last chance with Ana Carrasco in front. The Murcia, after debuting on the podium during the day yesterday, wanted more and sought victory until the end. However, has been Gonzalez on the straight who has gotten his way, conquering his third win of the season and leading a podium that has been decided by 'photo finish' and that Pratama has held before time. The Indonesian has lost the necessary speed that has given the Kawasaki rider the last step of the box with more Spanish flavor than ever.
The next championship will be June 23 in Misano.
Photos from as.com