Edmilson: "I would not sign Griezmann, there's no room for him"
He played for Barça between 2004 and 2008. He won two Leagues and the Champions of 2006. He attended Ace for a few minutes at the restaurant Rosa dels Vents.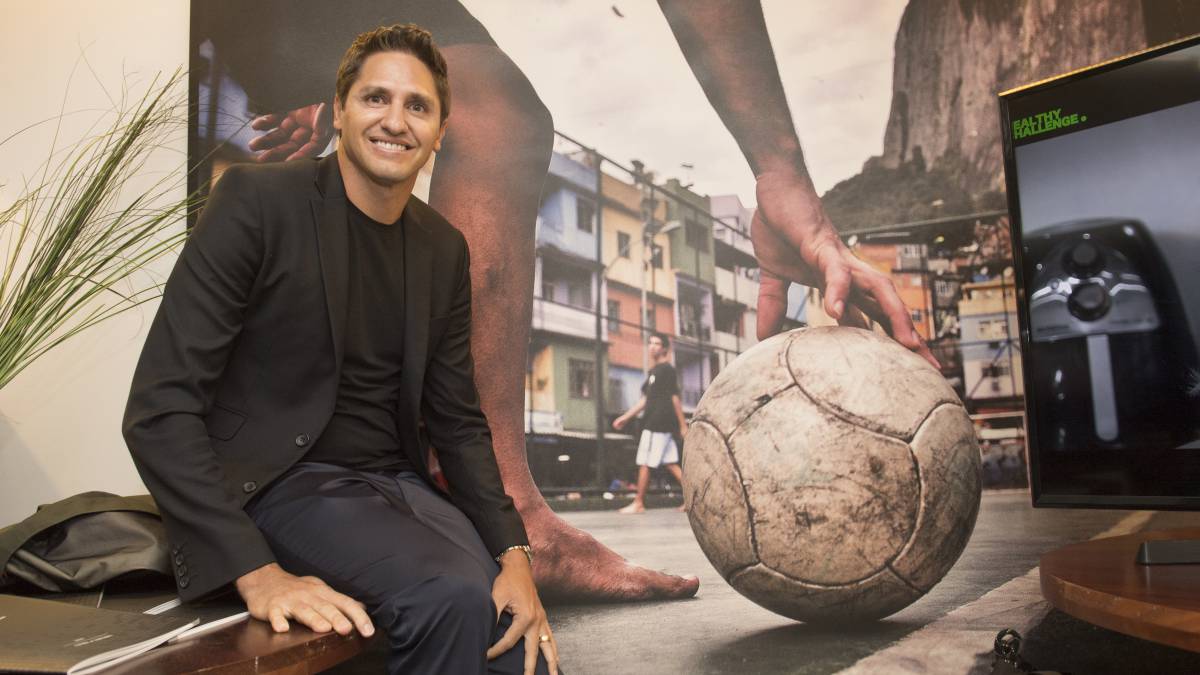 José Edmilson de Moraes, 42 years old, played for Barça between 2004 and 2008. World champion in 2002 with Brazil, with Barça he won two Leagues and the Champions of 2006. He attended Ace for a few minutes in the restaurant Rosa dels Vents in the Eixample district of Barcelona.
A direct start. Neymar yes or Neymar not for Barça? Neymar yes for Barça. Who does not want to have Neymar on their team? He is having a delicate moment in his personal and sporting career and if there was a possibility that he could return, he would bet, yes, to return.
She shared the wardrobe with Ronaldinho and saw a fall. What would you do to avoid the same thing happening to Neymar? I think you have to stay focused and maintain challenges in your career. I think Ronie had conquered the World Cup, the Golden Ball and already had his head to live outside. We all knew his way of life and what he was going to do with his future. Neymar has won the Champions League with Barça, yes, but still dreams of being world champion and being the best player in the world and that is achieved with time. It is time to make decisions and he has to decide if there is more value in his career as a player outside or on the field. Many times, I think it is closer to doing things outside the field than in the field.
Is it a broken toy? No, I do not think so. It's different from Ronaldinho. Insist Ronaldinho knew what he wanted and Neymar knows what he still wants, wants to succeed. A player who was always kicking while he was playing and he was aggressive, did not clutch. He is not afraid When the game was difficult against PSG, that day he took the ball, took responsibility and made the 6-1. He never hid. Equal in these difficult moments can turn around and return to make the world champion to Brazil.
I return to Neymar later but I wanted to ask him about Coutinho. You have been a Barça player and have played at the Camp Nou. It seems that he has not been able to deal with this environmental burden. What diagnosis do you make? I think a lot of things happen in a season. Personal problems inside and outside the field. And that takes its toll. It is true that it has not been up to him during the season and I hope he can make a great Copa America and can return to regain confidence and return here next season. And if it can not be, and there is a great offer to leave, why not leave?
Can you get scared to play at Barça, could that have happened? No. I think that players like Coutinho, Dembélé, players who played internationally are not afraid. Sometimes they are not in their preferred position, they may not be comfortable, but I think they do not have fear.
It seems that the debate is being whether to choose Griezmann or Neymar. Neymar would be better? I do not know if Neymar is coming but he would not sign Griezmann. There is no room for Griezmann.
So clear. That position has an owner. I think that on the site where he played at Atletico de Madrid he plays Messi. And if Dembélé plays as left winger, Messi and Suarez, perhaps a nine as more reference we may need another nine for when Suarez can not play 60 games. That would be a good nine and a good signing. I have nothing against Griezmann. He is a good player, but I do not see him. I think it's not the piece that Barça needs.
4
Do you think Barça lacks physicality in midfield? Arrive Arthur, De Jong but Busquets or Rakitic age. No. I think that Barça has had his style for many years and Guardiola has played for many years with Xavi, Iniesta and Busi in the middle. Maybe in a game you may need a player that gives more strength and more power but Barça can not lose a style of so many years and a philosophy. But the club needs to put young people during the season.
Is it difficult to find Edmilson in the market? It seems that it is tending to a certain specialization again and not the multi-purpose player. You played the center, the midfielder and the same played a touch that brought the team with their strides. It is difficult, yes. It is true that the Dutch teams build this type of player and before in Paris too. In France too. Barça has had Sergio Busquets but today.
If I had to bet something, would I say that Neymar will play next year at Barça? For me Neymar would be a Barça player tomorrow. Is very good. There is a bad moment, of being a superstar more outside the field than inside. I am from Barça and Neymar is very good. I want it in my team always like all the good ones.
Photos from as.com