Draft 2019: thus all the elections of the 30 teams were left
That's how the 2019 NBA draft definitely ended: the 60 elections that make up the new generation 'rookie' for the 2019-20 season.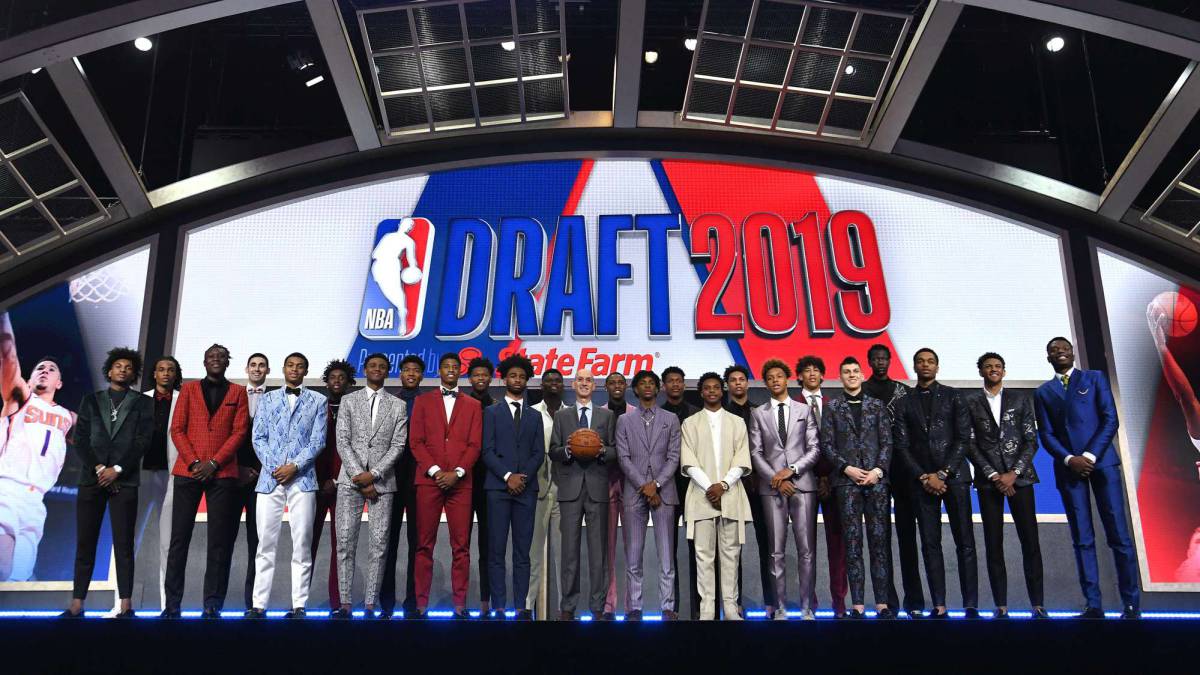 The NBA 2019 draft was held, one obviously marked by the figure of Zion Williamson, the new great star and one of the most anticipated players in the league perhaps from the very LeBron James. No surprises, Zion took the number 1 and, as expected and more after the transfer of Mike Conley to the Jazz, the Grizzlies took Ja Morant with 2. From there, a very nervous high area saw as the Hawks climbed the number to take the forward De'Andre Hunter and the Timberwolves, to 6 of the Suns to take over Jarrett Culver in a top-10 very moved, with many moves behind the scenes and surprises as Jaxson Hayes elections in the 8 and the Japanese Rui Hachimura in the 9th. The first European arrived in the 15th place and it was the Frenchman Sekou Doumbouya, the youngest player in the draft (he will arrive in the NBA with 18 years old) and that is still to be done but which is already is compared to Pascal Siakam, one of the most important players of the current champion, Toronto Raptors.
This left all the selections of the 'draft' 2019
1. New Orleans Pelicans: Zion Williamson (Duke)
2. Memphis Grizzlies: Ja Morant ( Murray St ate)
3. New York Knicks: RJ Barrett (Duke)
4. Atlanta Hawks (via NO Pelicans via LA Lakers): DeAndre Hunter (Virginia)
5. Cleveland Cavaliers: Darius Garland (Vanderbilt)
6. Minnesota Timberwolves (via Phoenix Suns): Jarrett Culver (Texas Tech)
7. Chicago Bulls: Coby White (North Carolina)
8. New Orleans Pelicans (via Atlanta Hawks): Jaxson Hayes (Texas)
9. Washington Wizards: Rui Hachimura (Gonzaga)
10. Atlanta Hawks: Reddish Cam (Duke)
11. Phoenix Suns (via Minnesota Timberwolves): Cameron Johnson (North Carolina)
12. Charlotte Hornets: PJ Washington (Kentucky)
13. Miami Heat: Tyler Herro (Kentucky)
14. Boston Celtics: Romeo Langford (Indiana)
15. Detroit Pistons: Sekou Doumbouya (Limoges)
16. Orlando Magic: Chuma Okeke (Auburn)
17. NO Pelicans (via Atlanta Hawks via Br ooklyn Nets): Nickeil Alexander-Walker (Virginia Tech)
18. Indiana Pacers: Goga Bitadze (Mega Bemax)
19. San Antonio Spurs: Luka Samanic (Petrol Olimpija)
20. Philadelphia 76ers (via Boston Celtics): Mattise Thybulle (Washington)
21. Memphis Grizzlies (via OKC Thunder): Brandon Clarke (Gonzaga)
22. Boston Celtics: Grant Williams (Tennessee)
23. OKC Thunder (via Memphis Grizzlies via Utah Jazz): Darius Bazley (No university)
24. Phoenix Suns (via Boston Celtics): Ty Jerome (Virginia)
25. Portland Trail Blazers: Nassir Little (North Carolina)
26. Cleveland Cavaliers: Dylan Windler (Belmont)
27. LA Clippers (via Brooklyn Nets via Denver Nuggets): Mfiondu Kabengele (Florida State)
28. Golden State Warriors: Jordan Poole (Michigan)
29. San Antonio Spurs (via Toronto Raptors): Keldon Johnson (Kentucky)
30. Cleveland Cavaliers (via Detroit Pistons via Milwaukee Bucks): Kevin Porter Jr. (USC)
31. Brooklyn Nets: Nic Claxton (Georgia)
32. Miami Heat (via Indiana Pacers via Phoenix Suns): KZ Okpala (Stanford)
33. Boston Celtics (via Philadelphia 76ers): Carsen Edwards (Purdue)
34. Atlanta Hawks (via Philadelphia 76ers): Bruno Fernando (Maryland) .
35. New Orleans Pelicans: Didi Louzada (Franca)
36. Charlotte Hornets ( via Washington Wizards via Orlando Magic via Denver Nuggets via Atlanta Hawks): Cody Martin (Nevada)
37. Detroit Pistons (via Dallas Mavericks): Deividas Sirvydis (Rytas Vilnius)
38. Chicago Bulls: Daniel Gafford (Arkansas)
39. Golden State Warriors (via New Orleans Pelicans via Atlanta Hawks): Alen Smailagic (Santa Cruz Warriors)
40. Sacramento Kings: Justin James (Wyoming)
41. Golden State Warriors: Eric Pasch all (Villanova)
42. Washington Wizards (via Philadelphia 76ers, Atlanta Hawks via Charlotte Hornets): Admiral Schofield (Tennessee)
43. Minnesota Timberwolves (via Miami Heat): Jaylen Nowell (Washington)
44. Denver Nuggets (via Miami Heat via Atlanta Hawks): Bol Bol (Oregon)
45. Dallas Mavericks (via Detroit Pistons): Isaiah Roby (Nebraska)
46. Los Angeles Lakers (via Orlando Magic via Brooklyn Nets): Talen Horton-Tucker (Iowa State)
47. New York Knicks (via Sacramento Kings): Ignas Brazdeikis (Michigan)
48. Los Angeles Clippers (via Brooklyn Nets via Indiana Pacers): Terance Mann (Florida State)
49. San Antonio Spurs: Quinndary Weatherspoon (Mississippi State )
50. Utah Jaz (via Indiana Pacers): Jarrell Brantley (Charleston)
51. Boston Celtics: Tremont Waters (LSU)
52. Charlotte Hornets (via Oklahoma City Thunder): Jalen McDaniels (San Diego State)
53. Utah Jazz: Justin Wright -Foreman (Hofstra)
54. Philadelphia 76ers: Marial Shayok (Iowa State)
55. Sacramento Kings (via New York Knicks): Kyle Guy (Virginia)
56. Brooklyn Nets (via Los Angeles Clippers): Jaylen Hands (UCLA) )
57. Philadelphia 76ers (via Atlanta Hawks via New Orleans Pelicans via Denver Nuggets): Jordan Bone (Tennessee)
58. Utah Jazz (via Golden State Warriors): Miye Oni (Yale)
59. Toronto Raptors: Dewan Hernandez ( Miami)
60. Sacramento Kings (via Milwaukee Bucks): Vanja Marinkovic (Partizan)
Photos from as.com