Dovizioso: "Márquez has done an exaggerated time"
The Ducati was not bothered by the pass of Marc in Q2, but he was surprised to wait in the pits to leave: "It has some qualities in certain aspects in which it is superior to the rest."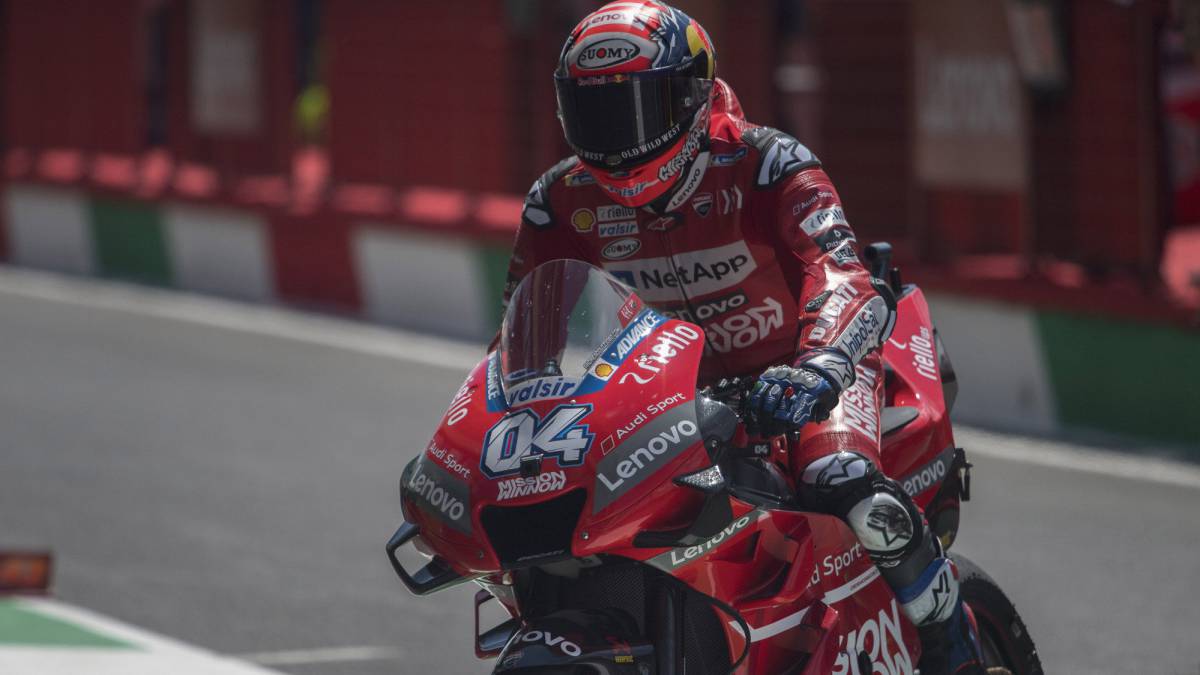 It's always nice to hear
Andrea Dovizioso,
in victory or in defeat, take the pole or qualify ninth as he has done in Q2 of the GP of Italy.
-What do you think of Marquez's strategy?
- That Marc is first or third does not change much. Marc does it for a while. I was twelfth at that time, with the first tire, with the middle, I did not do a good lap, which is when Marc overtook me, because I did not have a lap there, so I had to do a time at all costs, and he already had a good time, come on, I could not do anything else. It was not the best situation but I concentrated as well as possible, I did not make a perfect lap although it was good for me to do a 46.2, which is not bad. He has done an exaggerated time.
-He said yesterday that there was more competition this weekend and it has been confirmed ...
-Yes, it is not clear who will be ahead in the race, everyone has rolled strong. If you look at the FP4 there have been different strategies that are difficult to compare. Someone has changed the tire on the second start and then rolled around 1:45, a time that will not be done in the race, that is not the real rhythm, that will be seen after seven or eight laps. Is not easy. I do not know what to expect, especially about the behavior of the tires. There has been a significant drop especially in the second exit, which is not new in Mugello. You have to try to manage this in the best possible way tomorrow, you can not give importance only to the speed, because the tire is consumed a lot.
-Márquez always guesses with the strategy ...
-It is not a matter of getting to understand that. He has some characteristics, he is very strong in different aspects, but even more when he has to play with others: in the fight, in shooting when he wants, he is able to squeeze himself one hundred percent when he wants, and this is a characteristic that has and that few have. He plays with this. I think three quarters of my last lap was not so close to me, it was quite far, and he was able to catch me and put me in the ideal position to make the time. It is not so much the ability to make an adequate strategy, but that it has qualities in certain aspects in which it is superior to the rest.
-How much did you bother Marquez's overtaking?
-No, no, nothing, I was not on my best lap, I was riding the middle tire. It's not a new thing, and when it happens it does not surprise you so much. I was more surprised that I looked for when we mounted the second tire, wanting to shoot at all costs behind me, I have not understood very well why it has been. If he has done it, it will be because he watches me especially, because otherwise he would not have done it, he would have followed his path and ready.
-Is it worth leaving ninth having arrived from Q1 to Q2?
-I could have done better. I'm not happy, I did not expect to be ninth, I made some mistakes. It's not the perfect position for tomorrow, but I hope it's not a problem. I think I can make a good start and that I can get into a good position quite easily. The difference will make the tire we choose each.
-Is there a risk that a victory tomorrow Marquez close the World Cup, more psychologically than mathematics?
-Absolutely not. Probably, if he manages to win at Mugello it will be something a bit unexpected and that will not be good for the championship, but I do not believe it.
Photos from as.com