Doohan: "I thank you for not competing against Márquez"
The five-time champion declared himself "Marc's fan" at the celebration of Honda's 60th anniversary and Lorenzo said: "Nobody expected these results."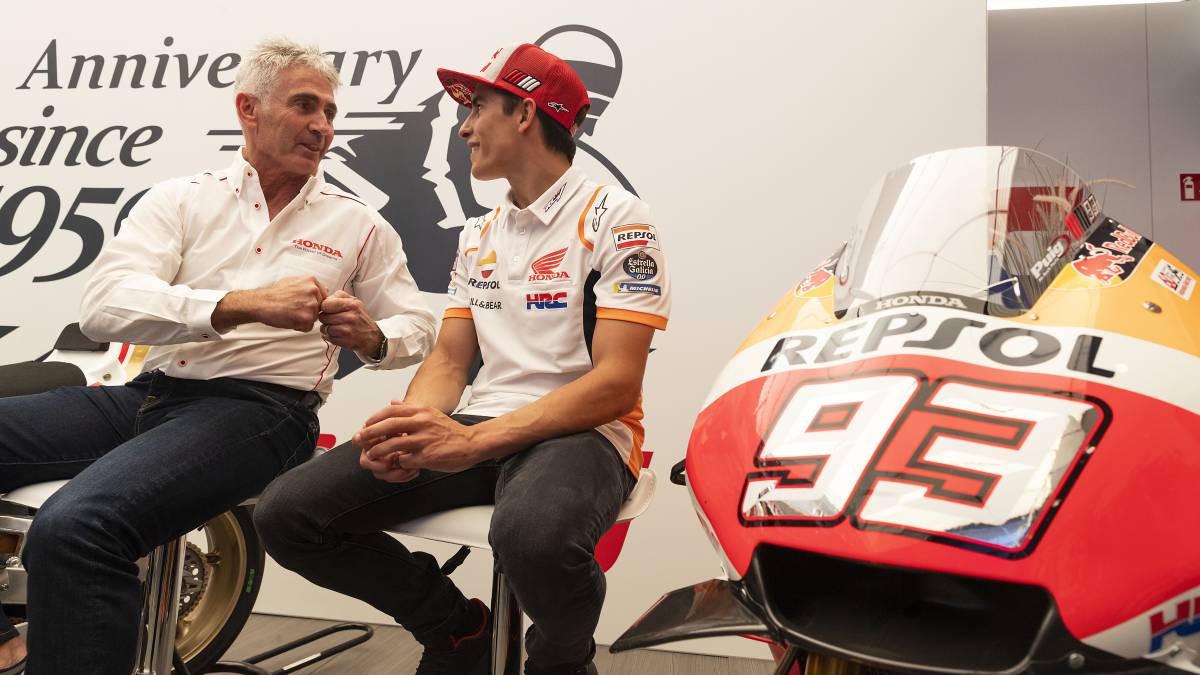 The event with which Honda celebrated its 60th anniversary in the World Cup served to reunite Takahashi, first Japanese winner with Honda in Germany 61, the triple champion Spencer, to the five-time champion Doohan and the great star of the moment, Márquez, seated right at Mick's side, with which it was a luxury to talk for ten minutes. Word of myth:
-What will you think when Márquez beat him in victories? 222222
-It's amazing what he's doing. I will only congratulate you. He has had many successes with the Honda and will continue to have them. At this level, the numbers are just that. When I competed I did not think about how much I would win, I only thought about winning. I do not compete anymore. My time has passed and now it's Marc's time. I'm a big fan of him. I will only applaud him when I do it.
-What would I be able to do if I were riding a MotoGP now?
-I thank you for not competing, for not competing against Marc. (Laughter). The bike is not easy to wear as it is seen with the other Honda. Marc is doing a great job.
-You see a lot of difference between him and the rest of the Honda riders ...
-It has to do with Marquez. Your mental strength every year is stronger. Your ability to save yourself from potential falls is only because of your confidence. He picks her up because his confidence is very high. What makes the difference is the mind. In addition, there is the development. I'm not there at all, but all the information that the engineers receive on tires and others comes from Marc, because Marc is winning. So the bike is becoming more comfortable for Marc.
-Is there Márquezdependencia in Honda?
-It's like Valentino. He left Honda and in the end, Honda won again. The pilots come and go. How many championships has Honda won? Will continue winning world. Always choose good pilots and will do so in the future.
-What can you say about the results of Lorenzo in Honda?
-I guess nobody expected it. The bike is not easy to drive. No Honda is, but you have to be committed one hundred percent. Marc is ready to pilot it. For different reasons, Jorge can not feel the bike to have confidence. We saw him in Barcelona, last week, with his accident. These things happen. When you do not achieve the feeling, accidents happen. He is not achieving the sensations he had with the Yamaha.
-Is it really a problem to share box with Marquez?
-Not really. I think Lorenzo is mentally strong. I can say it because I lived it. I went from Yamaha to Honda and now it seems the same: the Yamaha is much more manageable. Now it seems that Yamaha is not so competitive, but for a return and in terms of sensations is probably the best in the paddock. But the Honda, traditionally, what you feel at a technical level you do not see on the Yamaha. You need a different mental focus in the curves. It is seen in the way that Marc drives. He is aggressive and with the Honda you need to be aggressive. The fact that the Yamaha is more manageable is seen with Quaratararo. It's costing Jorge a little more to have speed. Surely he will be competitive when he achieves a balance between what he can do with the bike and what the bike can do for him.
-Do you see him reaching the top positions?
-I'm waiting for him. I'm waiting for him, for Honda, for MotoGP. It's better to have more people fighting in front. We know that the bike is capable of being in front. Jorge is also trained. You just have to put all the ingredients to fight for the title or, at least, in the remainder of the year, for being up.
Photos from as.com