Curry: "I'm devastated, Durant gave everything he had for us"
Stephen Curry lamented the injury of his teammate, as well as several teammates and rivals. "I did not think it was so serious when it happened," said Ibaka.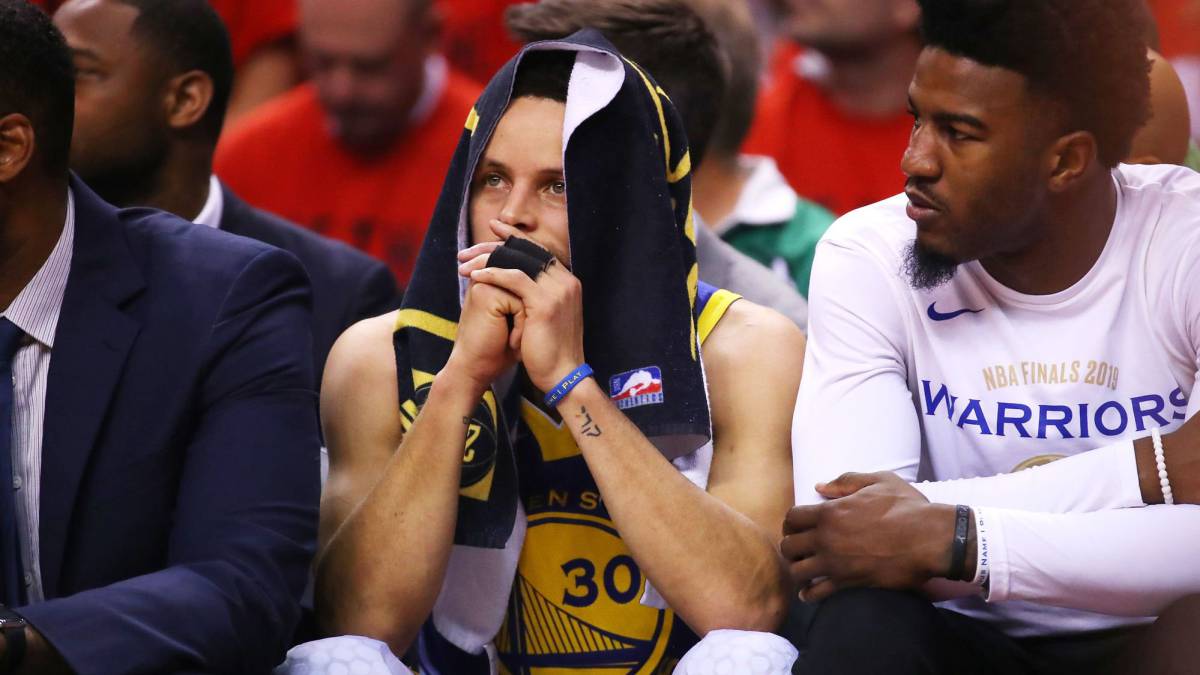 Kevin Durant's injury, which may have affected the Achilles tendon of his right leg, has left both teammates and rivals unnerved. The forward retired from the track early in the second quarter helped by his teammates. He did it initially with cheers of celebration from some fans, but the Raptors' speaker and players like Kyle Lowry or Serge Ibaka, who was Durant's partner during his time in the Thunder, quickly rejected that gesture and, later, of ScotiaBank Arena dismissed the injured between applause.
This was the game in which Durant reappeared after injuring his calf in the fifth game of semifinals Conference against the Rockets, but his team has not missed him until they have started Finals. In that period they have shown a great collective game, and it has even been said that the sensations on the track were better without the forward than with him, an opinion shared by his teammates. "He's the best player in the world, we do not pay any attention to him because it's stupid" , acknowledged Klay Thompson at the post-match press conference. For his part, Stephen Curry greatly regretted the new injury of his partner: "I'm devastated by a guy who has given everything for the team."
Ibaka: "I did not think it was so serious when it happened"
Although the defeat of the Raptors, who was teammate and now Durant's rival, Serge Ibaka, remembered his friend after the game. "I did not think it was so serious when it happened, when I picked up the ball, I launched the counterattack and when I came back, he was still on the ground" , said the inside of the Raptors when asked how he lived the moment of Durant's injury.
He also wanted to emphasize that nobody should be happy to see this type of situations, in which the basketball is in the background: "You know that basketball is a game but here are things more important in life than basketball. As a friend, another player who has been injured and injured, we can not cheer him up, it's one of the reasons we're here, because we play clean Something that happens to another I would not like to happen to me . "
Photos from as.com