Critérium Dauphiné 2019: profiles, stages and route
Check here the profiles and the route of the eight stages of the Critérium du Dauphiné 2019, which starts that Sunday in Aurillac and ends next in Champéry.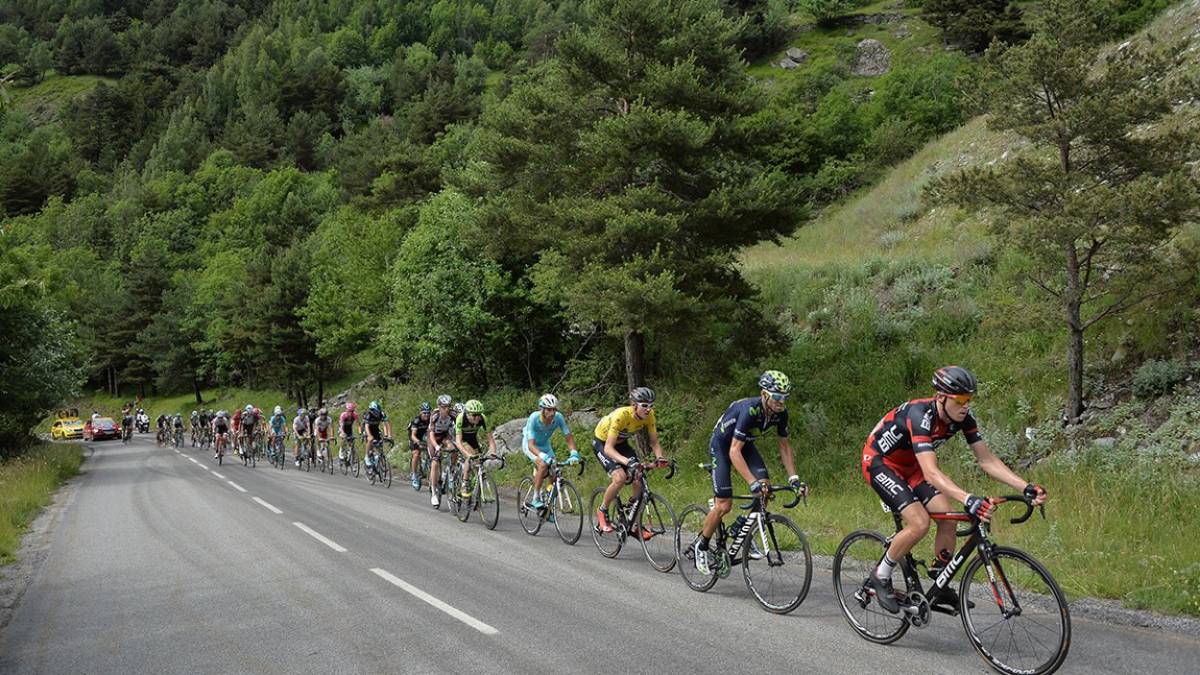 This Sunday, at around 11:00, the Critérium du Dauphiné will start at Aurillac, along with the Swiss Tour, the two World Tour stage races that precede the Tour de France. Chris Froome, Nairo Quintana, Romain Bardet, Thibaut Pinot or Richie Porte, among others, are confirmed to take the start. The layout will consist of two flat days, three half-mountains, one mountain and a time trial. Next we will show them:
Stage 1: Aurillac-Jussac (142 km, Half mountain)
It starts from the small town of Aurillac, in the Auvergne-Rhône-Alpes region, and heads towards the Cantal mountains to climb the Puy Mary, first class (10.6 kilometers to 6.1%), before returning to the west and completing a circular route with a fourth level, the Cote de Besse; a third, the Cote de Saint-Cernin, and two steps down the Cote de Roquenatou, second. The arrival is in Jussac, very close to the starting point, and there is intermediate sprint in Salers, at kilometer 55.
Stage 2: Mauriac-Craponne-sur-Arzon (180 km, medium mountain)
The race is held in Auvergne with departure in Mauriac, near Clermont-Ferrand, and heading east in a straight line until you reach Craponne-sur-Arzon. Along the way there will be a fourth level (La Toourbière du Jolan), four third (Martel, Cheylade, Chavanon and Baraque) and two second (Moussages and Saint-Victor sur Arlanc). The intermediate sprint will be in La Chaise-Dieu (km 147) .
Stage 3: Le Puy-en-Velay-Riom (177 kilometers, Llana)
First day propitious for the sprinters with the race heading south and then return to the north . It leaves a small town framed in the Ways of Santiago in France whose cathedral of French Romanesque style is Patrimony of the Humanity. After surpassing four levels of fourth category (Allègre, Augerolles, Courpière and Coulaud) and an intermediate sprint in Entraigues (km 161), Riom is reached, with a last kilometer that itches slightly upwards.
Stage 4: Roanne-Roanne (26 km, CRI)
The streets of this city, north of the Auvergne and famous for its textile and armament industry, will host the only test against the clock of the race. It will be a somewhat convoluted route that will also cross nearby towns such as Saint-Alban-les-Eaux, Saint-André d'Apchon, Pouille-les-Nonais and Saint Lèger-sur-Roanne.
Stage 5: Boën-sur-Lignon-Voiron (201 km, Llana)
Still in the Auvergne, the sprinters will have their second chance to win a victory. Four levels of fourth category will mark the route: Saint-Galmier, Saint-Symphorien-sur-Coise, Givors and Vienne. There will also be a flying goal in Pajay (km 148) before reaching Voiron, very close to the Alps.
Stage 6: Saint-Vulbas Plaine de l'Ain-Saint-Michel-de-Maurienne (229 kilometers, Half mountain)
Up to eight climbs will face on this day the runners, as an aperitif to the two mountain stages that will close the week. There will be two second (Chambotte and Saint-Georges d'Hurtières), two third (Aiton and Bocher) and three fourth (Lachat, Chateauneuf and Frene) before the final selection in Col de Beaune, also 2nd (8 , 1 km to 6%). At Le Chatelard (km 117) there will be an intermediate sprint.
Stage 7: Saint-Geniz-les-Villages-Les-Sept-Laux - Pipay (133 km, Mountain)
A flying goal at Nances (km 34) will be the platform from which the Col de l'Épine will be attacked , first (7.6 kilometers to 7.2%), which will link with Col du Granier (12 kilometers to 5.8%) and Col de Marcieu (10.4 kilometers to 6.1%). The high end will be in the Montée de Pipay, special category (19 km to 6.9%)
Stage 8: Cluses-Champéry (113 kilometers, Mountain)
A constant low-low to close. The Cote de Chatillon-sur-Clusses, third grade, is climbed from the start, followed by the Cote de Rond, second, and the Montée des Gets, third. Then comes one of the first two, the Corbier (7.6 kilometers to 7.5%); an intermediate sprint at La Chapelle d'Abondance; Morgins, third, and the last first: the Cote de Rives (8.5 kilometers to 6.2%). After a small descent, the final in Montée de Champéry, third (5.5 kilometers at 4.2%).
Photos from as.com