Courtois, from Hazard's dorsal: "Same wait to see who goes, who stays ..."
The Belgian attended the Spanish media in Brussels and hinted that Zidane has told him he will be a starter: "I think that's why I also chose Madrid."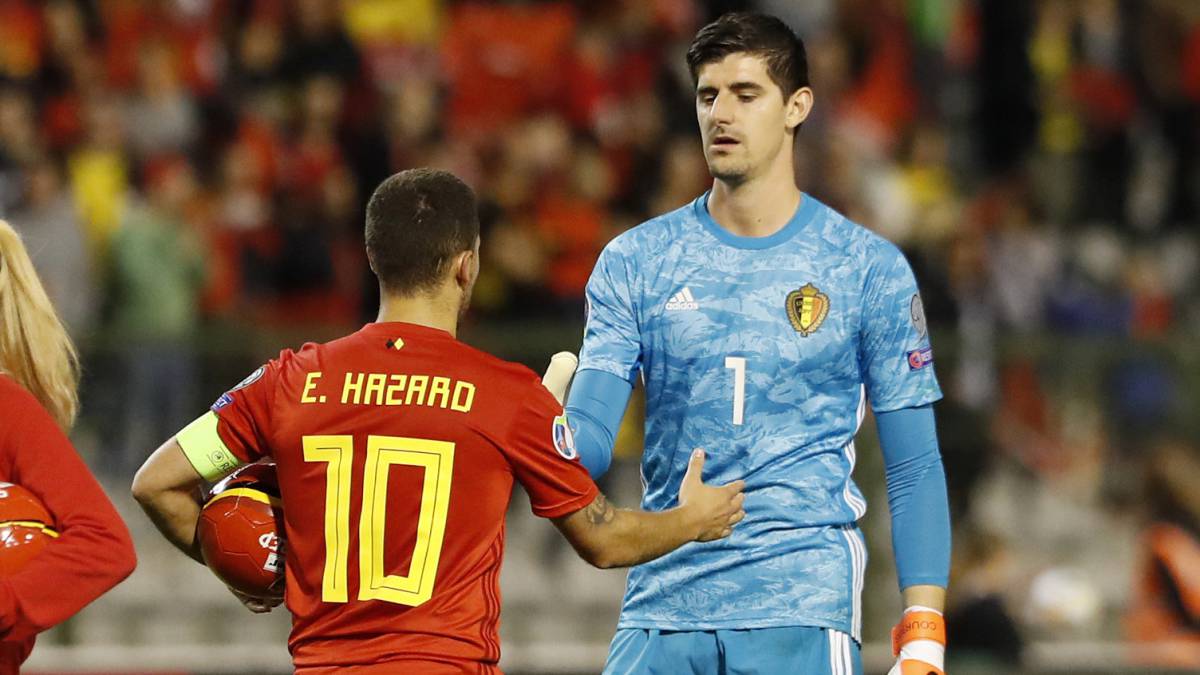 On Saturday, after Belgium 3-0 Kazakhstan, the Spanish media (AS, Mediaset and Gol) in Belgium asked Courtois to stop in mixed zone. The goalkeeper of the Red Devils and Real Madrid, with a smile, summoned them to Tuesday ... and fulfilled after the triumph (3-0) against Scotland.
Congratulations for the victory and the door to zero. How do you rate the match?
He has gone well, calm, against a defensive team. We could have scored more goals, but his goalkeeper has been very good. In the end I had to intervene twice, so well to finish the year with two wins, 12 points in total and without conceding.
Vino only and turns with Hazard ...
Everyone is happy to see him play in Madrid . He is very excited, like all Real Madrid. I am sure that on Thursday you will love seeing the stadium, everything.
He asked for the Bernabéu: how is it, what does it feel ...?
I told him to prepare a speech.
Have you helped him write it down?
I told him to prepare it because it's time to talk and it was there, there. Maybe he thought he was joking. You know from my day last year that it's something incredible. The stadium knows it also from before. He has never played there, but he knows it is incredible. Besides, I've told him so.
Have you asked him about Zidane this week?
I'm sure they talked on the phone so that Eden would be calm and rest on vacation to give everything since July.
Did you hear about the signing?
I knew it from the morning and then told another teammate because it was already closed with the teams and only the statement was missing. He was very happy and everyone who loves him also.
How did they celebrate it?
With nothing because the day after he had left and, even though it was against Kazakhstan, it had to be prepared well. Will you be able to take a bottle of champagne with your family to celebrate it in the holidays.
Do you fit in the profile that you need, the leader of the field?
A leader is not necessary because Serigo (Ramos) is a great leader in the field, in the locker room ... He's going to play very well up front, I know the defenders will have a lot of respect for him, they'll know that they'll have to cover him between two ... There's room for him, for Karim ... He's going to be very good: he brings assists, danger, goal ... I hope he's doing very well.
If it were Florentino, of all the players in the market, would he have signed him?
Yes. I do not choose, but yes. Not only for the personal, that I get along very well with him, but for how he is as a player, what he has done in the Chlesea, also here in Belgium. He is a top person, too, and will fit very well in the locker room. He also wants to learn Spanish. Speak a couple of words, a couple of joking phrases, but I have no doubt you will learn fast.
How has Eden lived the presence of Spanish media here?
I hope you leave him a little in peace (laughs). When chips for the most important club in the world, is what there is. He knows and will be ready to give everything for the fans, to wear that shirt, make goals, win trophies ...
Help us ... Where are you going to sit next year, among which players? (The box office in the locker room of Madrid goes by dorsal) .
(Laughter) There are many numbers already taken, I do not know if you will choose now or wait a little longer to see who is leaving, who stays ...
Has he said that he likes it?
Eso ... I can not tell you (laughs). He likes 10, but it's Luka (Modric), obviously. I think the dorsal is not the most important thing, but the shield. We will see.
Did Zidane tell you he will be the starting goalkeeper?
We have talked and that is between the two. I'll start the year with much desire, ready to win titles.
By that little smile with which he responds, I guess he told him he will be a starter ...
I think that's why I also chose Madrid. I have a lot of respect for who is. This year we have not done well and we will continue working to improve and give joy to the fans.
Photos from as.com