Conchita Martínez: "Winning Wimbledon changes your life"
The former Spanish tennis player, winner of Wimbledon in 1994, reviewed what was his victory in the title match against Martina Navratilova. "It's nice to be remembered for that."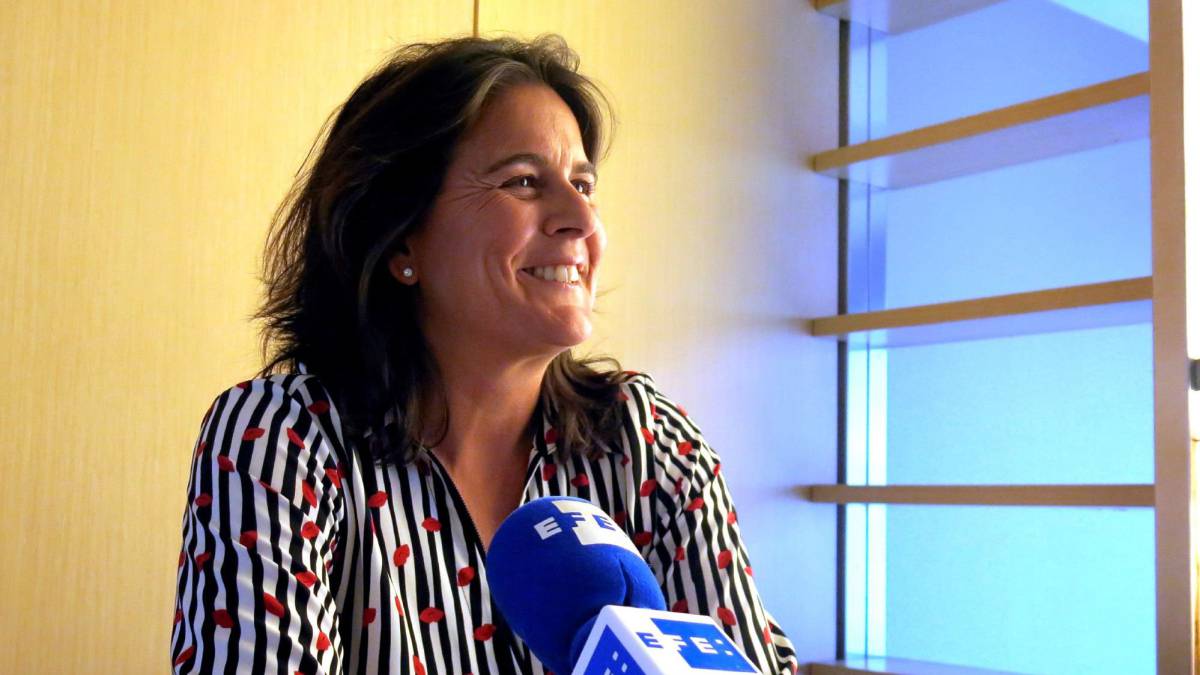 Conchita Martinez will celebrate on July 2 the 25th anniversary of her victory at Wimbledon, a title that recognizes that "it changes your life" and after which "the difficult thing is to continue training, play the next tournament and settle down to continue ".
In an interview with Agencia EFE, the Aragonese recalled the match ball with which she won the US Martina Navratilova (6-4, 3-6 and 6-3)," without fear, or vertigo ", but yes "with a little chill", because having been the first Spanish to win at Wimbledon "is something great" .
- Does a title like Wimbledon gain value with the passage of time?
- I do not know if it acquires more value because when it happened was there and it is true that it is good to remember it. We are excited about it. Years go by and it's nice to have that memory, an important feat and that people remember you for that.
-He was 22 years old, how did that end influence him?
- It's true that being a title of that Spread changes life, but right away, I do not know if in two weeks, I was playing the next tournament. That's the hard part, to win there and continue with the necessary focus to continue training and playing, because there are many things you must do when you do something like this, many receptions ... The best thing is to go to play the next tournament, lay your head and go forward. You can take a week, but it is convenient to go back to the routine and keep focused on your work, which is the important thing and will give you more points to celebrate many more.
- How did you prepare to play with Navratilova? won 9 times at Wimbledon? Did it generate more pressure?
- It was not easy, the important thing was to follow the routines and that I did it well, the preparation, the food, I did not change many things. And mentally prepare the game, not like any other but similar, because it is a game more, with much more importance because it is a final. But if you get well and shot, you do not have to do much more. She came with confidence, having recently played with her in Rome, even if it was on land, and she had won it. That also gives you that extra you need so that despite being grass, it would be difficult, you can win.
- But playing on the ground is different than doing it on grass ...
- On land everything is much slower and that benefited me and I had much more time to prepare my game. In the grass I knew that things were going to be much faster and that I would have constant pressure from Martina to get on the net, which I did have. But the semifinal match against Lori McNeil helped me because it was a similar style of play, although one is left-handed and another is right-handed, but I had to pass a lot to McNeil to win, because I think they were 10-8 in the third and coming ready for all possible network uploads. I had a very good match
- Would you say that he made a perfect match?
- I had a very good game. Perfect is difficult, but the reverse passing shot went very well. Perfect not because I would not have lost a set, but it was a very good match.
- That Navratilova was left-handed made it more difficult, had to change his game?
- Yes, especially in the remains, a bit your tactics And if at some point you play on the wrong side when you are left handed, you have to change the directions. With Martina I was looking for more that backhand side, but the important thing with a player who makes a serve and net and who continuously wants to go up is to have her in motion at all times and that she is never stopped to play her game
- Did she feel fear or vertigo when Navratilova I tied it after a set?
- I do not remember neither vertigo nor fear, the match was being good, I was not playing badly, but on grass they break the serve once and it is already very difficult to recover it. They also took care of me because they were loading my gluteus area and I jumped in the third set and I was able to maintain the service, break the serve and end up winning.
- What did you think when you had a match ball?
- Sometimes it's true that it gives you a little chill, but it's important that you do not get too many things in your head because that means you take away the focus and attention of hitting the next ball, the next point and being centered. You have to let go of your arm, remember the 'match ball' and see that I'm not going to go to the net, but there was a rally in which he left me with two balls that were half short and with the second I said to myself: "I have to do something". I went to the network and she, when trying to pass me, went away and that's when I raised my arms. It was an immense joy and also that tranquility that is already there, I just won and little by little you are assimilating what that means444444
- And what do you mean?
- Winning at Wimbledon is something great, where until then only Manolo Santana could do it. After me came 'Rafa' and Lili Alvarez, much earlier, who came to a pair of finals. But we Spaniards were not very good at it because we played better on land, because we grew up and grew up in it. The greatness of winning in a very complicated area makes you "friends" with her and that you can do great things as well.
- How did you start with tennis?
- I started in Monzón (Huesca) where I was born, in two tracks that there was and that I saw from the gallery of my house. And playing a lot against the fronton and with a coach named José María Sanvicente who played a lot with me. Little by little I got that illusion. It cost my parents, especially my mother, when I went to Barcelona at the age of 12, but her support has always been there, I have never been put under pressure.
- She has been a player, captain of the Spanish Davis Cup teams and Federation, coach of Garbiñe Muguruza and now she is with Pliskova. How is the Conchita coach?
- I am quite demanding, I like to train specific things and I focus a lot on what the person I work with needs. As a player I was a perfectionist and now I'm not looking for perfection, but I do take care of those details in which you can make a difference. My facet of player helps me a lot to understand the players. It is an advantage that we have having played at a high level, you can identify with many situations they are living.
- And with Pliskova how are you doing?
- Very good, the truth is that I am very happy , it's very good. It has been a very positive start to the year. Up to here very happy.
- She also remains linked to tennis as a television commentator. Do you want to stay connected for a long time?
- Tennis is my life and at the moment I am sure that I will be linked to it in some way and in all facets. I was also the director of the Marbella tournament. They are things that help you understand and develop other facets and continue to train and continue learning. Tennis is my passion. I am passionate about entering the track, I am passionate about training players and I am living my dream.
Photos from as.com