Arbolino, Dalla Porta and Masiá for a podium in 78 thousandths
The Italian becomes the sixth winner of the season in six races and signs home his first victory. Canet, seventh, maintains the lead by three points.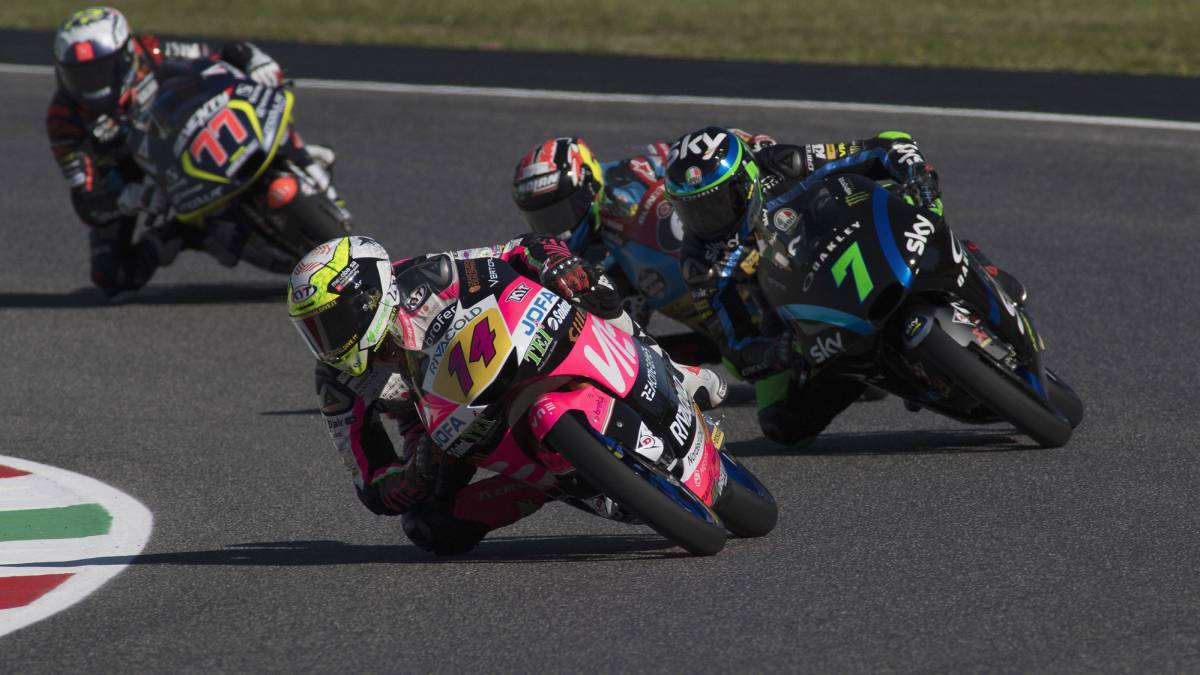 A podium decided in only 78 thousandths. This is how exciting the end of the race of Moto3 in the GP of Italy. has been The magic of Mugello always helps, of course, and also the bravery of some kids who were looking for glory and that it has been reserved for Arbolino, Dalla Porta and Masiá, the three members of the podium.
The final lap was reached with a group of eight riders in the lead and it was impressive the braking that was marked Masia, to overcome from the sixth square to the lead. The Valencian held the first position until turn 12, Correntaio, where Dalla Porta overtook him, and in the last one, Bucine, he also surpassed Arbolino. From that moment on, there was only the war of rebounds on the straight, which served Arbolino more than anyone to overcome his compatriot by only 29 thousandths. Masiá tried to climb positions also, but did not give his effort nothing more than not to lose place, which is not bad either.
Tras the three headed unsuccessfully searched a gap on the podium Antonelli, Foggia, McPhee, Canet and Suzuki . They were somewhat cut Vietti, Binder, Fernandez, Arenas and Garcia, who managed to finish his first World Cup and compressed the group of the first thirteen in just two and a half seconds. It was expected more of Canet, but his KTM was not on this occasion at the height of the mechanics of his rivals and in the long straight Mugello was hard to keep on track. Despite the seventh place finish, he keeps the first position of the general, although Dalla Porta with his second place has made an important cut and remains nothing more than three points. Arbolino is third at 13 and Masiá is fourth at 18.
The race was not the most exciting Moto3 at Mugello, perhaps because they ran with more head than ever in the head. Even so, they saw up to seven different leaders (Arbolino, Dalla Porta, Rodrigo, who fell, Suzuki, Binder, Antonelli and Masiá). As for the fall section, a total of nine, some spectacular, such as Toba and Sasaki, but all without significant injuries to regret. Among those who kissed the ground, Lopez when he was running tenth in a head group that reached 17 units.
Photos from as.com