Alcaraz falls to the first as Álvarez Varona; Gimeno happens
Alcaraz (13th favorite) fell to Kodat (double 6-4) and Álvarez Varona, against Arnaldi (7-6 (8), 2-6 and 6-4). Gimeno beat Lerby (6-2 and 6-4). Custic and Mintegi pass in the female box.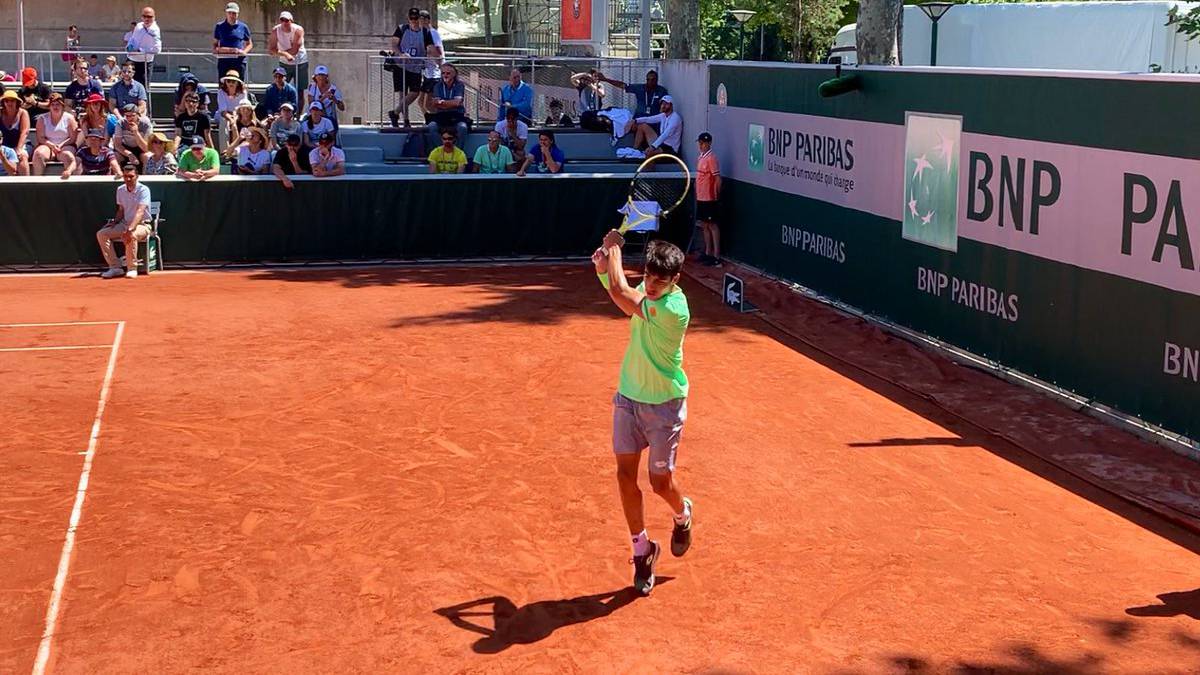 Venía to Roland Garros with a mixture of enthusiasm and pressure for what he had done throughout this year. And Carlos Alcaraz, Murcia 16 years old on May 5, can only enjoy a game in the individual table of the junior tournament, because this Sunday has fallen in the first round against the American of the same age Toby Alex Kodat, a kind American Nalbandian, by his appearance, which won by a double 6-4 in 80 minutes.
Of Czech origin, speaks the language of his parents, in addition to English and French. He loves to play on the ground and had played this year in Australia (he reached the eighths). From his 1.79 he made life complicated for Alcaraz, the youngest player to win a top-200 since Nadal in 2002 and the youngest also on the circuit with points ATP. For Carlos this was the debut in a major and was took a disappointment of which insurance will recover in the future, for its quality and mentality.
También Nicolás Álvarez Varona (Burgos, 18 years) could not advance, who feinted with comeback against Matteo Arnaldi (18), but fell by 7- 6 (8), 2-6 and 6-4. The Italian, who had already won an ITF tournament and was in Melbourne as Nicolás (who has already played all the Grand Slams and is in his junior year), had nerves of steel to advance in the tiebreak of the first set and although he lost the second, he regained his game to take the victory. Alvarez Varona will continue playing in doubles next to the Canadian Baadi.
The good news of the day for the Armadita was given by Carlos Gimeno Valero, a 17-year-old Valencian, who beat the Dutchman Christian Lerby 6-2 and 6-4 and will play in the second round against the Argentine and fifth favorite, Tirante. Carlos, an admirer of Ferrer and Nadal, and who would like to play Djokovic in a film, took better than his rival and dominated the game completely.
Mintegi and Custic advance in the women's
In the junior women's box, two of the three Spanish representatives went to the second round. Ane Mintegi del Olmo (Idiazábal, 15) won the Ukrainian Viktoriya Pretrenko by 6-2 and 6-1 in 63 minutes. Fan of Nadal, would like to make a pair of doubles with another Basque, Lara Arruabarrena. He likes meat and ice cream. Now he will face the French Monnet or the American Noel. Marta Custic (Tenerife, 17 years old) came back against the Latvian Darja Semenistaja (3-6, 6-4 and 6-3 in 1h: 50) and also waits for rival: the Canadian Fernandez or the Russian Tkacheva. Marta likes series and movies, admires Kvitova, Halep, Nadal and Federer; The pasta is truffled with eggs and truffles, and when he finishes playing he relaxes in the hotel. She was not as lucky as she Carlota Martínez Círez (Zaragoza, 18 years old), who was eliminated by the Polish Priska Madelyn Nugroho (7-5 and 7-6 (3) in 1h: 57).
Photos from as.com