A first day of almost blind renovations at Espanyol
AS played the atmosphere among the first subscribers of Espanyol for the 2019-20 season, including Ramon Toll, with the number 17 card.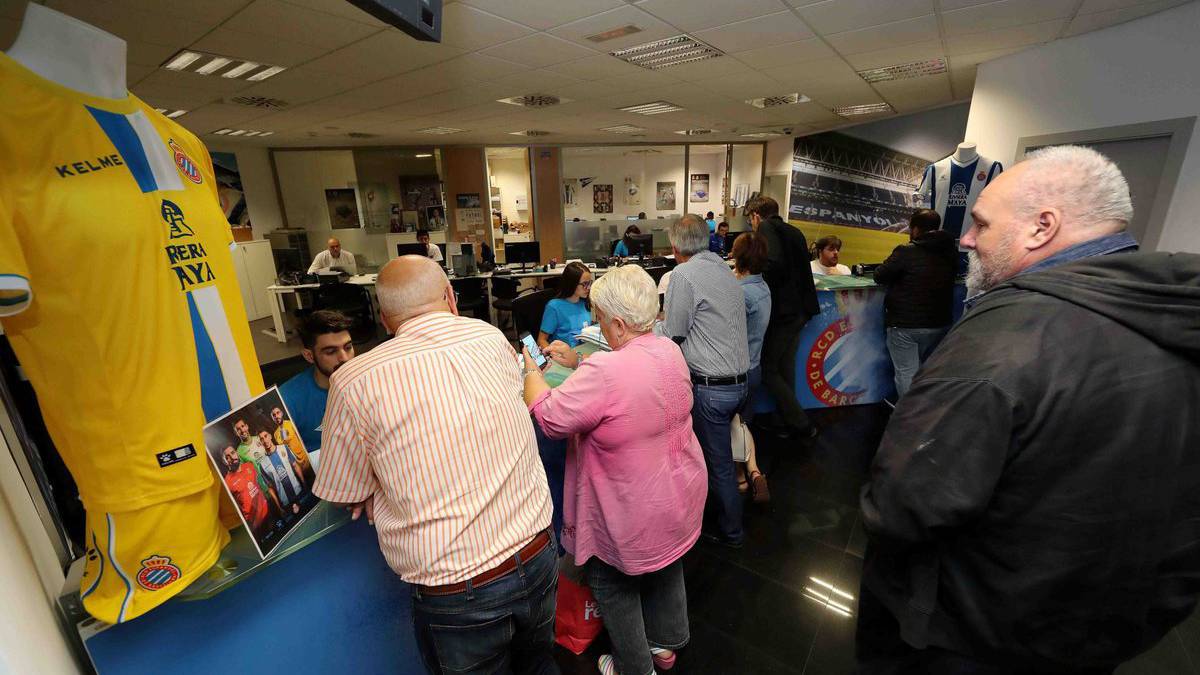 "I read that they deducted me 75 percent". "I do not understand it that way." "Have you been able to prove it in the simulator?" "Well, now explain it to us." The conversation between several pensioners, who had braved the rain to get closer to the RCDE Stadium, happened in the queue of Punt d'Atenció al Soci, in the early hours of the renewal campaign. AS talked with some of the first subscribers of Espanyol for the season 2019-20.
"I got a pretty good price, similar to last year, but did not know that the subscription had to add the price of another membership card," he acknowledged Antonio Vitoria, with the license number 9.780. On his way out, while picking up the umbrella to protect himself from the storm, 12.187, Robert Martínez, coincided in broad strokes: "I am retired and more or less calculated what has been." And he added: "But with my granddaughter, who is ten years old, I have been surprised because it comes out very well priced: with a 75 percent discount on the one hand in the subscription and ten percent seniority for another."
Y from childhood to seniority. Red carpet for member (and subscriber) number 17 of Espanyol, Ramon Toll, with a card nothing less than since 1946. "I pay more than last year," he confessed to this newspaper, "although I'm in a good location in Tribuna", nuanced. And it completed: "I did not expect it: last season I paid about 460 euros and now, about 40 more" .
With 18.923 recently delivered by Espanyol we attended Rubén Montero, pleasantly surprised: "There are many discounts, by age, by seniority of partner, for being in a rock and for having attended all the matches. Pay 141, last season had two cards that cost me more than 500 euros, "he said.
The common denominator is that, with the numerous discount systems, partners went virtually blind to renew. But they came out mostly satisfied. And willing to enjoy the return to Europe.
Photos from as.com