Who is Kyrgios, the 'bad boy' who has stopped doing grace?
He was sanctioned by the ATP after being disqualified in Rome. With talent to win a 'big', has fallen asleep on track, has lacked respect for colleagues ...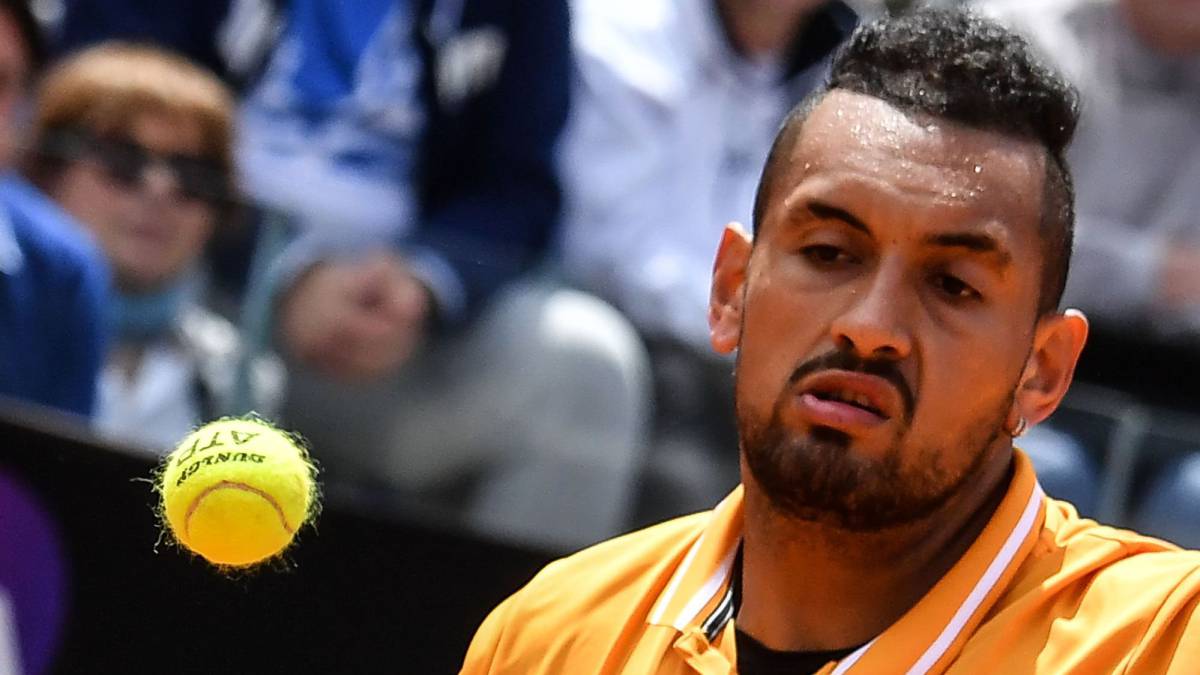 Nick Kyrgios has stopped being another funny, and even attractive, 'bad boy' to become an annoying grain for the ATP. The Australian (24 years and 36 of the ranking) has filled the glass in the 1000 Masters of Rome. In his second round game against Casper Ruud, and after suffering a break, which put the score at 3-6, 7-6 and 1-1, he began to argue with the chair umpire, who decreed a 'penalty game' that It meant 2-1. Immediately, he crashed the racket, started kicking it with a bottle of water and, when he seemed to calm down after having also confronted the supervisor, he picked up a chair from his stool and threw it into the center of the runway. He hung up his raquetero, greeted his rival and left. The judge disqualified him.
"He lacks a little bit of respect towards the public, towards the rival and towards himself too", said Rafa Nadal after losing against him in Acapulco and enduring ugly gestures of the 'aussie'. "He is a player who has a huge talent, to win a Grand Slam and to be fighting for the top positions in the ranking ... for something is where he is", followed the 17-big champion. In 2014, had dared to stick a 'tweener' (blow between the legs and front) in the Central Wimbledon.
"The problem is the fear of competing, to fail," said John McEnroe , the genuine 'bad boy', who at the current age of Kyrgios (24) had already conquered five of his seven Grand Slams. "He can beat anyone, but he must want to do it and be consistent, unfortunately, it's not happening," he says.
Kyrgios was 13th in the world in October 2016, has won four titles and has reached fourth in Australia and Wimbledon. Too little for the rumble it brought. He went very low when he was allowed to earn points for Mischa Zverev in Shanghai 2016, which led to an eight week suspension and the recommendation that he visit the psychologist. It did not help him much.
He has gotten involved with Nadal, and this same week he has hit Djokovic ("he wants to like it so much that I can not stand him") , to Verdasco ("he's the most arrogant person in history") and offered his back to Medvedev in a rest in the first round ... His exertions come from afar: caused Wawrinka on the track ("Kokkinakis slept with your girlfriend") , he faced his federation, he broke three rackets in ten seconds, he stayed Asleep in an exchange against Murray, he made the gesture of masturbating with a bottle in Queens ... "I do not like tennis, I prefer basketball", he has come to confess. Perhaps that is his big problem.
Too many mistakes already for a tennis player to whom the ATP has him in 'supervised freedom'. The sanction of 20,000 euros has not been exemplary.
Photos from as.com