The Madrid Open raised the curtain in the Prado: "It's impressive"
The Mutua Madrid Open chose for its official presentation a historic and spectacular setting, the Prado Museum, which celebrates its bicentennial this year.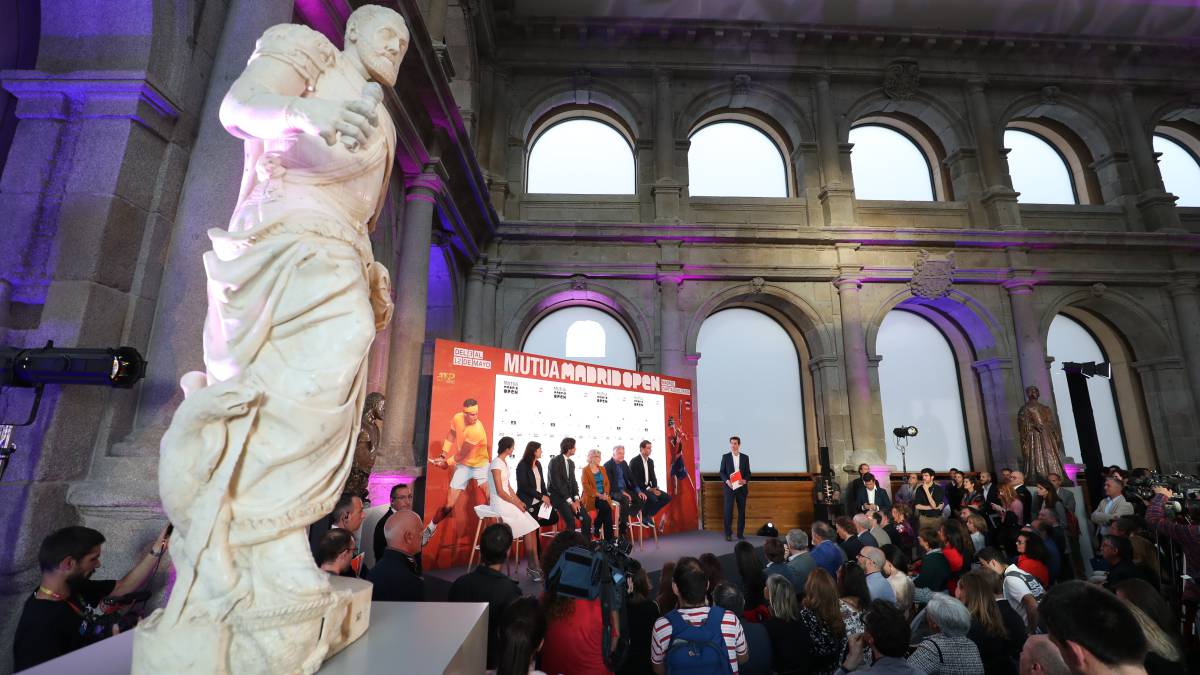 The Mutua Madrid Open chose for its official presentation a historic and spectacular setting, the Museo del Prado, which this year celebrates its bicentennial and will receive the Princess of Asturias Award for Communication and Humanities. The mayor of Madrid, Manuela Carmena, the Secretary of State for Sport, María José Rienda, the president of the Mutua Madrileña, Ignacio Garralda, the new director of the tournament, Feliciano López, and the two best ones all appeared in the cloister. active Spanish tennis players, Rafa Nadal and Garbiñe Muguruza. All were very present the figure of Manolo Santana, now honorary president of Madrid Open.
"I hope to make the grade in my first official speech as director of the Mutua Madrid Open", Feliciano ripped off. "It is very special for me to direct this tournament and I thank you, Manolo (Santana), for the help you have given me, good luck to Garbiñe, who really wants to play here, and Rafa, who everyone expects to win again. tennis players and I hope they feel Madrid, as we propose in our campaign Thanks to Madrid and the impressive Museo del Prado that has given us its incomparable facilities for this presentation ".
" I did not know what I had to talk about, but I congratulate Feliciano for his new position and I thank Manolo for his support and for being a pioneer, "said Nadal, who also thanked" the organizers of the tournament for betting on Spain and Madrid. " "The support I received in Madrid is always difficult to compare with other places" , I continue, before telling you that you have "pending a new visit to see the Prado, which is impressive" .
"I had never been to the Prado and I also have that pending visit, although we have done an express that has been very good. I really want to play well here, as Nadal has always done, it's the only big tournament we have in Spain for women and I hope to do better than in previous editions, "said Muguruza, who will debut against the Croatian Petra Martic.
Garralda said that his company does not regret having supported the Madrid Open: " It was a great choice to support this tournament, its media impact goes in crescendo. It was The participation of the City Council of Madrid was very important, it was our partner and it has been a magnificent way, I am unable to say no to Manolo Santana. I hope it is very difficult for me to deny Feliciano anything too. "
Rienda, delighted with the stage, praised it: " We are proud, because it is a prestige to present this Open in the Prado. These sporting events are very important for the Ministry of Culture and Sport with our best athletes competing as ambassadors of our country ".
And finally Carmena intervened: " I like this act, because it is spontaneous and simple. The speech has gone very well, Feliciano. Madrid is happy to have this Tennis Open. Madrid loves sport, values it and encourages it when it sees great athletes like you. You make the people of Madrid happier. Madrid is increasingly important and the Open has been fundamental in that. Here we are all from Madrid. Welcome everyone and go ahead with the tournament ".
Photos from as.com