The last service of Godín
He said goodbye to the fans at home, leaving Atleti second, mathematician. 1-1 against a Sevilla that only played the second half. They scored Koke and Sarabia.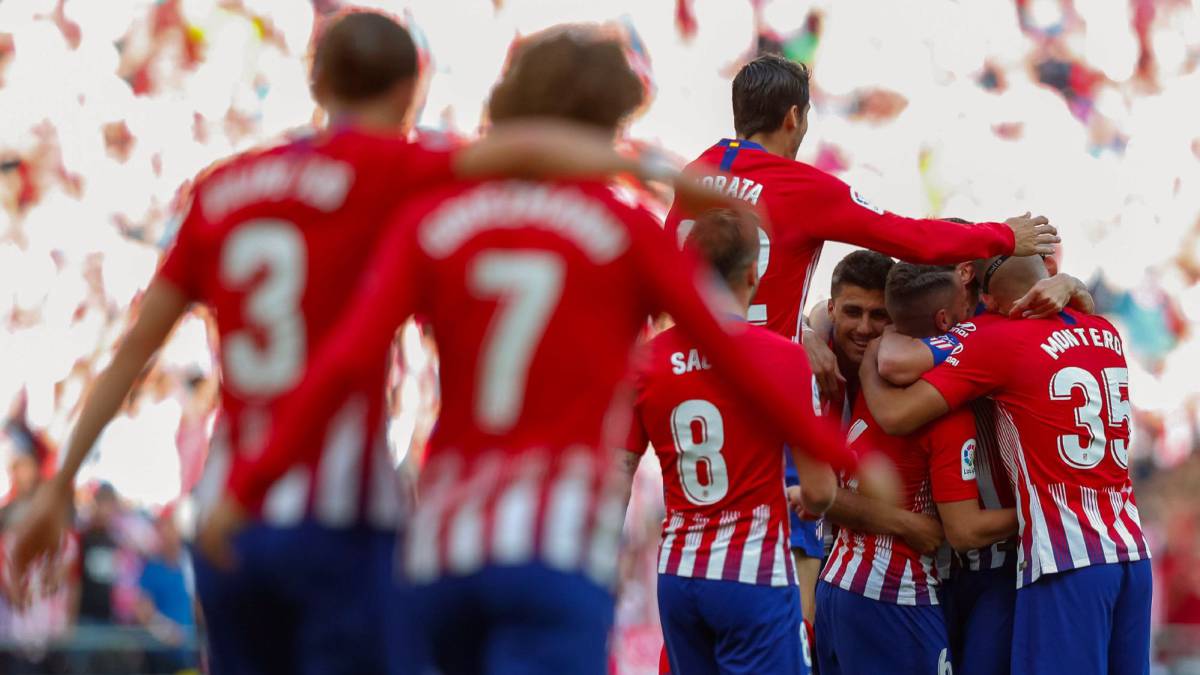 U-ru-gua-yo.
The grandparents had Griffa. The parents to Luiz Pereira. We, the children, had you, Diego Godín, the footballer who stuck his head between the Barça de Messi, Cristiano's Madrid. This is not a football chronicle, yes, of course, an Atleti-Sevilla is played. You look for the point that makes you second. The other continue to have Champions options. Football in this chronicle that talks about how to say goodbye to a legend. I could write the fabric of the captain's armband, the grass, the ball or the same Calderón. I could but a shout, that in the stands, that does not shut up. May 12, Madrid. The Pharaoh leaves but before leaving one last service. Al Atleti second.
U-ru-gua-yo.
To become older is to learn to say goodbye, they say. Simeone adjusts his tie over that knot in his throat. The ball rolls. That song pushes the legs. Uruguayan. It grows in the second 34: Koke throws a corner and Godín flies, about to score, like that afternoon in Barcelona. The Atleti is overturned on Vaclik but it is to drown loosely. Ben Yedder does it as the only tip of Sevilla. A Sevilla deformed between so much low and a season that has become too long. Without Escudero, Gnagnon is the left-handed player. Try Mudo Vazquez Oblak gloves in his only shot in the first half. It does not run but walks. Without pressure, without intensity, with Roque Mesa titular and a disaster. El Atleti dominates with a Thomas lord and master, everything happens because he goes before his boots in this constant look at Godín, there are so many thanks. For being, for being, for the goal of the Camp Nou. Your goodbye at home is an afternoon before. Radio and the whole day at the same time. A brother sneaks into it from Bilbao: Raúl García has just scored two goals.
U-ru-gua-yo.
How high that song sounds today. Search Morata the goal but always falls offside . Koke finds, with fortune. Who if not . His shot is chased by Kjaer and slipped to Vaclik. How does it matter, it matters when, this afternoon. Had dedication before playing. "Brother for you," his fingers say. And they point to Godín.
U-ru-gua-yo.
Aleix Vidal enters for Kjaer and the movement of Gnagnon to the center of the defense changes Sevilla's face when the other results take away, mathematician, the Champions. Griezmann searches, runs, leaves a defense in a movement to assist Thomas, who shoots out. Enter Correa, with his fuss and the French find him, but in offside. Sevilla suddenly wakes up, sees himself in the middle of a game and starts playing. With that, it's enough not to leave the Oblak area for a while. A hunchback and goal. Sarabia impales a ball from the left, Aleix Vidal, and marks it. Sevilla again have Champions options. In the second one, he does not get 1-2 because Sarabia sends Ben Yedder's ball out. Caparrós sits at Roque Mesa, in the absence of football, is dedicated to leaving Correa bruises. Hit here, hit there, flying over red. Sevilla tightens.
U-ru-gua-yo.
Godín falls for lack of Aleix Vidal, Godín falls after a hit by Ben Yedder, Simeone raises his arms asking again that cry.
U-ru-gua-yo.
Asoma a banner with his face and a '2' in the south background when Sevilla tries one last time, Aleix Vidal, so that the Oblak stop of each game is not missing in this tribute. The referee blows the final. 1-1. Atleti is second, he managed it. This is just the chronicle of how to say goodbye to a legend. That Godín leaves and here are eight titles, his teeth, nose and a goal of the lame. And that's the best teaching that forever leaves. That for this shield is killed but above all it dies.
Infinitas thanks, u-ru-gua-yo.
Photos from as.com