The day that Gaspart ended up in an ultras bar in Madrid
The former Blaugrana president reviewed some memorable and unknown anecdotes, such as the failed signings of Hugo Sánchez or Buffon.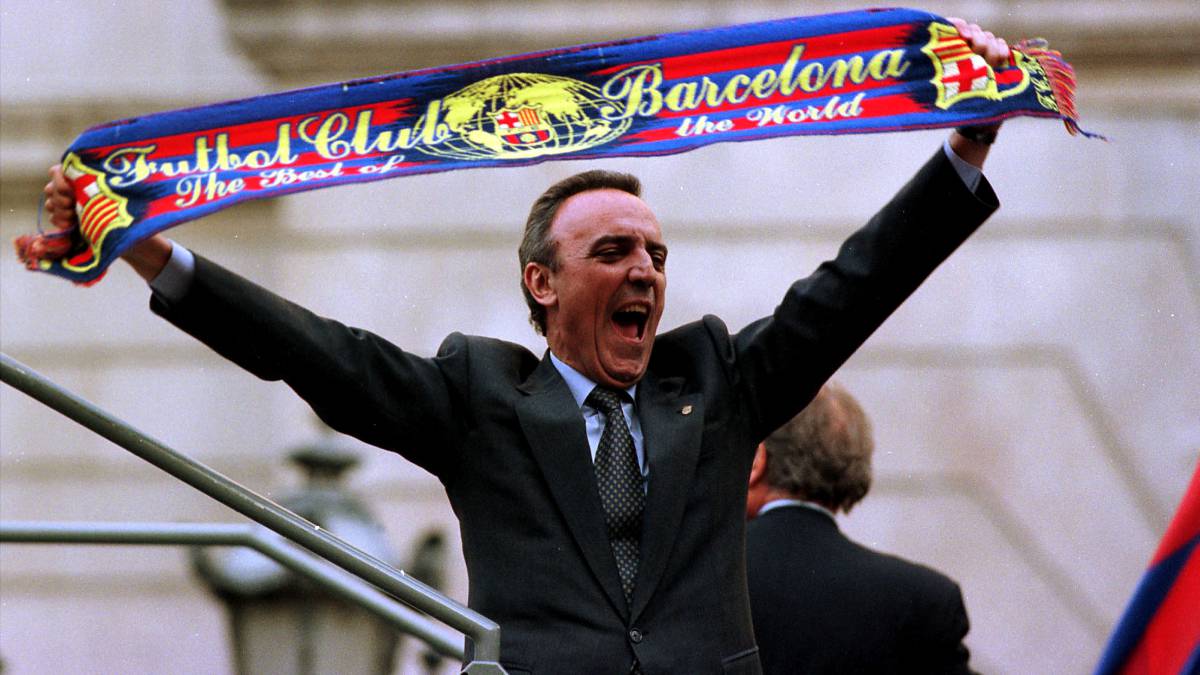 Joan Gaspart always leaves headlines. The former president of Barcelona spoke for the Idols program and recalled some of his best anecdotes in the Blaugrana club. He spoke about los fichajes de Maradona and Messi, negotiations with Buffon and Hugo Sánchez that never came to fruition or once he had a beer in a bar of Real Madrid ultras.
Maradona: a signing on the back of a tank . "I remember we took a treasure from Argentina, we went to the airport in a tank, because the police told us that there were risks that on the way from the hotel to the plane we could have an attack." To take Maradona at that moment from Argentina It was almost an attack for Boca fans, so they took us to a tank and with cars and motorcycles took us to the plane's ladder, until we were not seated, they did not abandon us ".
Messi and Rexach's good eye. "He was 15 years old when he came to Barcelona and nobody expected him to be what he is, the best player in the world At that time I was not aware, when I gave the authorization to sign him, that we were signing who over time has become one of the best players in the world and history. Carles Rexach sees him play with inferior teams and realizes that we are facing a player who promises a lot, but not at the level of what he has been. If I had been president, already with Messi in the first team, I would still be in charge ".
Hugo Sánchez: the signing that could not be." One that would have changed the history of Barcelona was Hugo Sánchez. I signed him, signed, at his home in Madrid when he played at Atlético. We went after signing to a Mexican restaurant to celebrate it, but then coach Terry Venables told me that he did not want Hugo but Steve Archibald, so we had to cancel the agreement. "
Buffon could be blaugrana." We could sign Buffon. Unfortunately, at that time the porters were not something that was essential, as a 9 for example. But Josep María Minguella insisted that we could close the operation. We have always had home goalkeepers and normally there have been no signings of foreign goalkeepers, so in the end, influenced by other opinions that said we could not spend a lot of money on a goalkeeper, it was dismissed ".
Of beers between ultras." One day, after tying in Madrid, I went to a bar to ask for a beer and the bar was silent, as if it were a funeral. A boy came and told me that if he came to provoke, it was the meeting place of the ultras of Real Madrid. 'You are the most hated man there is,' he told me. I told him that I was an asshole, but not so much as to put myself in the mouth of the wolf. The kid told his teammates that I was a bastard and that he hated Real Madrid, but that it was the same as them, but vice versa. "I do not say that it is our colleague, but a minimum of respect, that he drinks beer and leaves," he said. I drank my beer and accompanied me to the door, where he gave me advice in which he was quite right. He told me, 'walk away and do not even think about running because if he runs, we'll all go out chasing him and I will not answer what could happen'. Do not worry that if you do not run, they will not move. This says something in favor of the ultras of Madrid. What saved me is that they themselves recognized that the same sporting hatred that I have for Real Madrid is what they have in Barcelona ".
Photos from as.com