The 1x1 of the Real Madrid junior, champion of the Euroleague
He lifted for the second time in his history the trophy of the 'Adidas Next Generation Tournament' after beating in the final Mega Bemax.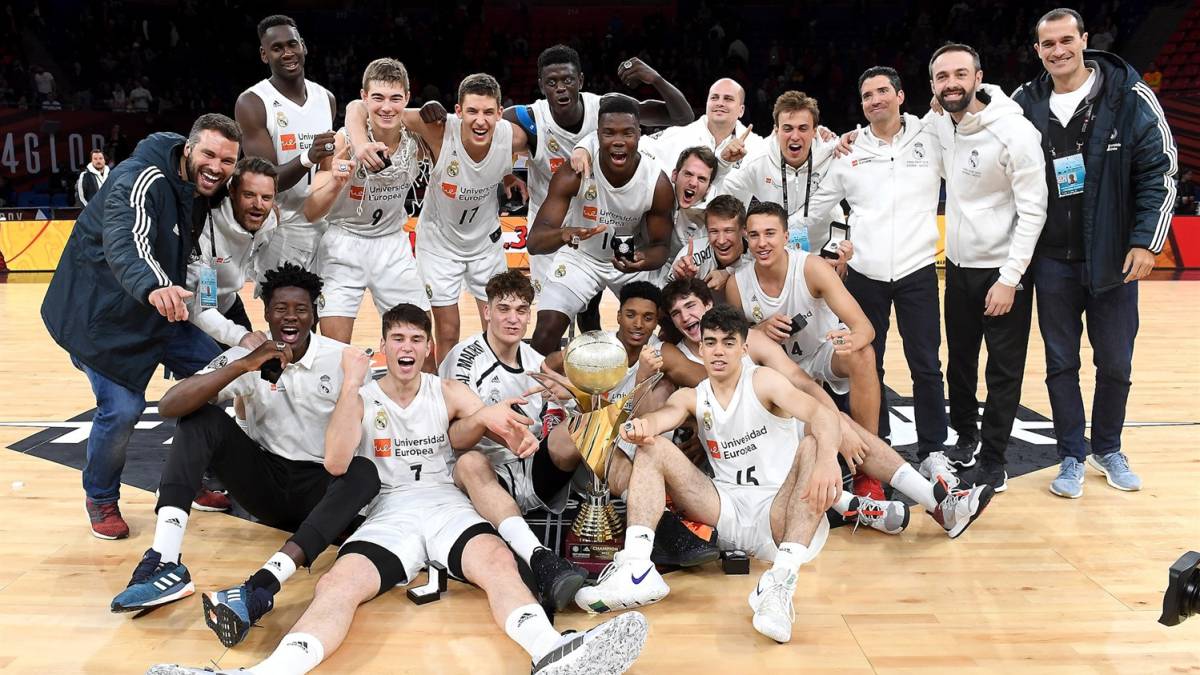 The Real Madrid Junior (U18) was proclaimed this Sunday European champion for the second time by beating the Serbian Mega Bemax in the Euroleague final (Adidas Next Generation Tournament). Nakic, with 33 points and 41 valuation; Sylla, with 40 (16 + 14); and Garuba, 21 points and 5 blocks were the best of a white team that we present below:
Jorge Mejías
Puesto: Base. Year of birth: 2001. Height: 1.86 m. Spanish. He is a very good director, knows how to connect with the pivots and makes the team play. He came to the club six years ago.
Mario Nakic
Alero. 2001. 2.00 m. Croatian. Star project. He has a lot of talent, a great shooter and a penetrator. His father, Ivo, played with Petrovic in the Cibona.
Boris Tisma
Alero. 2002. 2.02 m. Croatian. Another with the potential to be a figure, still irregular. Destila class and its aesthetic reminds Kukoc. European gold Sub-16.
Usman Garuba
Ala-pívot. 2002. 2.02 m. Spanish. A physical portent with a privileged head. "He has an instinct and a hopeful projection," says Laso. He has been collecting MVP awards for years in all categories.
Amar Sylla
Pívot. 2001. 2.06 m. Senegalese. A great intimidator, fast and coordinated. It does not stop progressing and that opens the doors of the elite.
Ziga Samar
Base. 2001. 1.93 m. Slovenian. Second course in Madrid, compatriot of Doncic. A very technical base and with an outstanding three point launch. Best player of the final in the recent championship of Spain.
Matteo Spagnolo
Base. 2003. 1.91 m. Italian. Matteo is still a cadet (born in 2003), but his talent has led him to play with the junior. In 2016 he scored 78 points in a match.
Kareem Queeley
Escolta. 2001. 1.93 m. English. In 2015 he won the Minicopa with Madrid and was MVP. In the final of Munich against Maccabi he made a great match. And in the final of the Spanish Championship he killed the gunboat Digbeu. Attack and defense.
Rubén López de la Torre
Ala-pívot / forward. 2002. 1.98 m. Inglés. He is hard and understands basketball very well, he uses his resources. You can remember players like Kings and Deck.
Golden Dike
Pívot. 2001. 2.01 m. Inglés. A fortísimo interior not exempt of skill, moves well near the ring. It arrived in 2016 from Unicaja. Next season he will go to study in the United States
Javier Ramos-Yzquierdo
Alero. 2002. 1.94 m. Inglés. Ten minutes on average in this tournament. He has great athletic ability, a lot of nerve and a good ability to score in different situations and positions. Fan of LeBron James.
Dan Duscak
Base. 2002. 1.82 m. Slovenian. He came from the team in his hometown, Grosuplje, in 2017. He has a lot of quality, great control of the ball and the game. Vertical and fast when it comes to taking advantage.
Photos from as.com