The 10 transfers that can exceed 100 M € this summer
Hazard, Bale, Pogba, Joao Felix or Griezmann could exceed 100 million euros. Manchester United and Real Madrid will shake the market.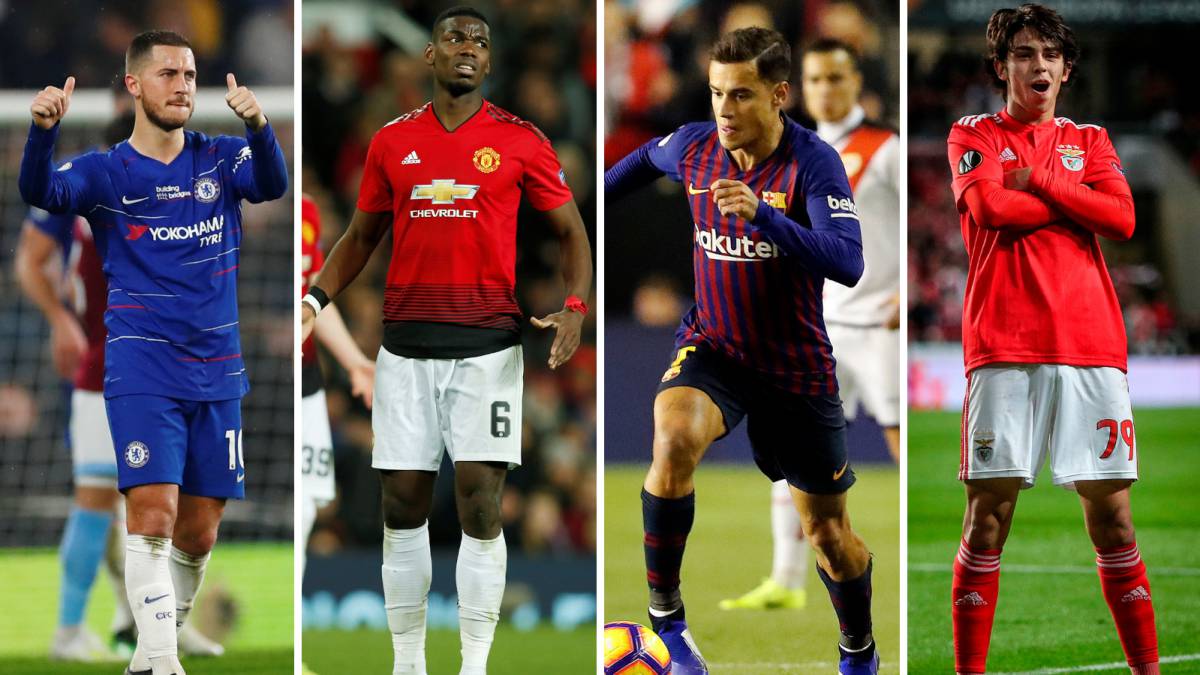 This transfer market is expected large movements. With several great headdresses and starting reform projects (Real Madrid, United, Bayern ...), the market will be active and several record hires are expected.
Various transfers are expected to exceed 100 million, an amount that became a record when Real Madrid brought Gareth Bale of Tottenham then widely surpassed by Neymar or Mbappé in Paris, Coutinho in Barcelona, etc.
This summer, several signings could exceed this figure and continue to expand the list of the broadest day 'club of 100 million'.
Eden Hazard
The Belgian is the name of summer in La Castellana. Apparently, Hazard has already decided his future and Real Madrid will pay close to 100 million euros to dress it white. Before, you have your last commitment as blue. With the Champions secured, will try to close his stage winning the Europa League at Arsenal.
Bale
A Gareth Bale has little left in Madrid. The Welshman has seen his stage is approaching the end and the white entity hear offers for him. The striker has a good sign in England and could again exceed the number by which he arrived at the White House. It would become a bargaining chip in the operations of Pogba or Eriksen.
Pogba
The Manchester United midfielder returns to the spotlight of Real Madrid. Pogba is one of Zidane's favorites and the Marseille wants him in his reform project. Now, it's up to Real Madrid to move the chip for him and United will not let his star out at any price. In England they value it over 150 million euros.
Eriksen
Other options for Real Madrid midfield goes through this Danish midfielder. As reported by As, there is verbal agreement between the player and the white club. Eriksen did not want to renew (ends in 2020) and Tottenham has this summer to sell if you do not want to leave for free next. Daniel Levy asks 100 million. The negotiation could be hardened if the Tottenham leaves European champion of the Metropolitan Wanda.
Isco
The reform of the center of the white field is not only based on tickets, but also on possible departures. Isco, after a difficult season, could leave Real Madrid this summer. Zidane has not ruled out definitively much less but has not all to stay.
The Malaga has a good sign in Europe (Pirlo asked for Juventus) and in the French press talk about mega-offer PSG for him, Bale and Kroos that clearly would exceed 100 million.
Griezmann
The French striker announced to hype and plantillo his decision but this does not seem as firm as last summer. According to Cadena SER, the player's environment has dropped a possible way out to Barcelona. Its clause is stipulated in 200 million but on July 1 it will remain at 120, a price more than interesting for one of the best strikers in Europe.
Coutinho
From Griezmann, the front of Barcelona would be overcrowded and one of those who could leave It would be Philippe Coutinho. The Brazilian has not reached his best level and his adaptation is not being easy. He has faced the stands and is marked by the public. Suitors do not lack: there is talk of Chelsea, PSG, United and Juventus. The blues would offer more than 100 'kilos' to return to the Premier League.
Dybala
Paulo Dybala does not live his best in Turin. His relationship with Allegri is not ideal and he has seen how the arrival of Cristiano has reduced his importance in the team. The Argentine could think of a change of scenery and he does not lack suitors. According to The Sun, United is behind La Joya and would reach an offer of more than 100 million.
Sancho and Joao Felix
Jadon Sancho and Joao Felix live a similar situation. Both are on the list of most promising young people in Europe and in a European middle class club that allows them to grow before reaching the top. A neither of them lack large interested teams but they are meditating whether or not to give the jump at the risk of losing minutes and importance with the change.
United is behind the last great young Englishman and Dortmund has already assessed it at 115 million euros. They have also asked Real Madrid or Barcelona. In Lisbon, they have assessed Joao Felix in the clause: 120 million euros. The board wants you to stay one more year so that you can continue making progress.
Photos from as.com