Sarri: "If Hazard does not stay, we must be prepared"
The coach, about his future: "I have two more years of contract, I will have to talk to the club after the final and see if they are happy with me."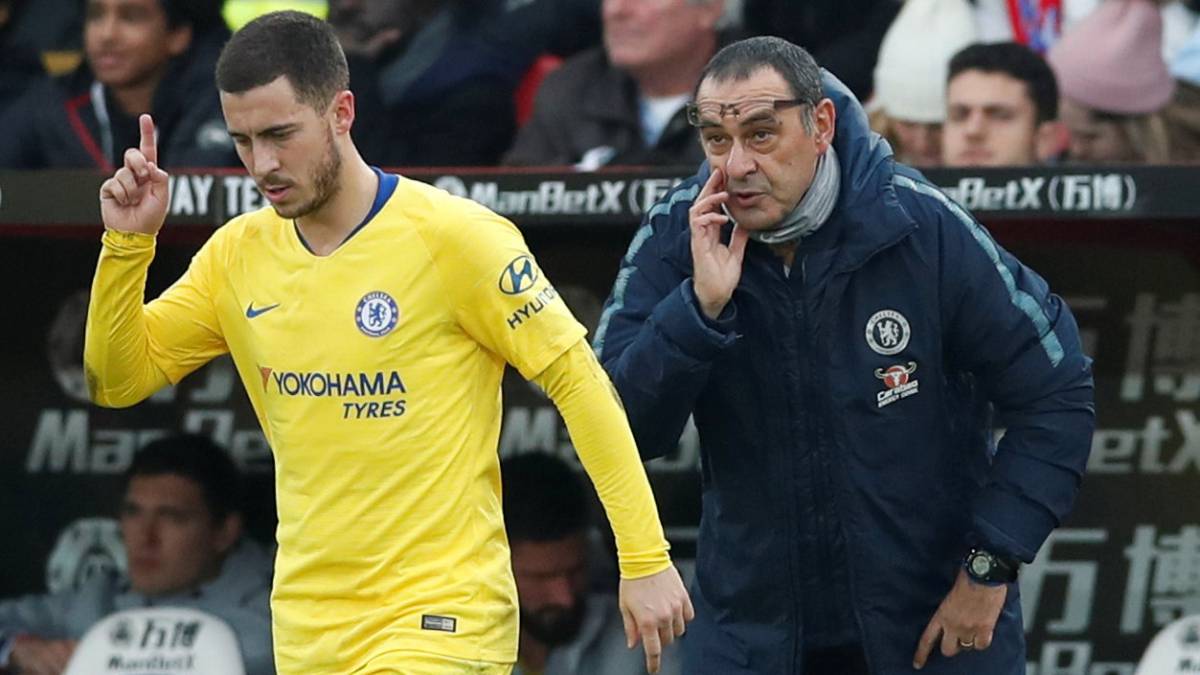 Maurizio Sarri, coach of Chelsea, said at a press conference that Eden Hazard, which is linked to Real Madrid, would be "good for any team", but stressed that he expects to stay in the London team.
Sarri appeared before media on Wednesday in the Chelsea sports city in the context of the media day organized by UEFA for the final of the Europa League between Chelsea and Arsenal.
The Italian coach was asked about the future of Hazard, who may be facing his last encounter with the 'Blue' shirt, and stressed that he expects the Belgian to continue linked to the London entity.
"I hope he stays with us, but we have to be prepared in case he decides something different. It is good for any team, but it is also very good for us, "explained the transalpino.
Respect to the final, which will be played next or May 29, Sarri said he thinks the same as Arsenal about the inconvenience of holding the match in Baku (Azerbaijan), with problems for the distribution of tickets.
"The venue is a big problem for our fans so I think another location would be better ", sentenció.
Sarri was optimistic about the presence of N'golo Kanté in the final and hopes that he will overcome his physical problems. The Chelsea has the safe losses of Antonio Rudiger, Callum Hudson-Odoi and Ruben Lofuts-Cheek, who was injured in the recent friendly that the London team played in the United States.
"We finish the league tired after the game in Boston we had three days off and I think we have recovered, now we are working, it is not easy to prepare such an important match after 62 games, the players are tired, mentally and physically, "he explained.
Sarri was also questioned about his future, after having been linked in recent days with the bench of Juventus of Turin and Roma and, despite his third place in the Premier League and his finals in the League Cup and the Europa League, his continuation in Stamford Bridge is not insured.
"My future is next Wednesday and I just want to think about the final, I have two more years of contract, I will have to talk to the club after the final and see if they are happy with me. I really like this club and this league, which is the most important at this moment. It is very exciting to be here. It is normal that at the end of the season you sit down to talk to the board, "said the preparer.
Photos from as.com