Rins: "The past to Dovizioso in Nieto has been brutal"
"I had an incredible race, with a lot of overtaking, Petrucci's has been good, because I was a bit far, but Dovizioso's, in front of all the fans ...", he says.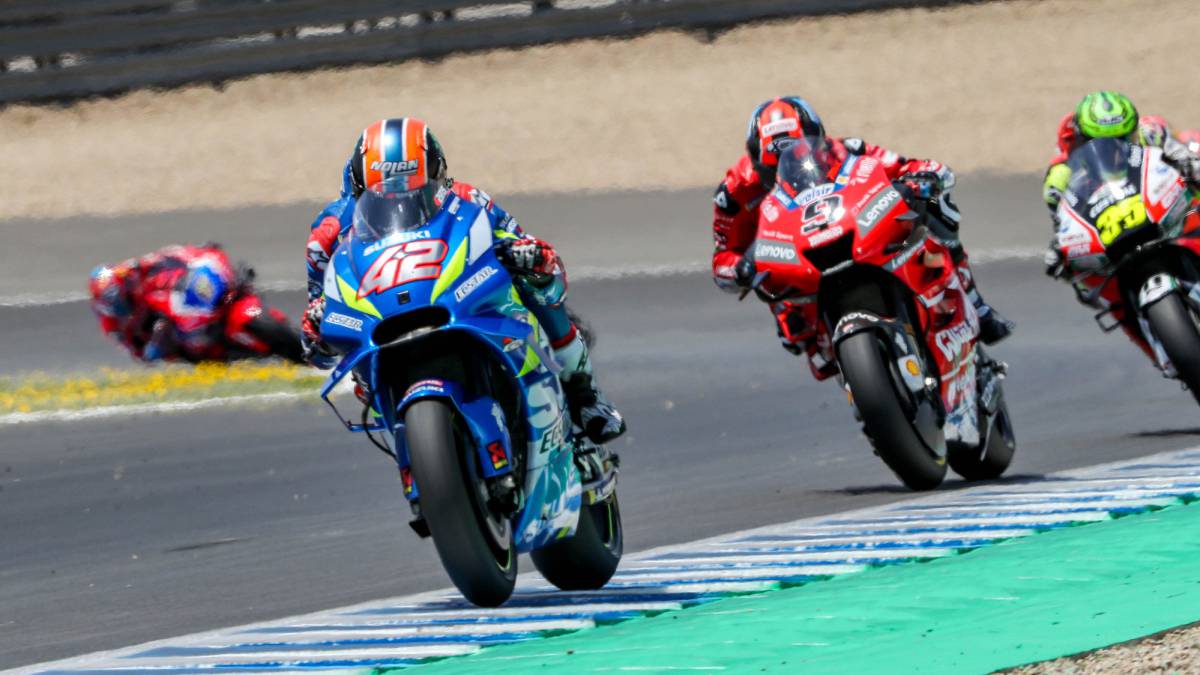 Álex Rins is already, on his own merits, a fantastic addition to the MotoGP grid. In Jerez he has climbed seven places, from ninth to second, and has left overtaking the most interesting. Most have been in the last corner, but the Dovizioso, in Nieto, has been prepared on the outside leaving the Aspar, to the delight of the many fans there were. -
If I had been with Márquez from the beginning, Would the race have been different?
-Our race pace has been good. Honestly, before we started the race we already knew that we were going to be strong, but we had the problem of going back so far. This is a very narrow circuit, and I lost a lot of time overtaking, especially with Dovizioso, but when I was able to pass, I kept Marc at the same distance. Sometimes I was a tenth or two, I recovered. In the end it was harder for me to maintain that rhythm due to the medium-sized front tire I used, I think he was wearing the hard one. In any case, winning in Austin and staying here second confirms that our bike has a good level and that we follow a correct line of work. There are still many races until Valencia, but I would like to continue like this.
-What does it say to be second in the general to one point away from the leader?
-I'm very happy. Before starting the championship we knew that the bike was good, that it is competent to win. Anyway I prefer to think career to career. They try to put pressure on me, but I will continue with the same method of work. Friday costs me a little, and we also have to improve on Saturday, but the goal is to make a good race.
-Do you know the reason why it's difficult for them to be competitive on Saturday?
-There's no reason. Sincerely I try to put the bike to the point, and I do not know if it is something that I have to improve myself or that is because it has to improve the bike, but we are working to improve the results of the qualification, because many positions are lost, and that's many seconds since the first one passes by meta.
-Is the title something that is in your head?
-Sincerely, no. It is true that we are second to Marc's point, which is something incredible, but there is still a lot left and what we have to do is maintain the level. I am 23 years old, a competitive bike and time ahead.
-In what points do you have to improve in tomorrow's workouts?
-In braking, to make the bike more stable and a new Ad-On (spoiler) ) that arrived on Friday and tried to try it this weekend, but it has not been possible, and also some electronics.
-Do you want your rivals to have you already in mind?
-More than fancy, I like it, because it means that we are doing a good job.
-Which of your overtaking has you liked the most?
-The one I would have liked to finish is Morbidelli in the last corner, because he has not yielded or lifted the bike . Today I had an incredible race, with many overtaking, the Petrucci has been good, because it was a bit far, but the Dovizioso in the curve of Nieto, in front of all the fans, has been brutal. At the end of the race I climbed the fence and when I got down I hurt my hands because they played a little bit, but the fans deserve it because they are the ones who support us and those who give us everything.
-¿ Have you seen the images of the commissar who holds his motorcycle when he gets off and takes a piece?
-Yes, I've seen them, it was the oil cover of the brake fluid. I have no words, I do not know what to say, I guess I would be excited. It has recorded the Suzuki S and a 42. If I see it in Wallapop I will buy it. (Laughter) I'm willing to exchange it for a slider.
-And what has that cry of Jerez de la Frontera come from! in the statements in English at the podium?
-Because to make a podium here in Jerez, in front of all the fans, it is amazing, and more on a hot day with the circuit full.
Photos from as.com