Ricky Rubio: "I would like to win a ring as a protagonist"
At 28, he is in one of the best moments of his career in the NBA, where he has been eight seasons. This summer will go to the market and, in principle, will play the World Cup.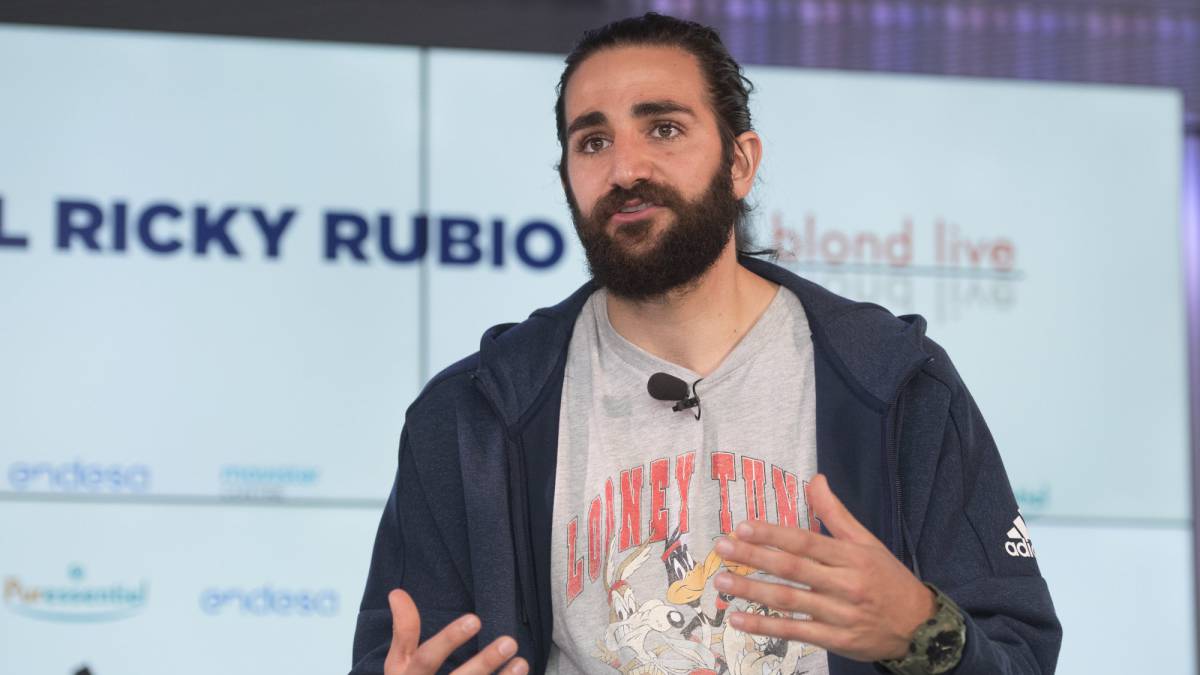 Now he is already a free agent. Are you facing the most important decision of your career?
There are a thousand possibilities, discarding the teams that have a starting base under contract and who stay, like Houston or Golden State. Then there's Boston, where you still do not know if Kyle Irving is still there, or Charlotte with Kemba Walker ... They're really things that do not depend on you anymore, but on the other players.
Why?
Because the elections are going By levels. Those who, say, are all star choose first and the rest are looking for equipment or receiving offers. An example is that if Kyle Irving went to Utah, this team would no longer be a possibility for me. In the end, they choose first.
Will all this mark their career in the future?
Of course. Either for good or for bad, because, in the end, it will decide what my career will be. If I now sign for a team that does not really have aspirations or does not just work, my NBA career will almost end because if I sign for three or four years, when I finish my contract I will be 32.
Will it be a key decision?
Totalmente . Because it's not the same to end up with that age playing some finals that do not do it. The curve that has been rising since I came to the NBA can go up or down. It is one of the key moments of my career, no doubt.
I see that he has not given up yet to win an NBA ring ...
Nunca. Also, I would like to win the ring being the protagonist, because a ring without playing would not feel like mine. I want to have prominence and now is the time to find a team where I can reach that goal.
Are you grateful to the Utah Jazz, especially in this season in which they wanted to transfer in the middle of it?
The truth is I've had to dance with the ugliest. But analyzing it as a business, which is what it is, I can understand it because in June I was free of the team and had nothing in return.
Is not that a very poor excuse?
May they think they had a 'chrome' that expired in three months and they exchanged it for another one that had three years of contract like Mike Conley (Memphis). This makes you think. You do not know if it's because maybe you're not playing well or if what they wanted was to make some change to improve. In the end you can not take it as something personal.
Now they say they want it to continue. What do you say?
All that, without a doubt, has affected me. If the question had been asked a year ago, I would have signed with them with my eyes closed. Now, from here to July, many things can happen.
Would you follow your coach, Quin Snyder?
For him my first choice would be Utah, but I know I have more and I want to take my moment of strength both physically and mentally. Snyder trusted in me at all times and would follow his philosophy. Speaking of the World Cup. Will all those who were not in the Windows play?
Let's see it. Some continue to dispute the playoffs; we will see how they arrive. During the season we talk and we all want to go to the World Cup.
Do you see Spain among the favorites?
You will see, because there are Australia, France, Serbia and other teams have improved a lot.
In a few days you are back to work .
Yes. I will do it in Next MVP Badalona, an innovative installation that I have created so that I and other players can train. In Badalona there was a specialized center in technification and we have covered it
It is a big change, right?
If you train at a municipal track or want to play a game, you have to call the Town Hall of each town to get the basketball court. Here you just call and you have the track, as well as all the machines in training that we have in the United States.
Ricky organizes two campuses this summer
Ricky Rubio will organize two campuses this summer. The first will be the eleventh Official Ricky Rubio, , which will be held from June 30 to July 6, 2019 in El Collell (Banyoles). It is a campus for children born between 2002 and 2010 with 240 attendees. The second will be the third Campus Ricky Rubio Community of Madrid: it will be held from July 8 to 13 at the facilities of the Brains International School La Moraleja, Madrid. It is aimed at more than one hundred children born between 2001 and 2012. In addition, it will continue to work with the Ricky Rubio Foundation against cancer and in various inclusive basketball projects in Barcelona and Girona.
Photos from as.com