Quartararo: "An incredible pleasure to take a record of Márquez"
"Who does not dream to be like him and have seven titles, we're working for that," he says about the possibility of becoming one of the anti-Marc days.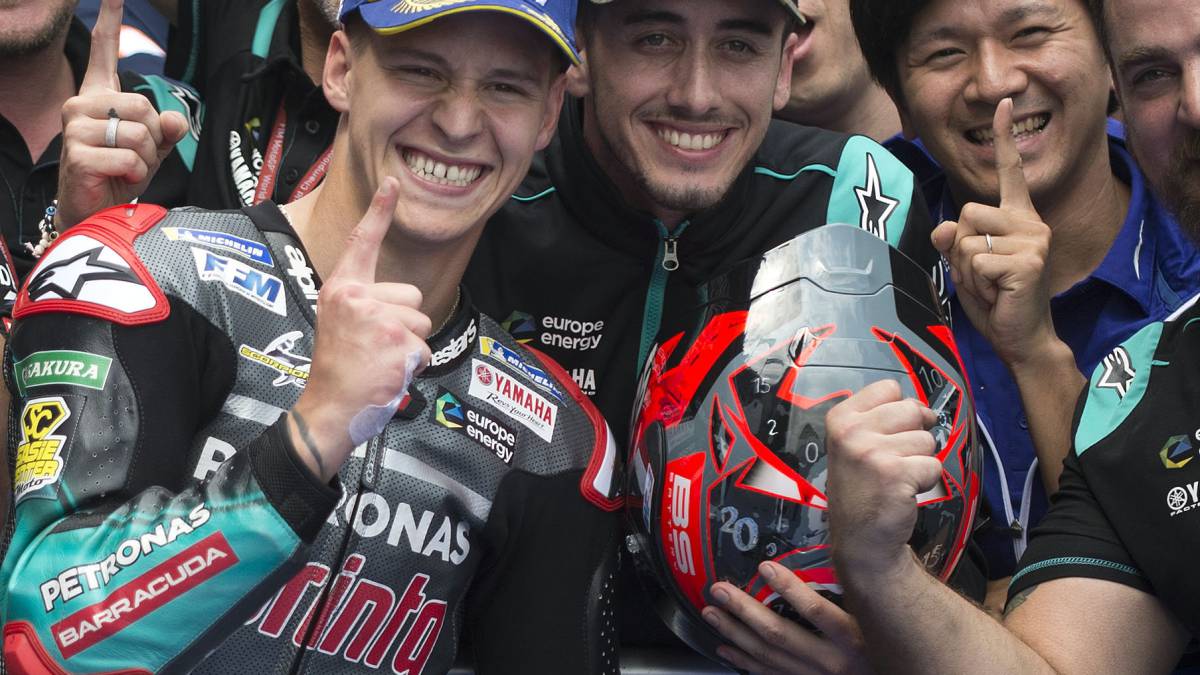 Fabio Quartararo's Spanish continues to sound very good, thanks to the fact that he came to our country from a young age to become a pilot. Now, with 20 years and 14 days, he has signed the youngest pole in MotoGP history and also aspires to that record of precocity in the victories section.
-Are you aware of what you have just done, that you have is a historic pole?
-Not at the moment, but it's incredible to have taken the pole and when you take a record off who is the reference of current motorcycling is an incredible pleasure.
-Han starred with the photo in which Marc simulates that it strangles him, as in his day did Rossi with the Spanish ...
- (He laughs and says nothing) .
-Do you see yourself in the role of Márquez against Rossi in front of Márquez himself?
-Who does not He dreams to be like him and to have seven titles. We are working for that.
-Can you also remove the record for the youngest victory in history? You have 48 days for it ...
-That's already a dream. At the moment I think about having a good time with the pole and tomorrow to try to give the maximum, but we know that Marc has a spectacular rhythm and we will look for a good result.
-Viñales assures that he has given the pole ...
-For me it is not a gift the pole. We made the return with the bike and with our right fist, but in the end it is true that it has helped us. We have worked during the weekend, we felt good on one lap and the team has done first and second. That means we've done a good job.
-Is there any strategy for the race?
-At the moment there is no strategy. We have to see the temperature of the asphalt and the sun, but we do not know with what tires we will go out. It will depend on the temperatures, the weather, but we'll think about it tomorrow.
-How is it possible for a 20-year-old rookie to take pole and Rossi, with the same bike, twice as many years and nine titles to come out thirteenth?
-I do not know. They have asked me more times. It will be the pilots. Franco (Morbidelli) likes this track a lot and I had already done my first pole here. I feel super comfortable with the bike in this circuit and we have a lot of confidence with the bike.
-Do you expect to achieve your first podium here?
-At the moment, no. We are not yet ready to fight for those positions. My goal for the first part of the season is to be between the seven or ten first, but if we can fight for something better we will not let it escape.
-How much does the stability of the new team that has arrived influence on the result? ?
-For me it's not just the technical team. That's more the people around, the organization, the press officer. (He laughs) I feel very comfortable. We have a very well made plan and I have time to be calm and focused.
-The announcement of his jump to MotoGP generated a lot of debate about what could be a Yamaha error. Do you feel that you have covered mouths?
-Well, the truth is that many people said that they were not ready for MotoGP and that they were too young, but, in the end, when you have the opportunity to come up with a satellite equipment and with a Yamaha , you can not say no. Even if I had been 17 years old, I should have done it. I think we did well to go up and nothing else.
-Do you think you'll be able to sleep tonight?
-Yes, of course I'll sleep.
Photos from as.com