Paco Jémez: "We will fight until the mathematics says it"
The technician assumes that salvation is impossible mission, although while there is a thread of hope he refuses to lower his arms.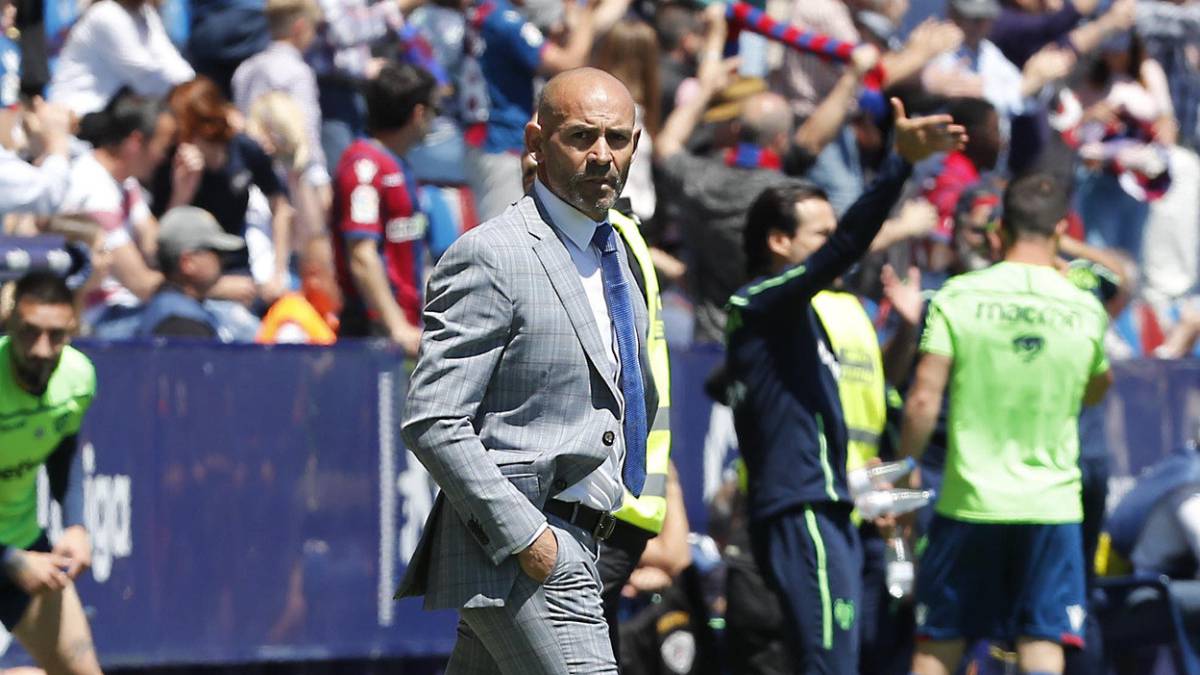 Have you reacted late?
I do not think there was much difference between Levante and Rayo in the first part. But there have been errors that can not be made in this category. Then we were no longer worth anything and we have gone up. We had the option of 2-1 but we knew that playing that way if we did not tie the normal thing would be that the Levante did one more. It usually happens to us, that we start to play better when we have everything lost.
What has the team lacked?
More than our sporting merits, we will not excuse ourselves, if we are where we are it is because we had to do more , it is true that then there is a cluster of nonsense that penalize you. The injury of Galvez that we had to put forward to not stay with nine. The expulsion of Embarba that I think could have been avoided. But it is our fate, we do not complain.
Is it in Second?
If I tell you that with 37 points we are going to save ourselves, I do not say it convinced. The results of this week could give us hope or not. But I think that with the six points that we have left, even if we take them out, he will not give us, but we will compete equally in the two games that remain.
What clothes was found?
Fantastic in terms of being respectful, in predisposition to do things. I think we have left everything we had and that has not arrived. That speaks of sports characteristics, but I personally can only defend my players because they have earned it. We have left the soul in the attempt. Making big games, against big teams, to try to get to the end alive, but this is a cumulus of the whole year and it has not arrived. To the fans we can only thank them that they are always there and that they have no doubt that we will fight until the mathematics says and when they say it we will start working to try that our passage through the Second is only one year.
Can you avoid those errors?
One way or another are errors. Football is full of mistakes. Individual errors that lead to collective errors. But for example, do not make a mistake to avoid the arrival of the first goal, that can not be done. That deprives you of being in the First Division. You can make other mistakes for lack of quality, but not that. That does not do neither the youth nor the cadet.
¿The template is First Division?
The maximum responsible for the errors of my players is me. And individual error is innate. Levante has also committed today. And Barça also commits them. But others, at this stage of competition, should not be seen. Self-criticism? Clear. We all have to assume our responsibility. The teams that fall to the Second Division are for demerits. Do not make excuses. If we go down to Second it is because we have not been able to prove that we are First. In the end three have to always fall. But it's not that it's such a bad thing either. There are teams that fight to go to Europe and do not reach, nor do they meet their objectives, but it is clear that a decrease penalizes much more.
Paco López: "We'll wait until the mathematics says we're saved"
Do they see themselves saved?
No . Let's wait for the mathematics to say. You have to fight. On Sunday we go to Girona that plays the same and you have to make this good victory.
Have been four goals, but could have been eight. And they have also had them ...
In the first half we knew and we wanted Rayo to have the ball. You had to cover the interior passes. We wanted to be together and be able to go against because our time would come to have occasions behind. There have been very clear occasions. The Lightning has a lot of identity and never gives up. He has had his options to tie in a phase in which he dominated us more. But it was expected. I did not think it was going to be a placid game. Maybe we have lacked to recover more the ball because they were going to risk more. In the end we had very clear occasions but they too. We have known how to live the moments of difficulty of the meeting.
Salvation is not mathematical but they take a burden off, do not they?
A nobody missed the match that it was. The pressure that both teams had. The Ray because it was practically one of his last opportunities. And we because of not winning today, although there are two games left, it would have been a huge suit. But I repeat that salvation is not mathematical and you have to think about Girona.
What is going on in your head? Relief, pride, satisfaction ...
Felicity to see so many people happy. The fans, the players ... Inside you suffer fromcho, especially when things do not come out, but I've always said that we had a lot of confidence in the team. There have been criticisms, some with more reason and others not so much, but the team has always believed.
What has changed in the last three games, Betis, Barcelona and Rayo?
Not surprised me because I know them well. I have the feeling, for the daily work and the way this team lives every day, for the amount of adversity this team has experienced this year, I have always had blind faith in these players and I will continue to have it until the end .
Photos from as.com