Navarro: "I feel at the best moment of my career"
"On a personal and professional level I am very well and I am in a team where everything is going well," says the Moto2 poleman.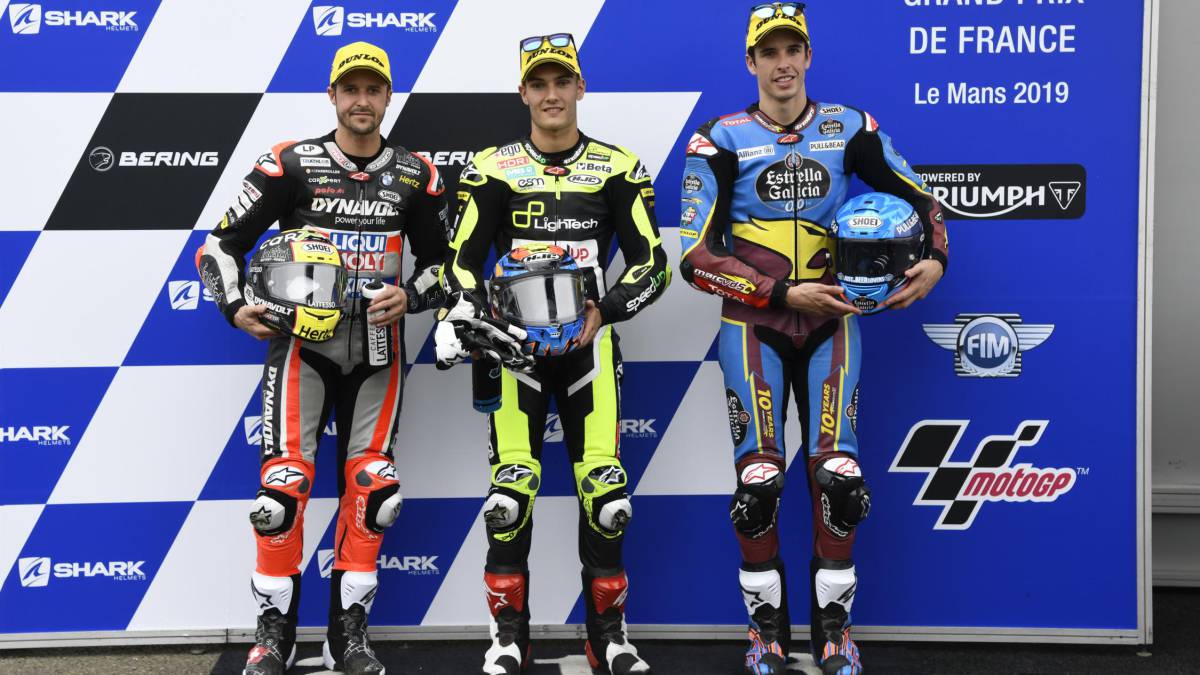 Second consecutive pole of Jorge Navarro in Moto2, who arrives at Le Mans after taking the podium in Texas (third) and Jerez (second) .
-If he had been told this morning that he was going to get the pole he would not have believed it, No?
-Yes, yes. The truth is that this morning did not paint very well and I kept thinking about drying the track because in the morning, with water, it looked like a duck. I did not go and as soon as I leaned a little behind I did not have a grip and when I accelerated, I skated. To go four seconds faster I have risked a lot more than when I made the pole. I could not go and that's why I stopped to try to adjust for the next start, where we improved, but the track was almost dry. It was difficult to understand at what level we were and that's why I went to Q1 knowing that I had to take the risk to be ahead. If you make fifth or sixth in Q1 you go far back and lose all the options of being in front. I had to play it and in fact I have been about to fall several times and I have already cut, because I thought that I did not have more and, if they improved me, well, because if I kept trying I would go to the ground for sure. When I arrived at the box I saw that it was fourth and that's when I thought it was time to work, to improve from behind, that I can not go, and from the front, that I skated. We have changed many things against the clock; We have changed front, back, engine brake and just after leaving I realized that we had hit, was much more comfortable. It was not perfect, but neither were the other riders because this track skates more than normal and that is why I tried to manage it as well as possible. In the lap of the pole has been better than it actually seems, because in the T4 I caught traffic and still I did 49.0 and on the next lap I suffered the fall, because I was again squeezing. I passed Pasini at eight o'clock, he braked later and he fell, I dodged him to go one more hair inside and as soon as I touched the accelerator on that corner he was in very bad conditions and I lost the rear end. The good thing is that I have not flown very high and I'm fine and the bike too.
-Is it a Marc Márquez pole?
-I knew that the time I had was a good time, because for me conditions have I got worse from Q1 to Q2, and that's why I knew that with my time I was first or maximum row they could move me to the fourth or fifth position. That's why I thought that we had to take risks because if I improved a bit I was assured of the 'pole' and that's why I was pushing hard. Pasini has fallen and when I touched the accelerator has happened what happened, but I'm happy.
-Two poles and two podiums in a row ... Is your best time?
-We are in great shape, we are in progression and Easy things come out. Yesterday we did not start very well and I did not feel with the bike, but we knew that with a little confidence we would do it. We came from a good Jerez and some tests in Aragon that were also very good. That's why he was calm. I knew we were going to be where I was playing, although yesterday it was difficult because of a problem with the clutch in FP2 that made me lose almost fifteen minutes. That's why I tried the soft wheel, but I made a couple of mistakes and I could not make the turn. But there is no harm that does not come good. I made the Q1, the Q2 and the pole and tomorrow it seems that the race will be dry and I think that with the data we have from other races we can be competitive. The only unknown is the tire. Dunlop has brought six soft and three hard but at least I can not do with that compound.
-insist, do you feel at the best moment of his career?
-I think so, personally and professionally I am very well and I'm in a team where everything is going well. That makes your confidence go up and I hope to continue in this state of form or even improve as a pilot what we still have left.
Photos from as.com