Nairo goes for the Tour with changes in his calendar
The Colombian cyclist spoke at a press conference about what will be his sixth Tour de France to which he will go after running the Criterium du Dauphiné.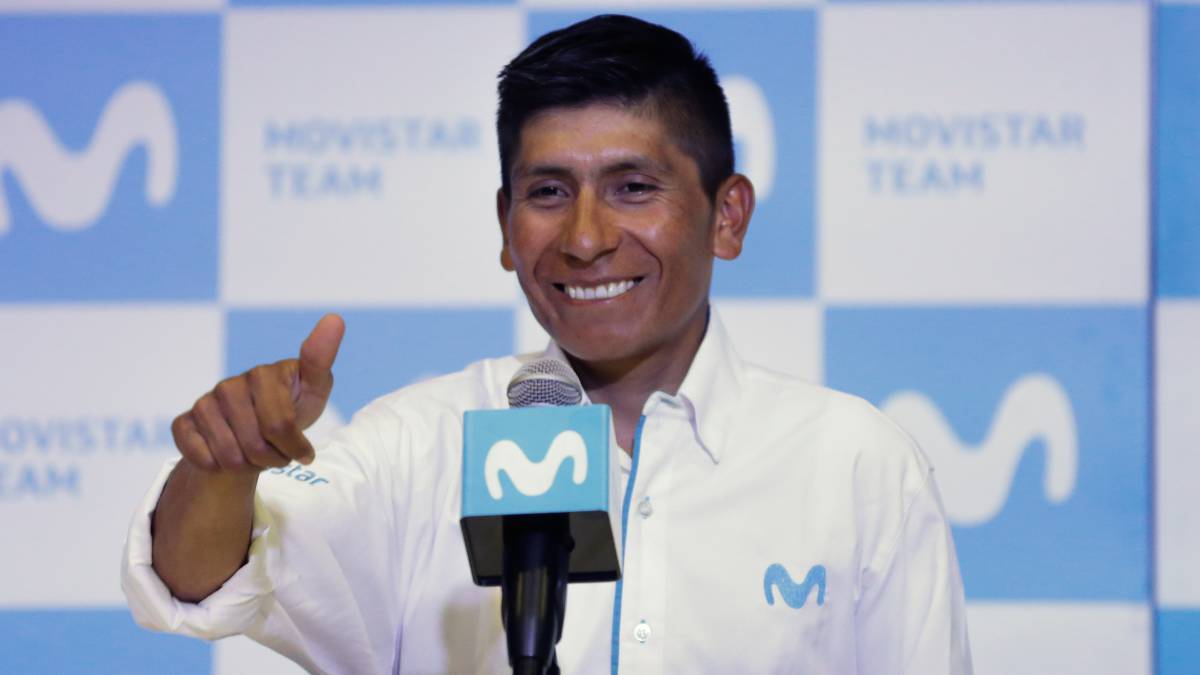 Nairo Quintana said goodbye to Colombia. The Movistar cyclist will travel to Europe and will not return until after the Tour de France. Although in his words there is prudence and good sense, his heart longs to return as owner of the yellow shirt.
The Boyacan wasted charisma and sincerity in his words. He spoke of the changes in his schedule, of his coach Maximilian Sciandri, of doping and confirmed that he will be the leader of the Movistar in the Tour. He praised Carapaz and expressed that he would like the Ecuadorian and Winner Anacona to be on the roster of the squad in the competition.
Carrera before the Tour: "I'm not going to repeat the old Southern Route because I talked to the team and it's better I went to the Criterium du Dauphiné, all of you asked me why this race was not good and now I am going to run it at the request of the public, the goal is still the Tour, I hope that this year will be full of joy for all Colombians and Latin Americans and for me I've always been after that race, I worked very hard to get it in good conditions ".
Leader in the Tour:" Eusebio Unzué has said that I am the leader of Movistar for the Tour and I have trained for that. But it is clear that my teammates are doing well, we are going to see how they come from the Giro, I would like to have the company of Carapaz, it has a very good condition and it will be very good. var the rose to his country, I feel it is a victory in part Colombian because his sporting beginnings were here in Colombia ".
Dopaje: " It is something sad and regrettable for the Colombian sport. It is a great opportunity that the athletes let go with the departure of the sponsor Manzana Postobón because he had never left us since the beginning and paying him that way is unfortunate. I wish we could have another chance. Just as in life there are people who want to choose the shortest way, with traps and end up falling. It's not just the Colombians, there are in the whole world. There is guilt of many and they know it, from the biggest to the smallest. We are an example of a number of children and people who see us as references of struggle and sacrifice, always with clean hands. But we are more good and continue in the fight, we move forward so that a people feel proud of us and even if we are second or third we can raise our faces and say that what we have done was with the effort of our front and with honesty " .
Rivals of the Tour: "They say they are very strong, that they are breaking records. That will be to scare one. You have to be careful and keep training very well. I think I'm on the right track, with the new coach we have this year (Maximilian Sciandri) we have understood each other very well and that gives me peace of mind. He always says to me, 'Nairo, we're going well, we'll probably reach one hundred percent.' "
Strategy on Tour:" If you have a car, you can pump gas into the tank and you have to get to Bogotá. He knows that if he accelerates to the limit he can stay on the road, he has to look to see how far his tank is. I can not leave like crazy from the beginning and that everyone applauds me and then 'not that Nairo is useless, he cheated us again'. If I have to go to the wheel and if I have enough strength to attack and as the Tour goes by we will see what we can do. In a three-week race, the one who loses the least time wins, not the one who earns the most time. "
Current cycling:" I've been doing a show and everyone likes it. And see one who throws a lot of babaza and that goes with the face unbalanced because it is of much heroism but there are many dead heroes. We have to look for strategies that can guarantee us or help us to get the energy to take us where we need to go. "
Criterium du Dauphiné:" This year we want to continue testing, we hope it works out for us. Other rivals do it, reach one hundred percent and arrive at the Tour in good condition. We want to try this way that we have not done. in that race they are French, French organization and French roads in which the Tour is also going to happen ".
A Tour for climbers:" In many of the races of three weeks we have gotten more than 50 kilometers of time trial. The last Giro that I lost was because of that and it has been our weakness. We can not go as well as those who measure 1.70 or 1.80 and with the weight they have. In part of the last Tour have won those who go very well in high and against the clock, they defend very well going up. But this Tour is balanced and we have to take advantage of the high mountain, which exceeds two thousand meters. At least we are not at a disadvantage. "
Richard Carapaz:" What about Richard Carapaz does not surprise me. Last year it was quartor with a team of young people who had a lot of support. He went to the Vuelta a España and he is a very strong runner, he is 26 years old, by the way, today he is celebrating his birthday and he will be having a very happy time. I congratulate him, that he fulfills many more and the youth is already passing away and little by little he is demonstrating what each one has ".
Namina of the Movistar for the Tour:" I give my opinion, sometimes I have said to him ( Unzué) I prefer runners who walk less but we have them available and feel that I am really accompanied and supported and in that way gives peace of mind. I hope Winner can be there in the group of chosen ones, I appreciate him and he is preparing well. He had a very busy first part of the competition but the Tour would not hurt him. "
Technological advances:" The advances are impressive, just as the vehicles have advanced the bicycles are also much safer. It is impressive what they can endure and when you take it does not weigh anything. Of course after 200 kilometers and one thinks 'where can I file because something is left over'. The disc brakes are very good, we continue in the traditional but it is a bike that works well, especially in the time trial, is very well designed. "Mensaje final:" I want to emphasize that Nairo is from Colombia, from Colombians, independently of religion, colors or politics. I want us to separate those issues from the other side because what I want to offer them is joy and sport ".
Photos from as.com