Nadal: "Against Mayer I hit bottom"
The eleven-time champion sat down to talk to Ace: his catharsis in Barcelona, where he locked himself in a room to meditate, his emotional state, his rivals ...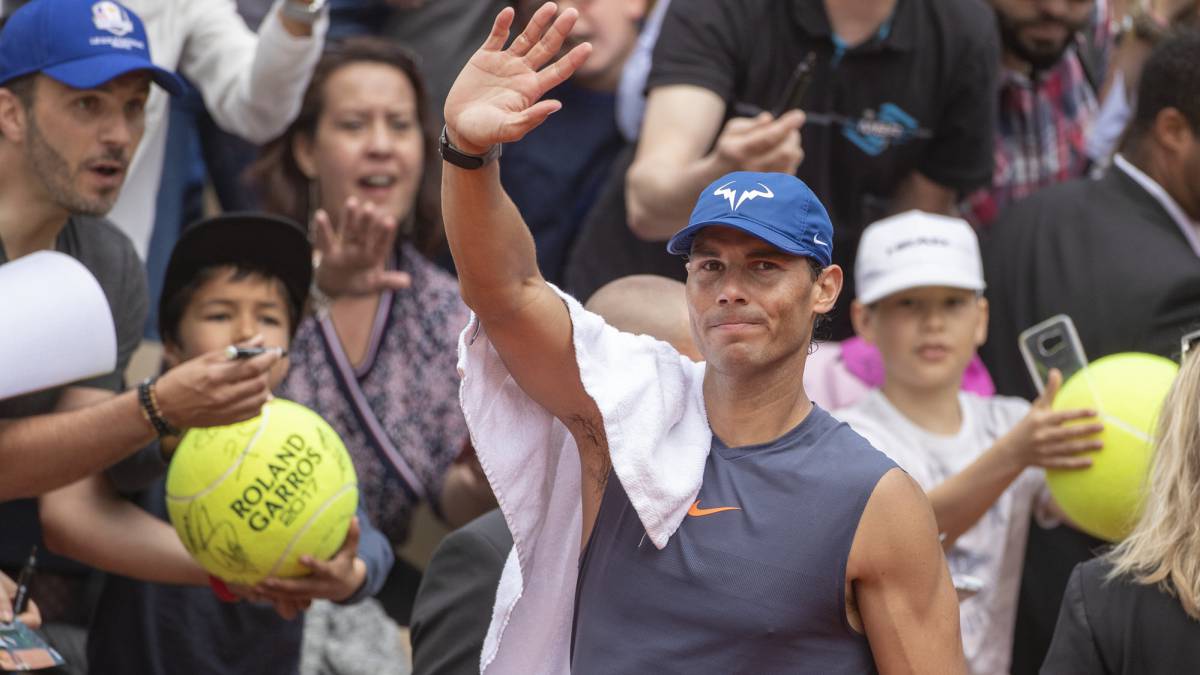 -How are you physically and emotionally?
-Physically, more or less well. Within my current state, I think it's a good time. But it is true that I have spent 18 very bad months, with many physical problems. That is why I am always in a state of continuous alertness. But well, glad of the evolution in these last weeks. The most important thing is that I was able to complete four consecutive ones and that means a lot to me. Last year I played nine tournaments and I had to retire in two, Brisbane and Indian Wells. And now I have managed to chain those weeks.
-When you play, are you afraid of something else happening?
-After everything that has happened to me, of course I'm more afraid now than when I was 19 years old, He had experienced virtually no injury. I think it happens to me and everyone who has been through that. Del Potro sure thinks so, but we must be focused.
-Moya said that you lost a little the illusion and desire, was that so?
-When one is hitting chestnuts on all sides, you have to stop and analyze what is happening. Since the end of 2017, I had to retire in Paris and in London, until before this land season, it has been more than a year and a half with many events. In Australia what happened happened, I did not arrive in Brisbane and in Melbourne I had to leave, as in the US Open later. One makes the effort to recover, to try to return and to keep the illusion and mentality intact, but things happen again. This year, I did a very good first Grand Slam and trained well for Acapulco, but rallying in Cozumel I hit a right and I stayed with my hand stuck. Oysters! That happened, okay. I accept it and I am several days without being able to play. Then I lose against Kyrgios, nothing happens. And when in Indian Wells I see myself again at a very high level, the knee thing happens to me. I had to recover again, which is not easy, and I was a little KO. There begins the work of recovering the illusion for the little things, which unfortunately I have had to do many times and I have passed with very good note.
-When he said before the Godó that he had had non-tennis problems, he was referring only to injuries?
-Yes, yes. Personally and family is all very well and I have no complaint.
-When exactly changed attitude?
-In Barcelona I had the ability again to say, 'Let's focus and move forward'. That has been the modus operandi. The first thing was to recover my inner strength and my mental intensity, to then be able to do the same with the level of play.
-His coach pointed to the turning point against Mayer in Barcelona, do you agree?
-Jugué very bad. I hit bottom and I had one of the worst sensations I have suffered on a tennis court. There he was low, low. It was a complicated moment. I do not know how, but I won. That afternoon I had the opportunity to talk with my team, my family and myself. I made a reflection. I was alone in the room for hours, thinking. Little by little I was recovering things. I saw some videos of good times of mine and I promised myself that from then on I would have an unpolluted attitude, without complaints, without regrets, without gloating over what was happening to me.
-Did your tennis worry you?
-Good When you lose your attitude, you lose tennis. Sport can not be separated from the emotional state of a person. I played very well all this time. Last year I finished number two in the world finishing only seven tournaments. For me, the main thing was to recover physically, with acceptance. Then you have to have the humility and the ability to know that you are going to play against Thiem in Barcelona and you are not a favorite or that in Madrid, with the altitude, it might not go well. It was not a bad tournament, for me it was positive because I saw myself competitive.
-A Paris arrives at a good time ...
-Yes, but after that it has to be translated into matches and results, the first one has gone well, fortunately .
-Do you feel that this year, with the return of Federer, the shape of Djokovic and the explosion of Thiem and Tsitsipas has more competition?
-I have always seen everything very difficult. Djokovic has been very good for many years. Thiem has done at least the last three semifinals ... They are things that are known and that we have to accept. There have always been complicated rivals. None of us who play now have to live an easy time in that sense.
-This time it seems that you can have a friendly start. Do you prefer that or start with more difficulty?
-There is nothing written in that sense, that aspect has little incidence. There have been good and bad experiences in both ways. In the end, the main thing is to be well enough to win the matches every day, and there are some in which you have to contribute an extra. If you get to the rounds where there are rivals that demand you the maximum, you have to be able to match or exceed it to win. Hanfmann did not play badly, but things came out. And now I have Maden, who has already won four games here, counting the previous one. The rivals always want to win you. I try not to lose the perspective that every day is a challenge and a test.
-I'm players that I guess you do not know much, how do you prepare these games?
-Well, being honest, I saw Hanfmann play last year in Munich against Zverev. So I remembered that one a bit. And today with YouTube you can find things. I saw some highlights in their games, I got an idea, although it's different when you play against him. I researched a little and with Maden I will do the same. The important thing, anyway, is to play well. And if you know a little about your opponent, better.
-Did you like the reform of the Philippe Chatrier?
-It's very beautiful. As for the game sensations, it does not make a big difference. I think it's the same. The track is the same. Visually there are small differences, but in tennis terms, no. The wind comes in the same way, it is a very, very large field.
-Let's relax. Why do you always play with brightly colored kits?
-I like bright colors more than dull ones, because I understand that life with more joy is better. It is important to have people next to you to help you be happier, I always like bright colors, without overdoing it. A classic combination, but fun. I'm not a big fan of dark tones and they've taken me out of the New York night session for those things.
-Will not you pretend to mislead the rivals?
-No, no (smiles), it would be more missing.
- I know you like series, have you seen Game of Thrones?
-I saw five seasons, but I left it and when I tried to tear it again, I had a problem. There are so many characters and so many stories, that I got lost. I do not know if I'll take it back.
-And now what are you seeing?
-'Our Planet ', on Netflix. It's a documentary episodes and I'm going through the room. It's very cool, the truth.
-The last. If one day you have a son or daughter, what life would you want for them or if they said, 'I want to be like you, dad', what would you say?
-I would not be the one to decide on anyone's life. I would try to educate or help in the way that we considered opportune for a son or daughter to have the future on track. For this, what is required is a stable and strong base at an educational and values level, with positive examples that we would try to transmit. If they wanted to dedicate themselves to sports, happy, because it gives a good training and should never be negative. I would try not to fall into the error of many parents: to have more desire than them to be something concrete. I would support them, but without forcing or having more illusions than them, because this is the way things do not usually work.
Photos from as.com