Nadal: "I ask for an opportunity for Davis, what Piqué has done can not be criticized"
Rafa Nadal answered questions from amateurs on Twitter and those of MAPFRE executives and employees at the insur_space, an innovation center of the company.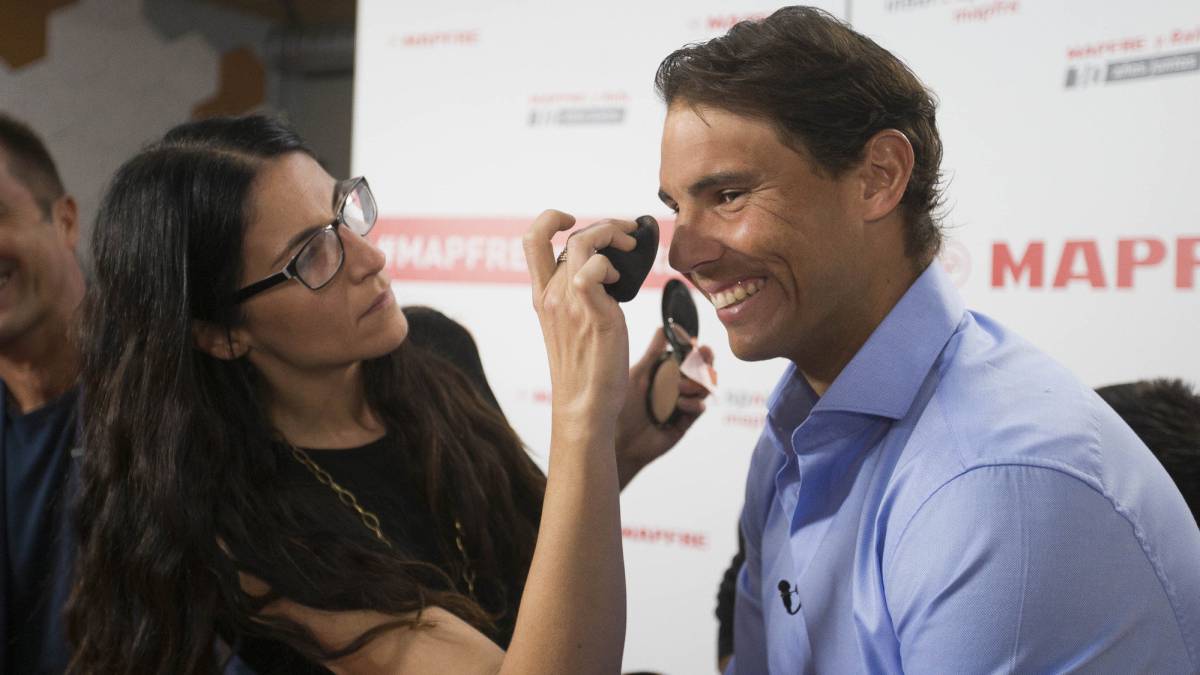 After finishing his morning training in preparation for the Mutua Madrid Open at Caja Mágica, together with Fernando Verdasco, Rafa Nadal moved to the insur_space of MAPFRE, a modern innovation center for entrepreneurs in Madrid's Calle de Manzanares, inaugurated five months ago. The Balearic, relaxed and smiling, was going to answer the questions that the employees of the company and those raised by the fans on Twitter with the hastag # MAPFREpreguntaRafa.
But before, Manu Carreño, director of El Larguero, Cadena SER and driver of the act, started with a brief introductory question for the protagonist. "Madrid is always a very special tournament because of the love I always receive in this city. Then come Roma and Roland Garros. It has been a complicated year and a half, where it has been difficult to maintain continuity and regularity. I was able to play two weeks in a row in Monte Carlo and Barcelona and things are going well. You have to accept things as they come, but now I have been working well for a while, "said Nadal on the tenth anniversary of his sponsorship relationship with MAPFRE.
The company's president, Antonio Huertas, spoke from Córdoba via videoconference, spoke with the player and thanked him for his loyalty to the insurer. "For me the most important thing is personal relationships, which should be positive, close and not exclusively work. MAPFRE has evolved and reinvented itself. I am happy to have participated in that development, "Nadal said. "In tennis, the reason why I continue to be in a privileged situation, competing for important things, is the ability to be in continuous evolution. Things stay on the way, especially physical and self-confident, but you add other things that allow you to continue to aspire to everything. Love and passion for what we do is important. That's where the evolution comes from. "
" I do not know who would win, the 2009 Nadal or the 2019. The important thing is to have the illusion of continuing to fight for the most important things in tennis ", said Nadal answering a question that He took advantage of his ten years of commitment with MAPFRE. " "Today, less points are prepared, the power of immediacy has been imposed. I do not love it, but I adapt. This is the biggest change in the last ten years. The understanding of tennis has evolved and now, from the first shot, the point is sought and attacked from any position, without seeking the best, "he continued. "I have been able to take advantage of the talent that Mother Nature has given me. To achieve what people like Messi or Cristiano have done, we have to have an innate talent", he explained, asked about the reason for his capacity.
" Before there were almost no covered tracks, now they are almost in all the Grand Slams; now there are many more shared events of men and women. The digital world has transformed the sport. Now you can see a tennis match anywhere in the world, "said Manacor, speaking about the development of tennis in the last decade. "We can not be ungrateful and forget that we have a circuit that works well and has allowed us to live experiences that without all that assembly would not have been possible" , he reflected in defense of the work of the ATP. "Tennis is a global sport and MAPFRE has been a good travel companion because it has opted for our sport, also with the Federation. In order for tennis to work, a marketing campaign is needed that makes it global and interesting for companies such as MAPFRE. We have to take care of it and work on its evolution, not only of what surrounds it, but of the sport itself ".
Nadal spoke about his Foundation:" We give an opportunity to young people in situations of social exclusion to live in a positive environment, study and do sports so that they do not suffer the consequences of the things that can happen to them in the street. It is a very important project. " He also gave his opinion on the future of Spanish tennis: "There is Carlos Alcaraz, who is very good and we hope he will go forward; Jaume Munar, who is with us at the Academy ... but we have a long time in which there has been no relief, in the last 25 years, and do not leave as many players as before ". About his planning, he said that his team helps him "to accept adversities" and that "within all breaks for injuries" whenever he has returned he has had the ability "to value a lot and enjoy the good things" that have passed.
The Davis Cup and Pique
"Things have to live them, I do not like people who have criticized the new Davis without living. Things must evolve and the Davis had something bad, which had not adapted to the new Times. It's a beautiful and historic competition, and because of not having made that evolutionn, there has had to be a drastic change. It has opted for a radical change, and I ask that it be given an opportunity and if it does not work, there will be time to analyze it and act. We have to thank the people from outside who want to invest and trust in our sport. In addition, the new final phase is in Madrid and we must help to make it a World reference. Tennis is a complex sport with many interests, companies behind, representation of players ... The Davis Cup is an important source of income for federations . That the confidence in our sport comes from a soccer player like Gerard (Piqué) can not be criticized. It is true that the International Federation should be more present visually in all these changes. That has been the only problem for which people have not been able to see this in a positive way. Repeat that we are going to give him the opportunity, support him and see what comes out. "
" For tennis to be promoted and transcend those who are not purely followers, you need stars, very strong rivalries ... Those that we have had in our generation They have helped a lot, but we must bear in mind that it has been something exceptional, with a player like Federer, who has won 20 Grand Slams, I have 17 and Djokovic 15, more than all the others that were before. It is not likely to happen again soon. We will have to look for other methods, and the way to do it is to create a show that is interesting enough. How do you do that? I do not know, but we will have to change rules and develop ideas. "
Fans launched their questions
Will there be more Nadal Academies in Mexico? " There is Costa Mujeres, which is working very well, but there are no plans to open more there, at the moment ".
Do you have plans to innovate something in your game? " I can not be all the time plotting things, but it is clear that you always have to evolve ".
What has been the most special Grand Slam "There have been many in each era, I could not get one in particular" .
Is there potential for Spanish tennis to continue to triumph? "We have means for Spanish tennis to go ahead, even though they need help from both companies and the state, but I am confident that we will continue to be a benchmark in tennis. "
What has been the greatest sacrifice you have made for tennis? "I've done what I liked, so I can not say it was a sacrifice. I have not gone out as much as my friends, but I have come out and done things that I liked. I've done it less times than them, but I do not think I've lost anything from my childhood, my adolescence and my youth. I was a regular footballer. "
How was the improvement of your serve? " That has always been my weak point and I have tried a thousand things. We have always tried to improve and find solutions and I think we have achieved it. Now it's very important. "
What is your strategy regarding diet and health? " When I was younger I did not think so much. How better now than before, although I'm not especially neat in the diet. I could do better. The improvement that can give you that I do not know if it compensates you in terms of your mood. I like normality. To be so perfect in the long run I do not know if it makes you more imperfect in the long run. Yes, on match day, a little bit of pasta and that's it. "
What is more difficult to handle, physical or mental fatigue? " If I am physically well and feel competitive, I am mentally well. If that goes wrong, mental fatigue appears. "
What is the most important thing for you in the competition? " The base of the sport is to try to give the best of yourself in everything you do and go out and win ".
Why are you right-handed playing with the left? "I do everything with the right, less play tennis, that's the way it is" .
Would you choose tennis if you went back to the past? "It would be very ungrateful if I said no ".
What is success for you? " For me it is to have the feeling that one strives with the hope of improving and having the personal satisfaction of having done all the things that you should. The key? All that has surrounded me and made me achieve the things I have achieved. I have listened to them, to people who had more experience than me. Failure? Every day it can happen to you to go out and compete and lose, but the real failure is to fail yourself. The rest is losing. "
What was your best service in life? " Being with people good professionally and humanely. The important thing is to be good people and my friends have helped me to be. "
What is your song? " I do not have one, in each moment there have been different. Music is important pme My grandfather was an orchestra conductor and I have always listened to music. "
Do you change the tension of the strings depending on the rival or the surface? " No, yes when the conditions are at sea level or at altitude, but not I am a fan of the changes, in Madrid yes I raise the tension of the strings by half a kilo ".
" I hope to continue many years with MAPFRE, a leading company ", concluded Nadal, who signed autographs for employees after receiving a huge cake of treats that tasted right away.
Photos from as.com