McLaren tests its improvements and Ferrari focuses on the Pirelli
First day of testing in Barcelona after the grand prize. Half session for the Madrid, who will not drive on Wednesday. Bottas was the fastest.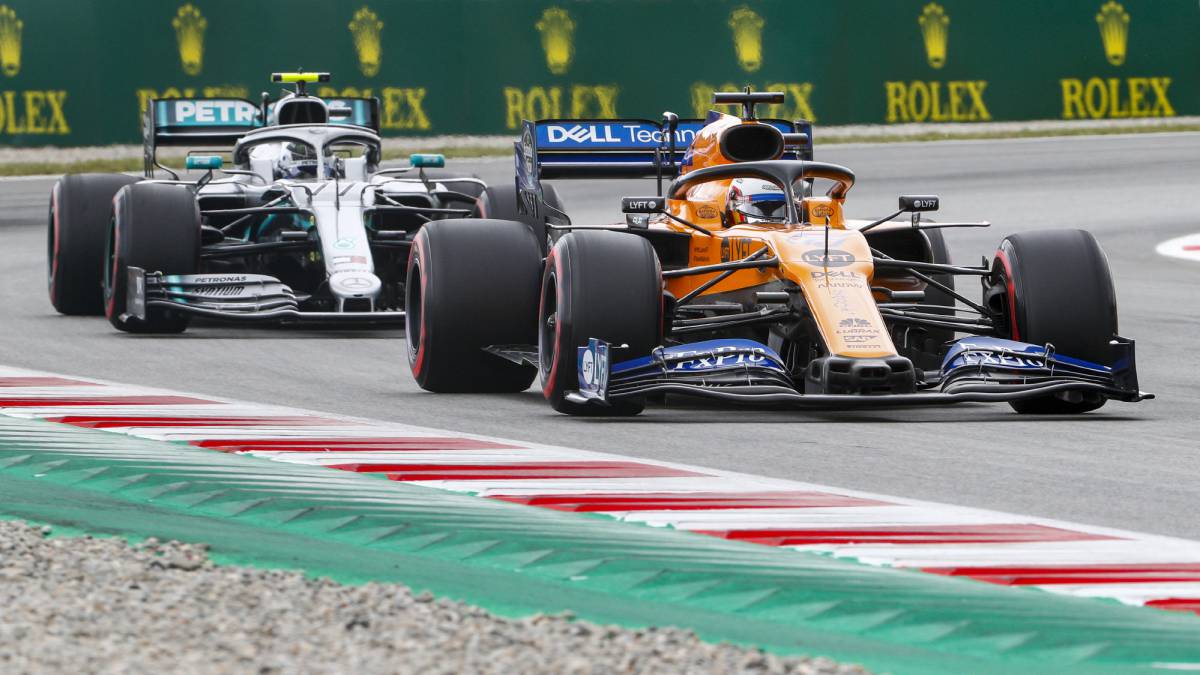 The teams know the Circuit de Barcelona-Catalunya at their fingertips, that's why it made a lot of sense to keep some tests on this track in the F1 season. This Tuesday and Wednesday continues the work on the asphalt of Montmeló, directed towards the next grand prize, that of Monaco, but above all towards the improvements that the teams will be incorporating during the summer, as well as to better understand the functioning of all the pieces that premiered last weekend in the GP of Spain.
In the first session Bottas was the fastest rolling at 1:15, pole time, with 131 laps in his Mercedes. A second and a half finished Leclerc, although the testing programs were very different and Ferrari has enough to understand how to make better your SF90, which from the beginning seemed like a great car but that, for some reasons or other, have not yet been able to squeeze it one hundred percent. Its engine is the most powerful, in straight they take advantage, but the stability of the car and its way of working the tire leaves much to be desired. Vettel worked within the Pirelli test program (on Wednesday it's up to Leclerc), as Sergio Perez (Racing Point), perhaps it would help them understand the reason.
Sainz divided the day with Norris and scored a 1: 18.2, the sixth best record of the day with the McLaren to continue fine tuning the MCL34, which took a step back in the Barcelona race, was left without race pace, although the final comeback from Madrid compensated with points. Kvyat, Hulkenberg and Gasly were faster than the Woking car, although the tests are test and it is impossible to compare programs, long or short runs or fuel loads.
Among the unusual faces were Yelloly (Racing Point), Ilott (Alfa Romeo), Latifi (Williams) or Pietro Fittipaldi, back with the Haas to overcome the hundred laps. This Wednesday there will be more wide-spread also among the top teams: Mazepin gets on the Mercedes and Fuoco, at Ferrari. Turvey and Sette Camara will carry the McLaren. The holders are going to rest, it is not long for Monaco.
Classification Test Montmeló (14/05)
1. Bottas (Mercedes) 1: 15.511 (131 laps)
2. Leclerc (Ferrari) 1: 16.933 (132)
3 Kvyat (Toro Rosso) 1: 17.679 (121)
4. Hulkenberg (Renault) 1: 18.051 68)
5. Gasly (Red Bull) 1: 18.140 (118)
6. Sainz (McLaren) 1: 18.263 (64 )
7. Fittipaldi (Haas) 1: 18.326 (103)
8. Yelloly (Racing Point) 1: 18.361 (111)
9. Vettel * (Ferrari) 1: 18.425 (133)
10. Norris (McLaren) 1 : 18.567 (44)
11. Perez * (Racing Point) 1: 19.719
12. Ilott (Alfa Romeo) 1: 19.819 (41)
13. Latifi (Williams) 1: 20.67 (134)
Photos from as.com