"It may be that Borja Iglesias and Hermoso stay or leave"
"The discussion these days is what to do if they come looking for a player," admits Roger Guasch, hard with Sánchez Flores, advanced the television revenues of Espanyol 19-20 and did not rule out the Chinese tour.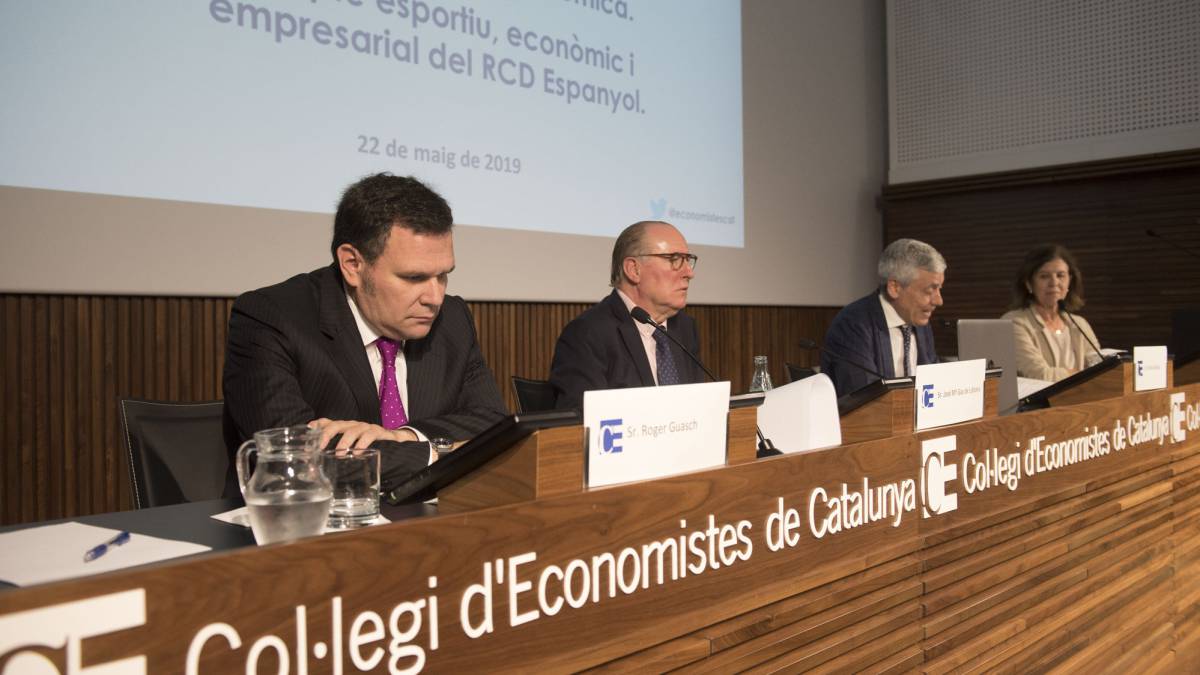 Emilio Álvarez, patron of the Foundation, apologized at the beginning of the act for his aphonia, "which drag from Saturday." Professor José María Gay de Liébana acknowledged, at the beginning of his presentation on the Champions League and Europa League finals, that "only for that full-on perique afternoon is it worth to be born. You do not have to vote on Sunday, because Espanyol is already It's in Europe, "he said. Wednesday afternoon at the Col.legi d'Economistes de Catalunya pointed to euphoric. So the corporate director of Espanyol, Roger Guasch, lowered the ball to the lawn with his exhibition 'The sporting, economic and business challenge of the RCD Espanyol'.
"We are in the selectivity of Europe. Sports management is what to do if a player comes looking for us, we have given all the Excels to know what we can and can not afford, "said Guasch, who said that" our players are worth more now than ten months ago. Óscar Perarnau, Rufete and Rubi are doing an excellent job. " "The images of Saturday are a collective success of people who had been 12 years with desire to win, not an individual success of Rubi, Perarnau or Chen", agreed the manager.
Not in the question time made it clear if there will be sales. In fact, it was quite enigmatic: "It may be that Borja Iglesias and Hermoso stay or leave, the important thing is that Gerard (Moreno) is leaving and he is doing well, because he was prepared". A reasoning that took advantage to attack Quique Sanchez Flores: "A coach can not say that the team does not give more, but think it was a trigger, and the club acted well, even when people wanted to continue Gallego, but we believed in a new impulse, which was Rubi, and this year, when people asked Rubi's neck, we trust him, "he said.
55-60 million in television revenues
Guasch, on the other hand, lamented:" We are very limited in our rights A club of our style in the Premier would be charging 150 million euros, we next year will be between 55 and 60. " He added: "In the last ten years, the income of Espanyol grew by only 25 percent, while Athletic Bilbao, Sevilla and Betis grew twice, we were short, while they plotted good strategies." Espanyol, not in vain, plans to enter 110 million in 2021 and aim for 150 in 2025.
"We will see what we do with the tour of China"
Recall that they have "worked seven months to close a tour in China, to play against Paris Saint Germain, and when you have it ready you have to consider taking the step back because we have been seventh and this is a joy, we will see what we do ", it was raised.
Outside the first team, the corporate CEO revealed that four million will be allocated euros in remodeling the Dani Jarque for a year and a half. "It's a project called 'New eyes'," he proclaimed. He added: "We are also already working with a delocalised sports city" .
"There can not be a stage of growth without one of viability and consolidation," Guasch proclaimed. "What we are doing right now is to consolidate, to make a project with strong foundations in the next two or three years, we do not want to be sixth a year, to reach the Champions in three years ... No, we want to consolidate ourselves in the 'top-10' If we succeed, we will look for the 'top-9', and so on2, he explained.
The leader admitted that Espanyol has "a weak point, which is the social impulse." In that sense, "it can not be that when A tourist comes to Barcelona believes that there is only football every 15 days, that the university is only one color, that there is only one powerful sports shop in Passeig de Gràcia ... This is not good for a city. The Espanyol project goes beyond parrots and parakeets, is from Barcelona, a collective success, "he said.
Agreements with Netflix, an exit in the Round and interactive games
To" go from being a great club to a club grande ", also works the Espanyol" some agreement with chains type Movistar or Netflix ", in opening a new exit in the Round to decentralize the rotunda that is always congested, in presenting interactive games in the ring of the stadium or in a coach that, since May of 2020 and for a year, he will walk through Catalonia. "If 95 percent of the people are from Barça, the teachers too. And to attract them you should not project the history of Espanyol, but the world's history, and that is the history of the club, "he reasoned.
" We are not a minority, we are different "
" Ser del Espanyol enchacha. It's curious. Those who have lived ten years of Messi equal costs, but I would tell you to come. Unfortunately, we have quite a few empty seats. You will see good football and the environment. Engage, "reiterated Guasch, who claimed:" We are not a minority, weWe are different. And there are many people in the other Barcelona who are different. You have to attract them. People do not want to be a minority, but to feel different and want to be many. We demand the difference, that is where we must work. "
Espanyol closes the season according to the corporate CEO with 24,640 members, 45 percent of whom do not attend the games." Just over half of the members have given in Cornellà, in the last ten years, there is a generational change in Espanyol, and that's good, "he said.
Finally, Guasch announced that next season smoking will be banned in the presidential zone of the RCDE Stadium," on initiative of the president, who would cost him, but who precisely wants to set an example ".
Photos from as.com