Márquez: "55 poles are not easy to achieve"
"I hope we can get many more because I am 26 years old and there is still a projection," said the champion after equaling Rossi in MotoGP.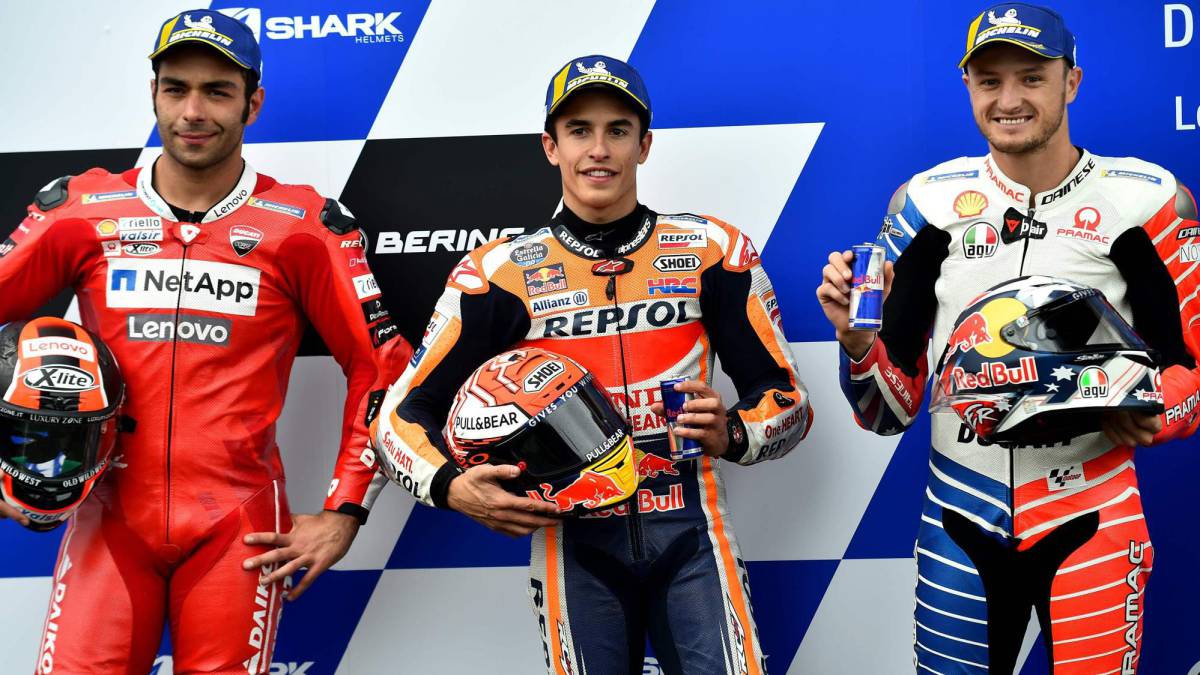 Another day for Marc Márquez in the office, settled this time with the pole in Le Mans of the GP of France, despite suffering a fall in the Q2.
-Day entertained today, right?
-Yes, one of those complicated days in which not only was based on gas and is already in understanding, strategy and risk. We have risked and we have passed the risk score, but it has been a slight drop. When it starts to rain, these things happen. The important thing is that we have achieved the goal, which was the first line, and also with the pole. Let's see what time it is for the race.
-I know that what matters to him is accumulating titles, but this is his 55th pole in MotoGP and he already has as many as Rossi and he is only three from Doohan's record ...
- (Smiles). Yes, they told me. The titles are what I work for and they come as a result of ... All these numbers are a good sign. Pole has always been one of my strengths. 55 poles in MotoGP is said fast, but they are not easy to achieve. I hope we can get many more because I am 26 years old and there is still a projection.
-Do you see your rivals very irregular?
-The important thing is to be regular in all sessions and this is what we have worked hard in recent years . I am regular, but the second most regular is Dovi. Does not stand out much and the fastest yesterday and this morning was Maverick, but there is always Dovi. This is what makes it dangerous for the championship. And then there's Valentino, who at the moment of truth, pam, is there. These two are the most dangerous. Missing tomorrow, because today were strange conditions. Rins has struggled a bit more, but I am convinced that he and Viñales will arrive.
-What career do you imagine?
-Depends on time. If it's in water, go out and improvise. It depends on the water that is, it is one feeling or another and it's time to improvise and accept your speed. If there is someone who is inspired and wins, then he wins. And if it is dry, everything will be more equal by the fact that today has not been trained and will be a larger group.
-When it has fallen in Q2 has not entered to change the bike.
-The motorcycle I had nothing and I stayed because there were difficult conditions. So you want to enter the box, but you have to stay, because you learn. If these conditions are repeated, it will be necessary to survive because, when it starts to rain, it skids. Then it's stabilized a little bit.
-Does Maverick and Rins drop out so far back for the dry win?
-A Maverick does not rule it out. Rins, at the moment, has not shown the pace in training or qualifying. Maverick has done it, both dry and wet, but then Q2 has not gone well because they have risked the strategy when going out with slicks, and it has not gone well. Rins is further away, but Maverick can do a great race.
-Can Austin's zero influence him if he runs in the wet?
-No. What I see is that we are all the same and it is the same for me, for Dovi, for Rins and for Valentino, who are the three who are in front of me. Then there are riders like Petrucci, Miller or Viñales who can take more risks.
-Have you been about to save the fall of Q2?
-It was more because the bike was not done much than to save it. It does not rise in water. When you put your elbow and knee in water, you have to put the bike much more straight than dry to catch grip. I know that it does not give like that. I have a few centimeters of knee and some elbow that do not give more than.
Photos from as.com