Márquez: "It's incredible to win in Jerez, it means a lot"
"I think there were more people than any year and Nieto and Peluqui were going to burst," he says before commenting "the salt shaker of the people here, throw eggs, they told me."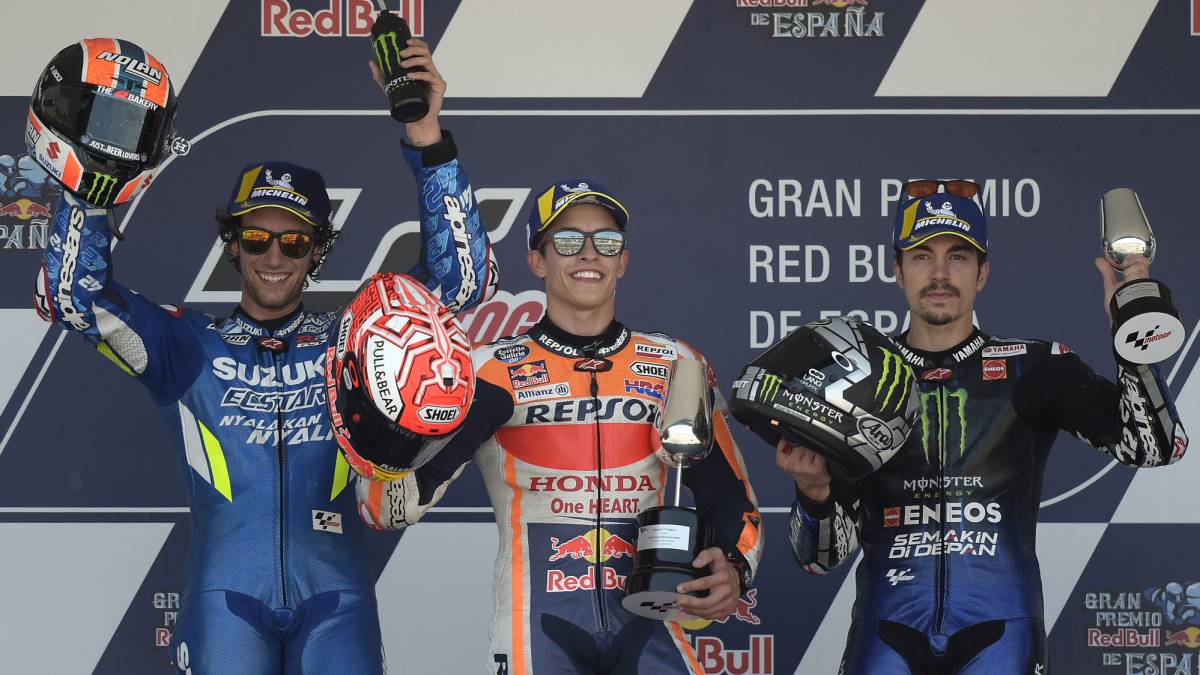 Marc Márquez has achieved in the Spanish Grand Prix his second victory of the season, more important if the first, because he has arrived after the painful fall of Texas, when he led, and because it means his return to the leadership.
- Did I feel like revenge after what happened in Austin?
-I was going to win, but I did not want to go crazy either. It has been more difficult mentally than physically. After Austin's mistake it was not easy to lead from start to finish the race here today. I had the patience, especially at the start of the race, to try to understand the conditions on the track and everything in general. Yes there was a desire, but what helped me a lot was to understand why I fell in Austin. That relieves and relaxes the mind, but everything and so in the first laps was not entirely comfortable, but I knew how to wait and endure and, from lap ten, I knew I would find better.
-Can you know already why he fell there?
-Not yet. Does today's fall count or not? (Smiles) .
-Account, account.
-Fuck uncle, well so clear that the ranking is not going to ever lower. (More laughter) .
-Has it been a very hard fall, has not it? Put your foot on the ground and there is no ground ...
-Yes, good. If you look at the images, my foot gets hooked. We will leave it in a misunderstanding. Yesterday they changed some things on the bike and it was very different both the cam and the footrest. It has been a misunderstanding, but the important thing is that it has not been anything mechanical and also that we have taken the other bike and we have done first, so little has affected me.
-The problem of Austin can be counted already?
-No, no, you can not count equally, but you see ... I fall in braking and braking only acts the engine brake and little else. (Smiles) This is where we have improved a lot and tomorrow we still have more things to improve, because it is one of the points where I think we can take a little more steps. The important thing is that here I have been very well all weekend and I could have a steady pace.
-Was the pressure of Quartararo and Morbidelli overwhelmed or controlled?
-No, I have understood from the FP1 that the race would be to the tenth, it would not be like in Argentina or Austin of half a second or so, that would be to the tenth, that would win the most stubborn and I came out with that mentality. For many laps I did not look at the blackboard or look at how much was behind. I just focused on doing my low 38 rhythm, which was what I had in training and I knew nobody had the 37. If I had someone the 37, I had to settle, but there has been a moment that seemed to me they kept it and there I pressed a little more. I have done a 38.0 because it is also important during the race, even if you are ahead, give the odd psychological blow.
-Two victories from the traffic light to the checkered flag Is that the new Marc Márquez?
-It is not the new style, because it's not my style, but when I feel good, why not? I felt comfortable, I felt very well and in training I was comfortable. I have not fallen once (smiles), so this is important. I have had some saves, but I am very confident and that is important, but Le Mans will arrive, which will be one of the places that Dovizioso will surely have aimed to attack. We have to keep thinking about our championship and the most significant thing is that after a zero we are leaders.
-What does it feel like to win in Jerez?
-It's amazing to win in Jerez. Today I think there were more people than any year (75,047) and at least Nieto and Peluqui were bursting. It means a lot, especially when you see the salt shaker of the people. There is a lot of Andalusian hobby and it is different how it encourages you ... (Smiles) I would like to celebrate it tonight, but tomorrow we have some tests and it is important.
Photos from as.com