Márquez: "You have to give the level that implies being in HRC"
The champion does not see the real possibility that Honda will lower Lorenzo's bike in 2020 if the results do not change, and he believes that "his 'ego' will make him leave."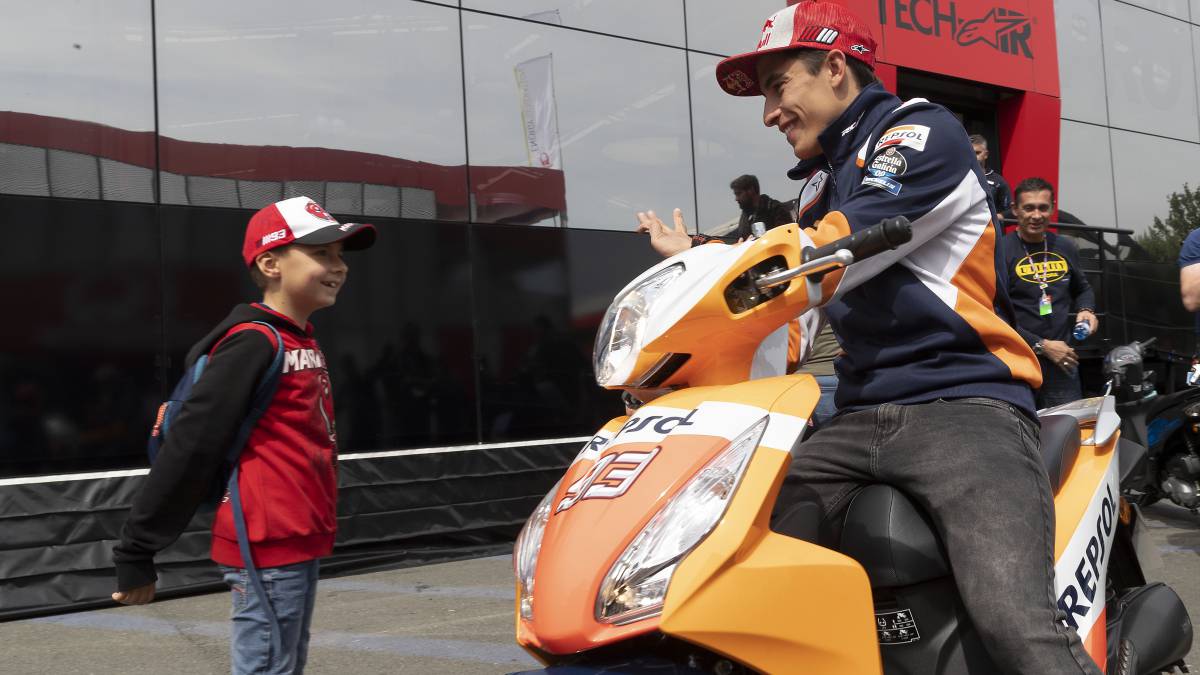 Marc Márquez arrives at the GP of France again leader of MotoGP, with a point of advantage over Alex Rins, and advised that he would be asked about the news of As about that Honda is considering getting off the bike at Jorge Lorenzo Finish the year if you do not change your results, regardless of whether you signed for two seasons. The champion does not see the possibility that Honda will lose Lorenzo from the bike in 2020 if the results do not change, he believes that "his 'ego' will make him leave" and leaves a very clear message: "You have to give the level that implies be in HRC ".
-Did you know about the possibility that Honda will lower Lorenzo's bike at the end of the season if it does not improve his performance?
-I have been warned, I have been warned. From the rear they told me 'watch what that has come out'. (Laughter) .
-How do you see that possibility?
-I do not think it's a real possibility. I believe that Honda would not do that. Jorge will not throw in the towel and that's why I think that is not a real possibility, apart from the fact that we are in the fourth race and there is a whole season ahead. We know what Jorge is like, he is a very fast driver but he needs his time to adapt and this is a winning bike. The sooner, the better, but in the end it will be seen and it will arrive here or Mugello and it will do well and then everyone will be quiet. This happens in sport, you live in the present and when it comes to suffering sometimes people make you suffer more, but in reality it is in the athlete how to manage it. In my case, the other side of the box interests me because it is my teammate but it is another rival on the track.
-I expected it to be another rival on the track?
-On Jorge's talent, what he has achieved and what he is capable of doing on a motorcycle, no one doubts it, because he has already shown it. Yes it is true that when you arrive at a winning project and a factory like HRC, with the bike in front, you have to adapt as quickly as possible and give the level that implies being in HRC, but it is clear that by sure effort it is not and little by little he will arrive.
-It is real, I assure you.
-If you know more than me, who will they put? (Laughter) .
-The same thing favors the play, if it came up, but there's still a lot left for that to happen, if it happens, and I'd rather it does not happen ...
-I think it's not real. I keep saying that it is not real.
-The point is that if someone can turn the tables around that is Lorenzo. Do you think it's easier to do with the Honda than with the Ducati as it already did?
-It's clear that one of Jorge's strengths, and sometimes weak, but I think it's one of his strengths, is his' ego ', being convinced that if he is himself and not thinking about what people say and being able to do. It's what Jorge has, he always looks capable and his phrase 'I'm not a great driver, I'm a great champion', is what a pilot says he has a lot of ego and in these difficult situations surely that ego will be the one that makes him Exit.
-As for the French weekend, are you worried about the weather?
-The weekend will see, the forecast is always changing, cold, not cold, rain, cold in the morning, more heat in the afternoon , but we jump with the goal of winning on Sunday. We have to see what makes Fabio (Quartararo) very inspired, Dovizioso, Rins, Rossi do not rule it out, because here has always been fast.
-Is it an advantage that there are so many riders with the possibility of winning?
-Depends of how you look, but I prefer that there are more pilots because there is more trouble, more fuss, and implies that there will be races in which the group will be bigger and in the last laps that is pretty good.
-Le Mans before was a problem. Do you now aim at fighting for the victory?
-Until last year was the one to save, but last year it was a good weekend and this year it's time to reconfirm that great weekend of last year . Yes, then I won, but Pedrosa and Crutchlow suffered a lot. We will have to see if it can be done just like that weekend, but it is one of the circuits that Ducati is doing well, Yamaha is going well and it will not be a weekend like Jerez. It will be a little more complicated.
Photos from as.com