Márquez: "The end of the Mugello line has to be changed"
"I said it already last year, they said 'no, it's on the edge', but now, where is the limit? When does something happen? No, there is a dangerous point, it has to change," protests the leader.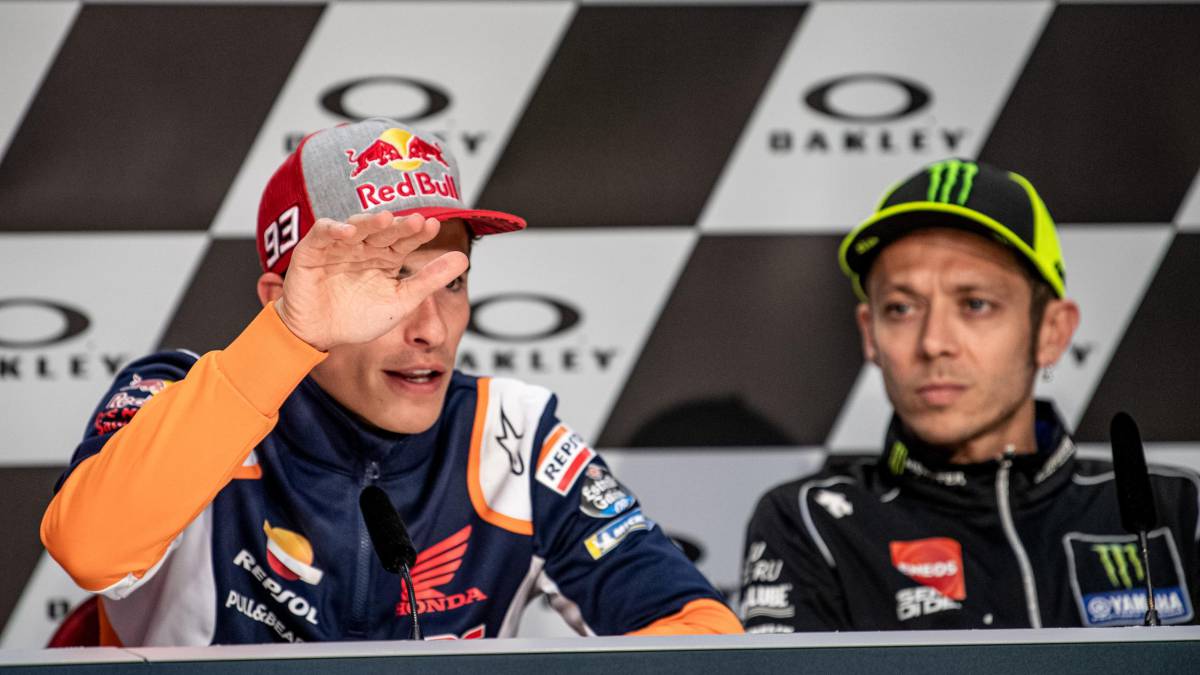 Marc Márquez has not been cut when talking about the end of Mugello straight, a point where the MotoGP reach 350 per hour, with a grade that slightly raises the front wheel and in which he already fell in 2013 , getting rid of the wall impact. And Pirro last year came out there catapulted over his Ducati, doing a lot of damage. The leader asks again to lower that level.
-What's wrong? It does not look like a cap.
-What's wrong with me? That I am human (laughs), and you have to go through colds, and this is the time. You play sports, you sweat, you stretch out there in the street, the cool wind ...
-Will it not be important for tomorrow when I get on the motorcycle?
-I hope not. Luckily, it's already down. They say "three days of ascent, three days of descent", or at least my grandmother told me, and it's going down, so I hope to be on Sunday.
-Fever?
-Tonight I think I have had, but not now. I have not looked how much, but I had insurance: dreams and that, the typical.
-Maybe it has stuck with those who were with you at the press conference ...
-Well, I would not mind. (Laughter) . No, no, I do not wish it to anyone. It will be the least on the weekend.
-Mugello is just an ideal place to be with a fever ...
-No, no, it's a place where you have to be one hundred percent concentrated, especially because It is one of the most technically difficult circuits, especially because it is also one of those that has been given us worse in recent years, within what fits. Although last year I think that our real level was covered by the fall, but the level was there. Let's see how he is doing this weekend against the Ducati and the Italian riders, who will surely want to win.
-Do you have this present of the high speed at which you reach the end of the straight?
-It is a point that must be changed. I said it already last year. They said 'no, it's on the edge'. But, already, where is the limit? When will something happen? No, there is a dangerous point, it has to be changed. When will they change it? We do not know, but it is a point that is not so difficult to change, it simply lowers a bit the change of slope; instead of being so high, it will be reduced and it will be equally spectacular but not so dangerous.
-And above is the place where people often want to hurry overtaking, make time ...
-It is a place in which I think the worst has not happened yet. If you fall alone nothing happens, but when you arrive with a group, with a slipstream, the bike starts to move and you do not know why and it is from there where you lose control, as happened to Dovizioso, who saved it .
-When you get to a circuit where you dropped the previous year, is it hard to turn the page? Do you remember when you get on the bike?
-No. Well, present: the first thing I did was look at how I had done that curve, the electronics, the whole set up, and so on, when I fell. Because it's good to refresh the good and the bad.
-What was it?
-La 10. You have to do it to see what happened, but do not keep in mind when you go out on track. We arrived with another different motorcycle, another base, a different engine. Last year and the previous one suffered a lot with the front tires, this year the compounds that they have brought, or at least the hard one, which is what we normally use, is different, and the geometry that we use this year manages them a little better .
-And it comes with a thorn in it? For not having been able to show his true level by the fall, and by the applause of the fans when he went to the ground ...
-And will continue to do so if I fall, nothing happens, it does not influence me. I just know that it is an important career; we have attacking races and scoring races, and here the initial approach is to score, not to attack. But we are on Thursday, and from the beginning I do not rule out anything. On the contrary, I will try to leave to be on Sunday to fight for the victory. We have to go see, but it is one of those circuits that is more on the calendar to score than to attack.
-But to be able to win, with so many Italians on track, being a leader ...
-On the one hand it would be fine, but for another would not remember anyone if at the end of the year you do not win the World Cup. The World Cup is my goal, it is my number one priority and, yes, you are running in Italy but it is indifferent, it is one more circuit and we will try to do our one hundred percent. We are very lucky that in each circuit, be it France, or Jerez, we are just as motivated and with the same intention, which is to try to win.
-Petrucci has said that the rivalAtir is you because what you have noticed is that Honda, compared to last year, has given much better engine, more to the level. Do you see it like this, that this is going to help here?
-Well, the engine is more level but there are problems that continue to arise, in the different circuits we see little things and see what happens. A priori on the straight we have to win a decimit with respect to last year, but if that decimita that you win on the straight then in the curves do not manage the power in the best way and do not manage it well, you lose it again, or even more . So that's where we have to try to manage it well; We know that Ducati arrives ready, they have tested here with the test equipment, it is a circuit that they are good at, Yamaha also. But I'm saying, last year we were not far from everything.
Photos from as.com