Márquez: "I've caught the bug at this escape"
Alex's victory in Moto2 said: "I am very happy for my brother, more for him than for me because, after a year and a half without winning, he never gives up".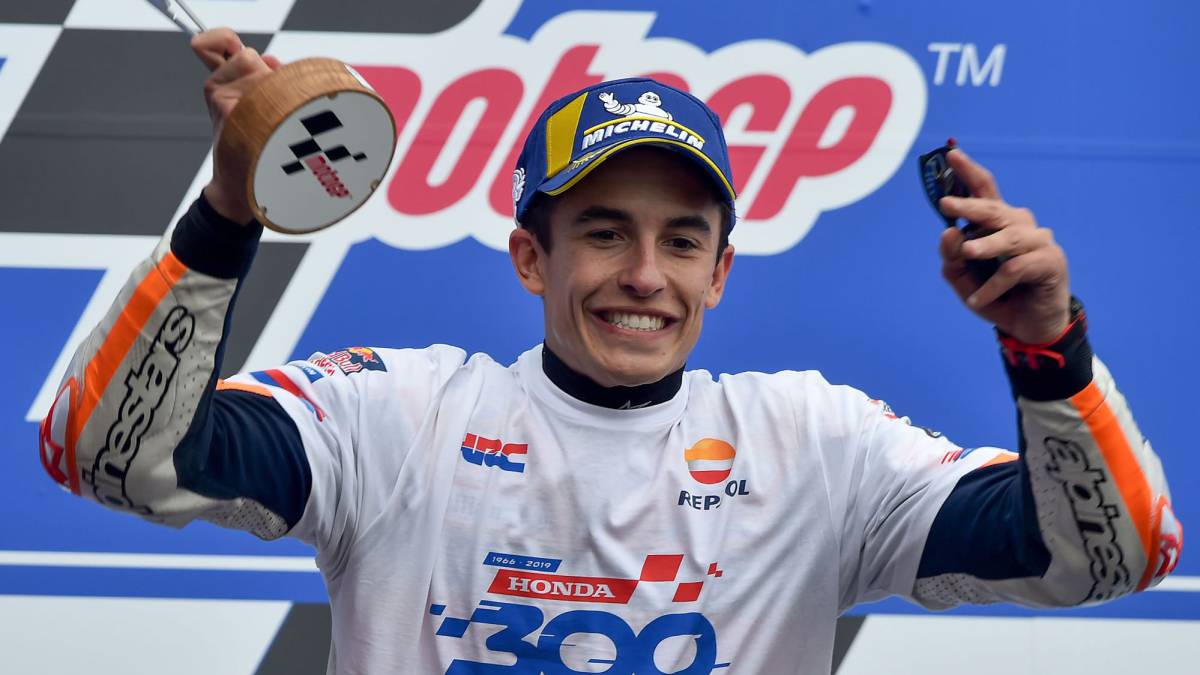 For weekend for Marc Márquez at the French Grand Prix: pole on Saturday, victory on Sunday, gives Honda its 300 triumph in the queen class, matches Rossi's pole position and Lorenzo's wins in MotoGP. And in addition to all that, which is a lot, he took the joy of his brother's victory in Moto2, with which he signed the fourth double in the same Márquez GP.
-Memorable Day for the Márquez family.
-Yes. Very happy with the day, the day of the Márquez family. I am very happy for my brother, more for him than for me because, after a year and a half without winning, he never gives up and never loses his patience. This victory is important for him, for this year.
-What does he say about his career?
-I am also happy to win in a circuit where there was some doubt. After last year, yes you could guess that it could go well, but with this temperature, with so much cold, we had never finished well. I managed to manage it in the best way.
-At the statistical level, yesterday I chased Rossi in the chapter of poles and today Lorenzo in the MotoGP victories. Is it on the way to another title and with the same numbers as last year until now?
- (Smiles). Mugello has to be changed for that, which I caught last year, although we were there. Numbers and victories are important. I always say that the most important thing is the titles, but without poles and victories they do not arrive. Today's race started on Saturday, qualifying very well. Honestly, I came out shooting for fear of the Yamaha, not the Ducati. Viñales and Quartararo had run very fast and if they were put on 32 basses, they would have had to risk more. I wanted to throw from the beginning for the front tire and for the two Yamaha that came out behind.
-Has the plan changed when it happened to Miller?
-I was surprised, because I made 32.6, it was fast, and it happened to me. I thought I would have more, but I rolled again in 33 and I went over it again. That gap that we had created has been recovered, because we have lost a second in a row together. But hey, that was not like Jerez and there was a bit of a fight and a touch, that I missed him too and it's going well, but only a few laps. Then I caught the taste of this escape, but I am aware that it will not be in all races and perhaps the next touch manage it in another way.
-What does it mean to have won with the front soft tire?
-Means a lot and, above all, the temperature that there was. Last year there were 40 grades on the asphalt and today it was around 20. The other was a lot of risk, but it means that we are capable of driving differently. By having more engine, it is not necessary to look for everything in braking. It can be piloted in other ways and that is where we are trying to manage not to be so explosive at one lap, but more constant at the pace level.
-Does it also mean that the Honda's front-end problems are being solved?
-You take a step in the sense that it is not necessary to risk so much in the entrance, but it is still critical. If you do not force it to the point that the motorcycle asks for, you are unable to go fast. That is the point that it costs to find and perhaps where the other Honda lose a little more. You have to force just enough to turn on the site, and that's the critical point. That's why so many saved this weekend. It was not by chance, but because we pushed. If you want to be there you have to risk.
-Can Ducati be won in the next two races? Mugello and Montmeló, nothing more and nothing less ...
-Well, Lorenzo is not with the Ducati. Last year Lorenzo won. Ducatis won those races, but more than they won Lorenzo, so we will try to manage it in the best way. We will go with the hope that it will go well and the winning mentality. Then, as always, during the weekend you put the situation in your place and try to get a podium, which is the main objective. And if you can win, then we will try it.
-Can Lorenzo win there with the Honda?
-How?
-What if Lorenzo can win him there with the Honda, after doing eleventh here?
- (Smiles). Well, I do not know. It depends. Lorenzo is one of those pilots who wakes up from one day to the next, but for the moment his adaptation is a bit strange. Suddenly a quarter ago, a 31 in FP2 and then it costs him in the race, although I do not know what happened to him. I'm sure it will go away when we least expect it.
Photos from as.com