Marcelino: "We were not at the defensive level of other matches"
The Valencia coach appeared before the microphones of Movistar Liga de Campeones: "The players have left their skin, they were crying in the dressing room".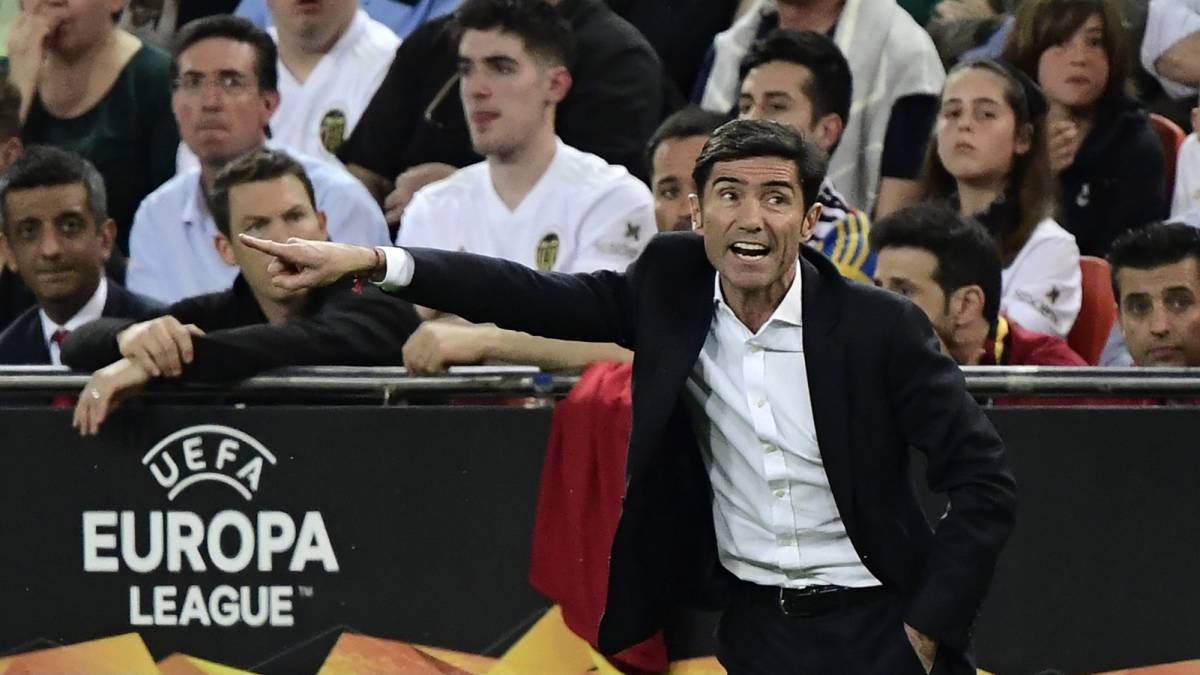 Defeat against Arsenal: "I am sad, but proud of my players for coming here, we have faced a great team, very effective, superior in the tie" .
Lacazette and Aubameyang: "Son very good and had a very high percentage of success.The Arsenal has two great strikers, but we were not at defensive level as in other matches of the competition. "
exciting start: " We started great, with great criteria of play. The draw was a big blow, to be produced and above all because of how it happened, in a very simple action, it generated us precipitation, not defeatism, but great difficulty, the team continued well, but the second goal definitely left us out ".
Now Guedes match?: "We are proud of all the players, we play against a great team. for 12 million and they buy us for 40. The rival has taken advantage of the circumstances and we have to recognize their superiority. We congratulate you. "
Admiration and respect for the rival coach: " Emery is a great coach, we have great personal and professional esteem with him. Their teams have ideas, philosophy, very well raises the parties. He is in a great club as a result of his career ".
And destroyed clothing: " I thank the fans for their support, for filling the field, for the atmosphere before the game and afterwards. I also ask for support for the remaining matches, these players have left their skin, the costumes were crying for losing an opportunity after a lot of work, a lot of effort ".
The trainer of Valencia spoke afterwards at a press conference.
too much difference between the teams ...
In the general calculation, Arsenal have been superior, the rival has shown a great punch, and so it is very difficult to resolve.This punch has coincided with a bad defensive balance.Invading seven goals is impossible.
How can you raise morale in record time?
It's not easy, first of all I want to thank you for coming here, for having competed three games a week since January.This can take a toll on freshness. , of competing with an adverse result, of having generated doubts to the rival, but an error In a long serve of the goalkeeper, a very simple action, Aubameyang tied us. And the second goal sentenced us. We knew that these two forwards accumulate almost 50 goals. We have to recover the players who have received a strong blow. Within three days we have another final. I want to thank the fans because they supported us. And also to help us in another final on Sunday.
Do you think that the team, against these teams, with top forwards, does not give for more?
It is unquestionable that Arsenal has an economic potential superior to Valencia. Any team in the English league, even if it is from the bottom, beats any LaLiga team except Madrid, Barça and Atlético. But we must promote the idea of being in the Cup final, with chances to be in the Champions ... We have made mistakes that have deprived us of having a more equal tie. The opponent generated nine times and got us seven. We have to be analytical and think that we have made mistakes that we should not make and that we did not commit before. In the first action that arrives the rival, marks us, when we were creating doubts. And there, they marked us in 90.
Morality is not easy to raise. Tomorrow will be a hard day. Our obligation is to get up because on Thursday we have another end. And we have to win.
Have you noticed a strange atmosphere in Mestalla? The Curva Nord has not animated ...
We need people. The fans have supported us. In the 50th minute it was difficult to support. And they have continued with the 2-2. That a sector of the hobby does not applaud, we can not do anything. The logical thing is that if your team, after 58 games, is in the semifinals of Europa League, in a Cup final, after 11 years, competing for Champions. The logical thing is that Mestalla is with his team. The general analysis of the hobby is that you have to thank him. We should be proud of the players. Let's enjoy what remains.
Do you worry about the physical state of the team?
We are tired, physically and mentally. We lack freshness. But it is logical. Very few players are used to playing so many games. The state of mind reinforces and deprives you of having strength. But we can not think about what it could be and it was not. We have to believe in ourselves and we have to think of ourselves to growIt is very important to win on Sunday to have real chances of playing the Champions next season.
And mentally?
Today bad. Tomorrow a little better. Past much better. And Sunday to the fullest. You have to be positive. You have to look at the present and the future. Tomorrow we will be sad and crestfallen. Its normal. This template has pride. Forces? Those that remain. The mood has to be the best possible to face a match and win it. I think that, since I've been here, this team has always shown pride, ambition and effort. Of more than 100 games that I have been here, no fan can complain, in more than 90, that they have had pride and courage.
Nos are two extraordinary goals ahead. It has not been possible to be able to live a night like Betis. We have to believe in ourselves because we still have things left.
How do you correct those mistakes back?
Working, regaining confidence, establishing concepts. Sometimes the opponent gets you whenever it arrives and in others the rival fails or they throw it out. Today the rival has put everything. What you have is not forgotten. Now we are on a run that we lack that plus. And fitting in, some doubts are created. We have to get together and not fit. If we want to be champions of Cup we can not fit three or four goals. And in League, although we depend on others, equal.
With four English teams in the two finals. Do you think that this economic power makes you superior to LaLiga?
No because last year a Spanish team was champion of the Champions League and another of the Europa League; two years ago, two Spanish teams played the final of the Champions ... In Spain there are three great teams and we are in a lower ranking. But you have to compete. We are closer to Arsenal than the result has shown. In football we can think that economic power is final. But is not. It is important but not definitive. Because the Premier has already been five years with superior economic power and until this year has never had four European finalists.
Mateu Alemany: "I do not feel that the Arsenal is superior"
Great start: "At the beginning, we have mastered them clearly. The match was a draw, it hurt us a lot, we felt we were close to 2-0, but Arsenal has grown with its two world class strikers, and that's where the options have gone. "
Valencia one step below the big?: "I do not believe in the game, they are very good, but there are important moments in the game as the 3-1 of the first leg out of time. ".
Is Valencia's season bad?: " Final of the Cup, Europa League semifinal, fighting for fourth place, I do not agree that the season is bad ".
Pelea for the Champions:" No h and been able to talk to the players, now we will have to encourage them. Sunday's game is an authentic ending; we have three finals left ".
Photos from as.com