Marcelino: "I was surprised that Sevilla lost at home"
Marcelino García Toral is left out of the squad for the game against Huesca Roncaglia.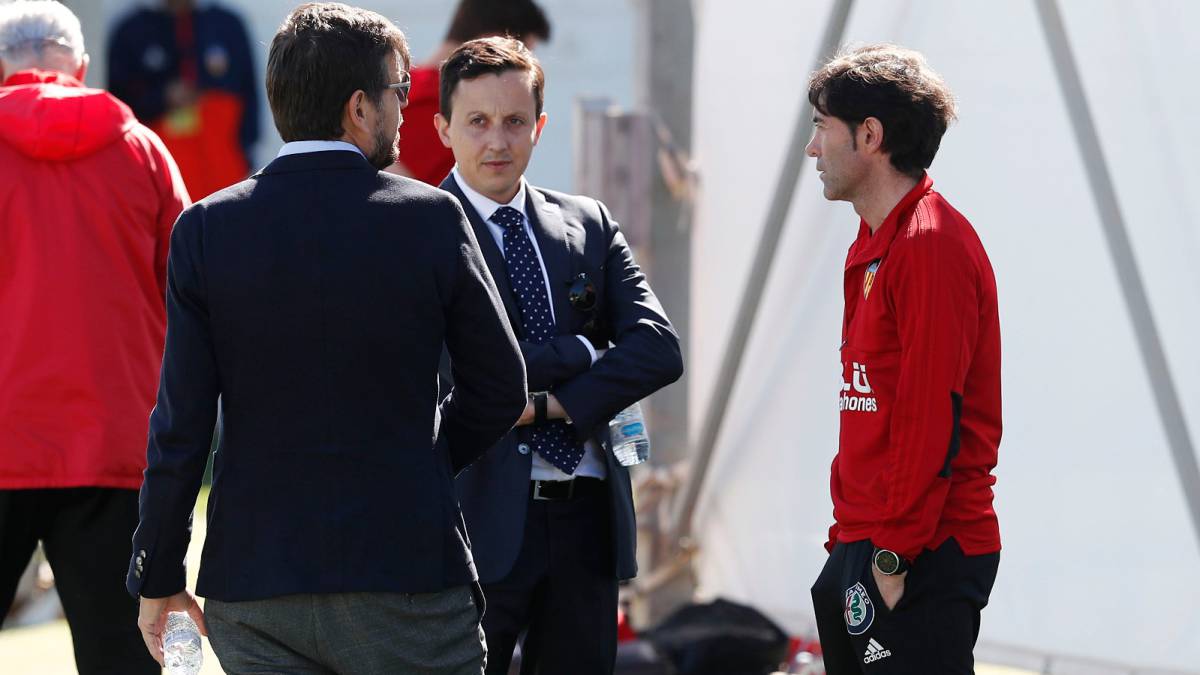 Marcelino García Toral was left out of the call to travel to Huesca Roncaglia, one of the players who suffered the most in London. The Spaniard, yes, passes page of what happened against Arsenal and focuses on the last three days of the League, which can still achieve fourth place and in which the defeat against Sevilla will allow, at least, reach the fifth place and take advantage of those of Caparrós
Marcelino talked in the last training prior to Sunday's game with Mateu Alemany and Pablo Longoria. The general director and the director of the Football Area attended the session before heading to Huesca, where traveled the 18 summoned by Marcelino: Jaume, Neto, Piccini, Wass, Garay, Gabriel, Diakhaby, Gayà, Lato, Soler, Ferran, Parejo, Coquelin, Guedes, Rodrigo, Nephew, Gameiro and Mina.
Before heading to Huesca , Marcelino offered wheel of thought:
He was surprised by the defeat of Sevilla?
Yes. I was surprised It is a powerful team in its field and played against a team that had its objectives covered, but Leganés does things well. We thought that I would win. But it goes to show how difficult it is and the tremendous equality that there is.
How do you see your team?
The team is fine. He knows that it is a situation where we have very important goals. The players put all their effort. The last matches the details are not accompanying us, which yes a month ago. And those details are the ones that decline the balance. But in general the team is well and animated. We know that there are fewer competition matches left. Four official matches and one final. And possibility of another. It is an important match. The team has attitude, enthusiasm and we are going to give everything to win.
Has more important Huesca game after 3-1 in London?
I think you're telling me that we're eliminated against Arsenal and that does not think no professional from Valencia. We have been able to distinguish what one party means and another. The absolute priority is the party of Huesca. There are three important points that would allow us to depend on Sevilla for ourselves. Both are complicated games and the important thing is that we have options.
Return to 4-4-2 with Coquelin?
We have two seasons here. We have practically always used it. It has been at specific moments and through analysis. We will continue to be guided by this way of acting.
There are fewer and fewer times left and there will be less and less effort management?
It is always necessary, because every time we play a game less it is because we play one more game. We have to achieve the most competitive team possible. We play at the last minute and the team can be replaced.
Do you see Diakhaby as '6'?
It seems that all the system was not bad. If the player we played the most from his position was highlighted ... well, it suits us. Whenever a player plays in a position that is not the usual, it makes him a much more available and important player. When we made that decision it was because we believed that he was going to give us results and because he had already played in other stages of his life in that position.
Coquelin and Piccini, in the list of Valencia to visit the Huesca
The coach of Valencia, Marcelino García Toral , have offered the list of summoned to measure this Sunday al Huesca which contained the French Francis Coquelin, absent before the Arsenal, and Cristian Piccini, who could not be at Eibar last week. A penalty prevented Coquelin from participating in the first leg of League Europe in London last Thursday, while Piccini, who could already be in the Emirates Stadium match, was out due to injury in the league match against Eibar. The Franco-Central African Geoffrey Kondogbia and the Spanish-Russian Denis Cheryshev are still out due to their long-term injuries, while Argentine center-back Facundo Roncaglia is out by technical decision. The convocation of 18 players traveling to Huesca is formed by Neto, Jaume, Diakhaby, Gabriel Paulista, Piccini, Garay, Gayà, Lato, Parejo, Soler, Coquelin, Wass, Guedes, Ferran Torres, Gameiro, Santi Mina, Rubén Sobrino and Rodrigo.
Photos from as.com