Marcelino: "Valencia has not done a season like this for many years"
The coach of Valencia puts in value the performance of his staff in a course in which "we have been playing three games per week since January 5"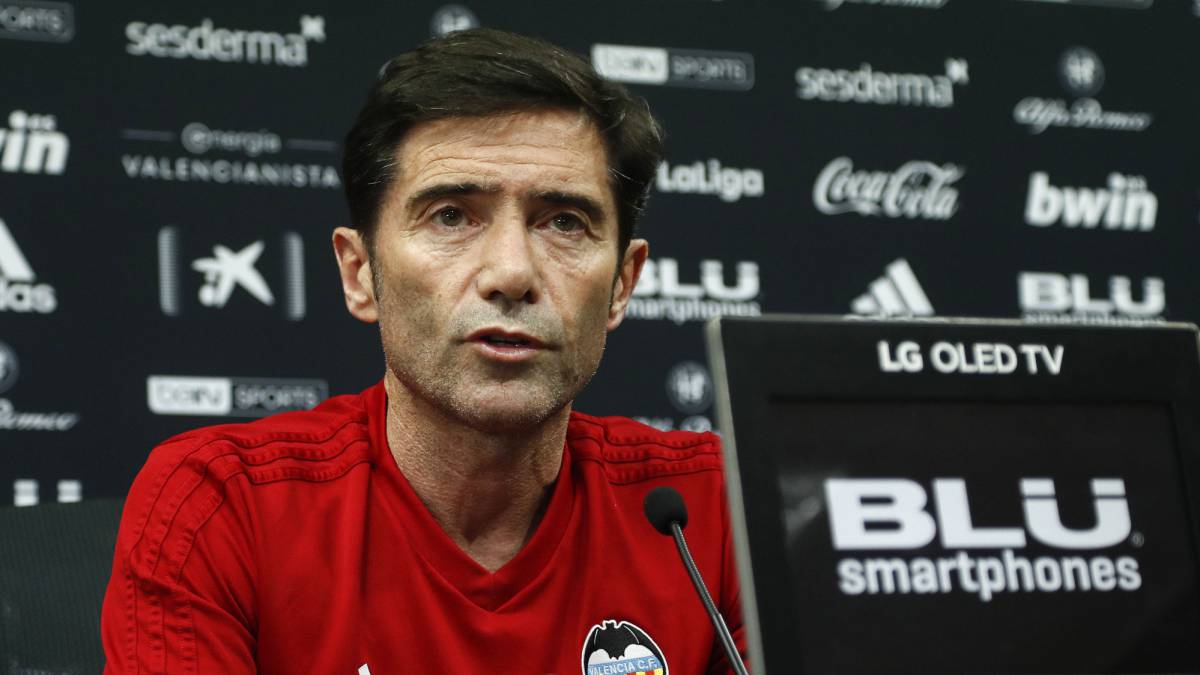 Sentimiento: "Soccer is work, seriousness, honesty, rigor, commitment ... Sum of many things. I have a template that has all this. 23 points in the first round, 35 in the second, playing 59 matches. Going back in this match. With legs tired, with the mind collapsed after being playing finals since January. It's a relief. The first week of competition, since January, we rest during the week. It is not done but we are in the best possible situation to achieve it. "
It depends on yourselves: " The luck we have is that we reach the last day is that we depend on ourselves. The rival has already been saved, I do not know if it can benefit or harm us. They are going to be released, they do not have the obligation to win. Now we play one that plays a lot against another that is not played at all. I do not think it's decisive. "
Jaume: " If we had played the Europa League final, they would have played a game each. By not qualifying for the Europa League, we thought that the best thing is for Jaume to play these two games since he has not played for a while and will play the Copa del Rey final ".
Do you get angry with the stands? : "It has not been an anger with the fans. But I know how this template is. 72 hours ago, the squad was crying in the locker room. We have 59 games. I think there is only one team that has played more games than us in Europe, Chelsea. Today we could not strain it. We needed the support of the stands. There are players who carry 4,000 minutes. We do not realize that they are human beings, they need support. This template 11 years later plays a Cup final, five years later plays a semifinal. All this has a lot of value. We add 23 points in the first round, 35 in the second, playing from January 5 three games a week. Valencia has not done a season like this for many years. Many years For all that, I asked for the help of the public. That's why I want to thank you. "
Camp Nou Information: " We had information. Each goal that Barça issued was noticed among the fans. We knew that Barça went ahead 1-0, the opponent could tie. With the 2-0, plus the 3-1 ours it happened to depend on us ".
gigantic step: " In spite of all those circumstances we are in this situation. We should all be proud of this template. Work can have a reward. Hopefully we can win the Cup and we are depending on us on the last day. Surely we will get better physically and mentally to Valladolid but it will not be easy ".
Are you angry? :" A lot of tension, a lot of effort and work, taking it out. The stand, with me, in a complicated situation, was great with me. I can only be grateful to this hobby, here, in the field, and on the street. I can not be angry with this hobby. The grandstand responded to a request I made to them. We need the most difficult. If it was difficult to arrive, it would be even more difficult to certify it. Hopefully we are able to do it. Happy will I be when we achieve it after the game against Valladolid ".
Has it been the most demanding season of your career? :" Not because every season we have tried to be ambitious and aspire to the maximum. Fortunately, as a coaching staff, we have exceeded the objectives or contributed to that. We have achieved goals that are superior to what were considered logical. This season, for me, has been exciting. "
Two final. What guarantees are there to arrive in optimal conditions to reach the final in Seville? : "Now we have two games in 15 days. That is a very big advantage. It allows us to recover physically and mentally. If we finish fourth, it would be a moral blow to face that final. We have to look at the immediate. In League, it is the last final. We placed fourth on day 37, after several attempts. We had several options to win three consecutive games in the league. We did not. And now we have no choice but to do it to achieve the goal. It will be good for us not to compete during the week. Then we will have another week to face the Cup final ".
Photos from as.com