Laso: "If Felipe Reyes wants to talk, my door is open"
The Real Madrid coach answered the Madrid emblem, which alluded to a pending talk with the coach. "We can talk like in these eight years."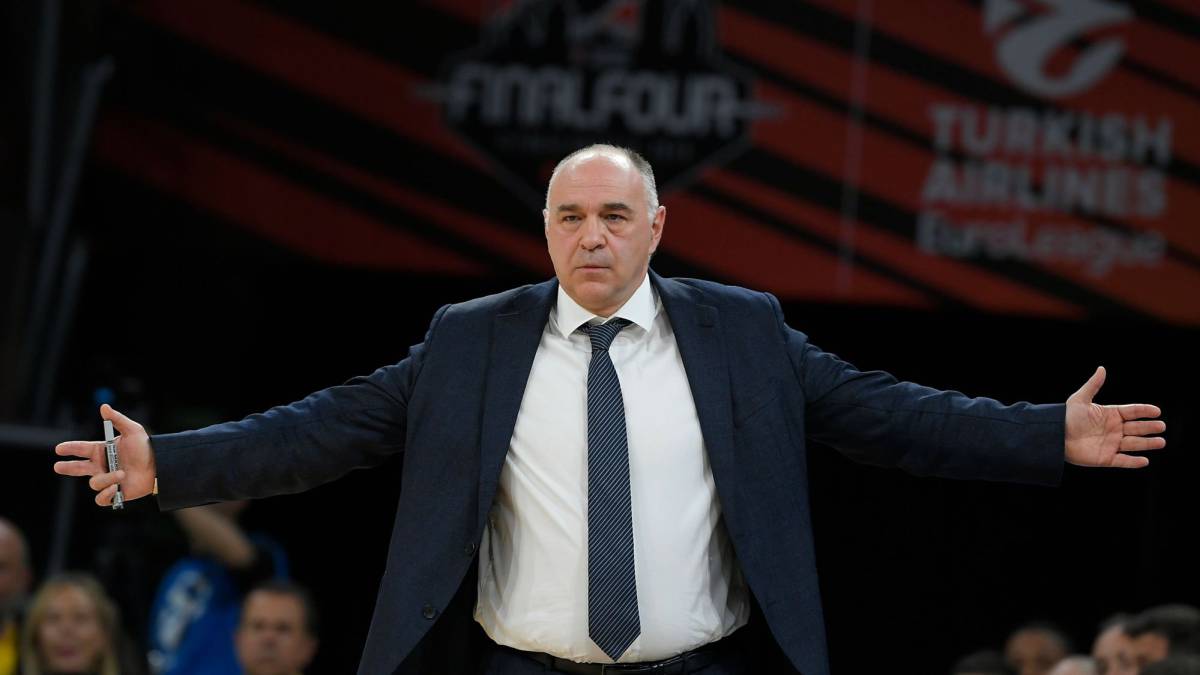 Laso tried to put out the fire that caused Felipe Reyes, demanding more minutes in today's game for the third and fourth place and alluding to that he must have a conversation with the coach to define his future in the team. The coach was clear and was an example: when he did not play, he respected those who did. "If Felipe wants to talk to me, I'm delighted. I think it has been very good, it has marked the rhythm of the game. I speak to all my players, I tell them that my door is always open. If you want to talk to me, how can I not be open to it? As a player I always thought that if I played, there was someone who did not play. And whoever does not play deserves respect. And if I did not play and the other played, I had to respect. If there is someone who wants to, defend and value Felipe, it's me. We can talk like in these eight years, he's a very important player for me, the years have gone by and we've had good and bad moments, which keeps him playing that ambition to want to continue playing. I'm really glad that he says that. "
What is the outcome of the Final Four?
I want to congratulate my team for the victory, we played a good match. In the aspects that we have talked about, we have shown that we are prepared. The playoff was difficult and we arrived here knowing that it is one of the most difficult games to play, everyone has to understand it and I am proud of my team, mentally we show that we are prepared, we leave with a strange taste in the mouth it is always better finish a championship winning the last game, although it is not the one we wanted to play.
Campazzo has broken a record of assists ...
Ha been magnificent, has made a great game, has managed the team very well, has set the defensive tone, not only highlights the assists, has moved the team well, I'm proud that these numbers will endorse it, although the statistics are not what we trust more.
Do you give something this Tuesday in ACB?
Nos left two regular league matches to be champions, it is in our hand to ensure, the rival (Valencia) is the champion of the Eurocup and has a good track record. We want to win on Tuesday and Sunday in San Sebastian. It was normal that we thought a little about what lies ahead, do not think that I only thought about Tuesday, the important thing is the day to day, we should give it a lap in terms of rotations after having played on Friday. The starting quintet has been very good in mentality and has marked the start of the match well.
Is it fixed some mistake regarding the semifinal?
I do not know if you know many coaches, when a game ends we always think what we could have done better, I will return to Madrid now and I will be with what I have done wrong. Many times it's not just what you do, there are other things you can not control. I criticize myself what I have done wrong, it is part of my job. Even my friends tell me: what have you done there, Pablo? Eye: I have blown a technique that is stupid but I can not control.
¿A this triumph gives importance?
Le give importance as a coach. I had another in Istanbul against CSKA and this is a fucking party you do not come to this game, you come to win the championship. There are the four best teams in Europe and three are gone. We, a little better than we have won, but do not give me anything. We lost an opportunity and we must think in the following.
Would you suppress it?
I do not think about it, I accept it because of my way of being, what I think will not change anything. They are not going to take my opinion into account.
Obradovic: "I am proud of our players"
Obradovic appeared with a serious gesture, so upset by the two Buesa games in which, strange in a golden curriculum, his team has not competed as for the physical consequences that it takes. Vesely hurt his knee and Green fell injured in the annoying fight for third and fourth place.
Do you worry?
We have already talked about how difficult it is to play this game, we try to offer another different image, a bigger fight than two days ago. Vesely had pain in the knee and did not play in the second half. There were different rotations, different positions for some players and Madrid if you are not concentrated punishes you. In transition he made very easy baskets, but excellent season. For different reasons we have not played our basketball, I am proud of our players, now we have to change the chip and prepare the playoff in Turkey.
What has Green?
He has gone to the hospital, we do not know.
What did you think? this edition of the Euroleague?
333333 The quality of the players is there and there were good teams. There have been many fans, they have come en masse to the matches here, the pavilion has almost been full. The basketball that has been seen has been very good, the Euroleague has to continue on this road.
Photos from as.com