Julià Márquez: "I celebrate the victories of Alex and Marc equally"
The father of the winners in Le Mans Moto2 and MotoGP, recognizes that the little one "was a relief" and the biggest reveals that his success is "being chopped with his shadow".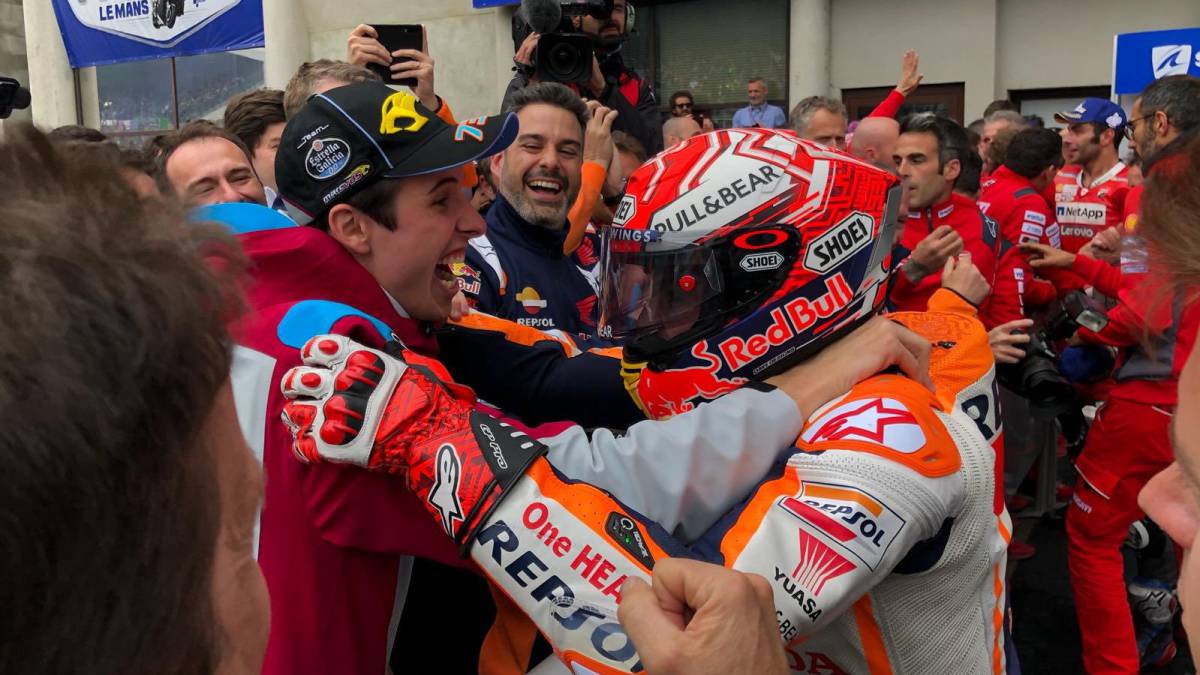 The day of glory in the Márquez family was lived on site by Julià, the father of the winners of the Moto2 and MotoGP races at Le Mans, who recognized this newspaper that the victory of the child was a "relief" and that the greatest He revealed that the secret to keep growing is "being bitten by his shadow" .
-His son Álex had to arrive to end the drought of Spanish victories in Moto2, because one of our team did not win from Japan 2017, when he did it himself.
-How much have we been without winning? I did not know, I did not know it. What I did have in mind is that if Vierge had finished fourth it would have been the best result of the Spaniards in Moto2, because that had never happened.
-What can you say about Alex's triumph?
-It's super important. It makes us very happy, to us and to the whole team. It seemed that we were dragging a bit of bad luck since the beginning of the year, because when something did not happen to Vierge, it happened to Alex. In Jerez we thought that we had already covered the quota, because it was the third time something happened, and it seems that they have listened to us because the victory has arrived in France. It is important for him, because he sees that he has rhythm in training and in qualifying, he knows how to do it alone, without wheels, and that he does not come out in the race makes a pilot think about what happens to him. Winning like this is a relief for a pilot, it has been for Alex and it would be for anyone.
-What has been the most difficult for Alex in that year and a half that has elapsed between one victory and another?
-Lo harder are the injuries. For him and for everyone, in this sport, the most difficult are injuries. The rest, you stop to think, you count to ten and life goes on. Everything can be solved with patience.
-He is the father of two world champions, but one is a cannibal who does not stop winning and the other costs more. Are Alex's victories more celebrated from his position than Marc's?
-I celebrate the victories of Alex and Marc equally. They are two of my children and for me they are the same. The celebration is the same with one that with another.
-What will Alex be able to do from now on?
-One more march and gas.
-What do you think we will talk about after the MotoGP race? , if Marc wins and we finish the interview?
-Venga.
-Tell me about Marc's victory how clearly he has done Alex's.
-Well, Marc is easier because he has us too well accustomed He has done phenomenal, I believe.
-An unbeatable day of glory for the family?
-Yes, here, and it is difficult to happen, because having two children running costs the balance to come out balanced in both sides. Here, luckily, and with a lot of work, they have been able to win the two, something that they had done for the last time in Japan 2017.
-And of the records of Marc what does it say? Here he has equaled in MotoGP the 55 poles of Rossi and the 47 victories of Lorenzo. Do you see him, for example, reaching 90 grand total wins?
-I think that, young as he is, it's possible. He is very young, has a lot of future ahead if everything goes well and is possible. Seeing the math he is carrying, it is possible.
-Does not even his father know his limit?
-No, because he always brings something new out of his sleeve.
-How do you get the motivation to keep improving and work? ?
-Being chopped with your shadow.
-Then you will have stimulated the whistles you heard when you were presented on the grill. It has not been an outrage, but it has been.
-It does not matter. Those who have done it now who swallow saliva.
Photos from as.com