Jorge Navarro: "Winning in Jerez would be the host"
The Valencian has released his box of poles in the intermediate category and tomorrow will try to also premiere the victories.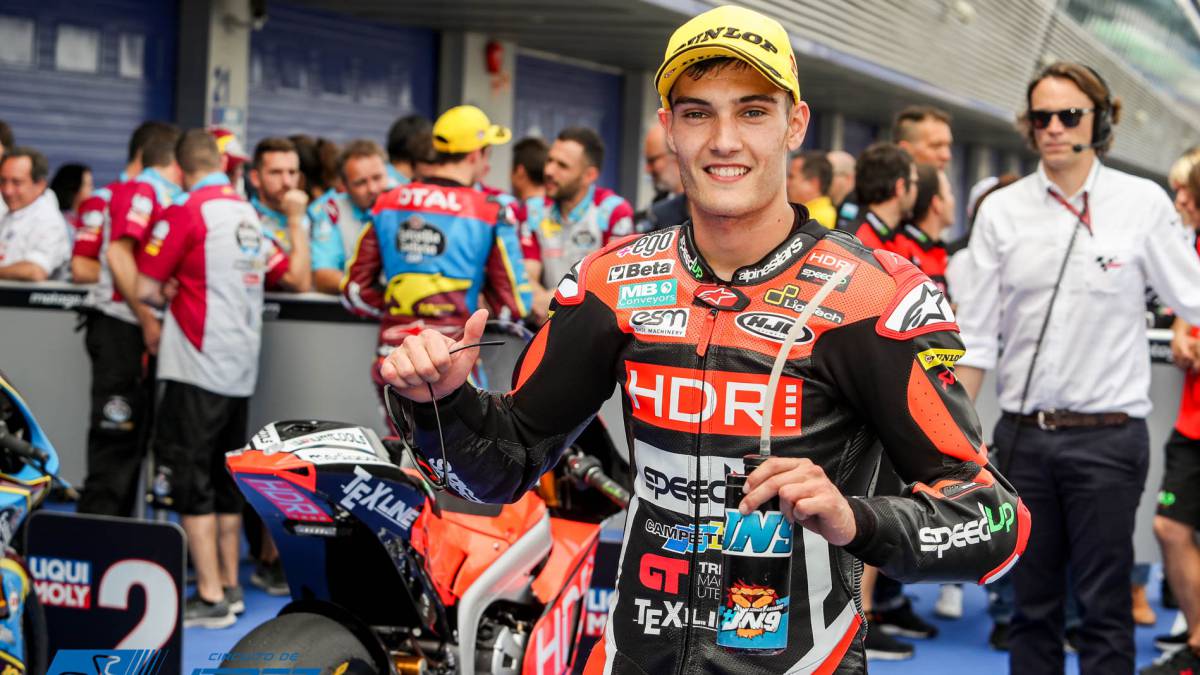 First pole in Moto2 for Jorge Navarro, the second in his World Cup career. The Valencian of La Pobla Vallbona does not hide that winning in Jerez his first race of the intermediate category would be incredible.
-You can not say that his pole is a surprise, because this confirms the line that has been showing since he climbed to the Speed Up.
-Yes, since I got on the bike here in Jerez, even with the Honda engine, I already found myself very well, with the team also great. We have been taking steps forward; in Qatar we had bad luck but already in Argentina we did a very good race, in Austin a better step, we have realized that in the race pace we are always strong, we needed to get out in a better position. In the first laps the first ones escaped and that left us without options, therefore here, being aware that we are strong in terms of pace, the goal was to try to get out as far as possible. I had it clear and I made a very, very good lap, so happy and confident for tomorrow.
-What have you thought when you crossed the finish line and saw that it was first?
-When I saw the 41.1 I I said 'they'll have to sweat a lot to improve', so I relaxed and piloted more calmly, as if it were the race, as if I had to do twenty laps at that pace, trying not to make mistakes and go to sleep all happy today. And when I passed the finish line and it was confirmed that I had the pole I was very happy, but with that little bit of contentment, because we will celebrate tomorrow if there is anything to celebrate. Today happy, because in the end these moments it is important to enjoy them because not every day you take the pole. I'll go to sleep happy but tomorrow we have to hit the mango.
-What has changed to show now this record?
-All a little, but there is nothing you say 'this is exactly'. I am calmer and everything comes as a result of working with the team and I feel very good with the bike. It's like a wheel: from the beginning I felt very good with the team, we worked very well, they know very well what I ask, we do not step backwards, we always maintain an ascending line and this gives the driver confidence. I'm more calm. Also when things go well you have more confidence, you are taking steps forward, is what we are doing well and I want to keep this line.
-What is the goal for tomorrow, what would you end up satisfied with?
-If you ask my boss for sure he tells you that you have to win. I also want to win, winning here would be the host, but I think that adding up for the championship is the most important, we must continue building. A podium would be a very good result and win, as I said before, would be the host.
-And what rivals do you see? Because it is costing a bit to understand this new Moto2 until now ...
-It is complicated, because as conditions are there are people who are stronger and people who are not so. For example, Márquez has been strong throughout the weekend; the KTM are a bit of an unknown, there are times when it seems that they are and others in which not so much, but in the end we are many. I think it's going to be a race that is decided by small details. You will have to be very focused, not make any mistakes, because this circuit is small, times are very tight, and there will be many rivals that can be fast especially in the first part of the race. We during the weekend have been working on the second part of the race, we have been very strong, I must say that it is also the strong point of my bike, because my partner also has a very good pace, therefore there are many unknowns. It will be necessary to see from the middle of the race onwards who is going forward, who is behind, and I hope that we are the ones who are going forward.
Photos from as.com