Jerez is the nineteenth Spanish triplete in MotoGP
It has been almost seven years since the first, Japan 2012, with Pedrosa, Lorenzo and Bautista, and this one is the same as the previous one, in Assen 2018.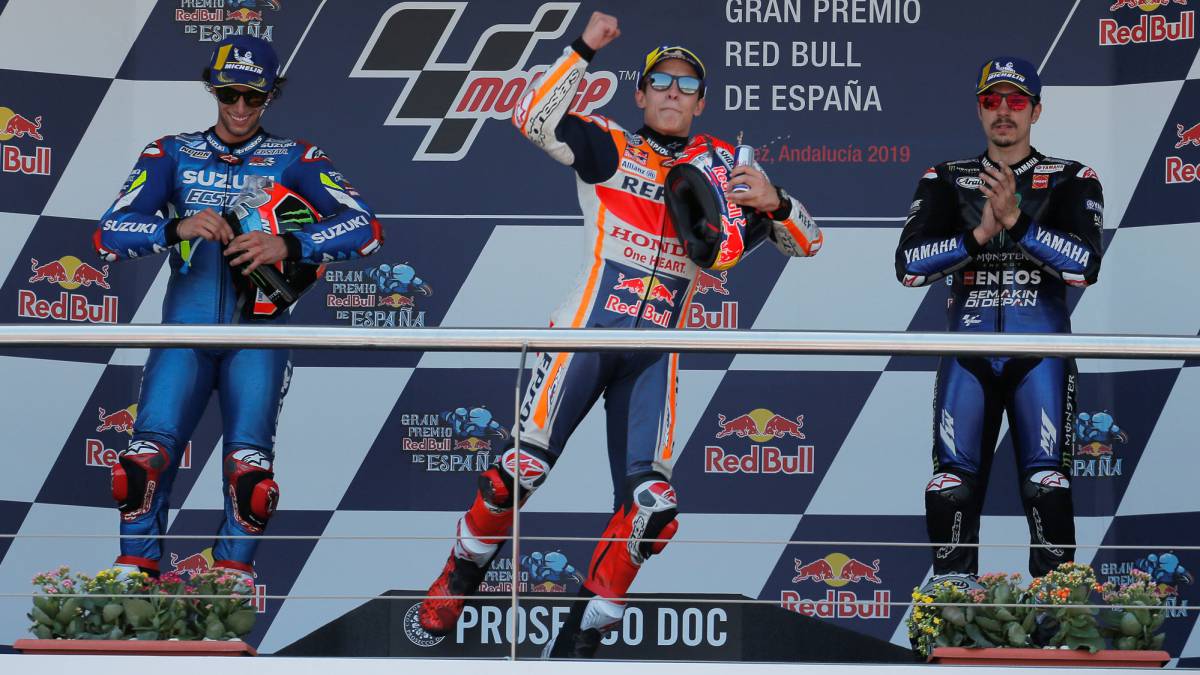 On October 14, 2012, Pedrosa, Lorenzo and Bautista gave Spain in the GP of Japan the first triplet in MotoGP. It was a historical milestone that has had continuity in time, rising the figure to 19 almost seven years after that first time at the Motegi circuit. The last one has arrived in Jerez, with Márquez, Rins and Maverick, who were the protagonists of the previous one and in the same order, in Holland 2018.
Chronology of the Spanish triplets in MotoGP 1. Japan 12 / Pedrosa / Lorenzo / Bautista 2. Texas 13 / Márquez / Pedrosa / Lorenzo 3. Spain 13 / Pedrosa / Márquez / Lorenzo 4. Catalonia 13 / Lorenzo / Pedrosa / Márquez 5. Indy 13 / Márquez / Pedrosa / Lorenzo 6. Czech Republic 13 / Márquez / Pedrosa / Lorenzo 7. England 13 / Lorenzo / Márquez / Pedrosa 8. San Marino 13 / Lorenzo / Márquez / Pedrosa 9. Malaysia 13 / Pedrosa / Márquez / Lorenzo 10. Japan 13 / Lorenzo / Márquez / Pedrosa 11. Valencia 13 / Lorenzo / Pedrosa / Márquez 12 Argentina 14 / Márquez / Pedrosa / Lorenzo 13. Germany 14 / Márquez / Pedrosa / Lorenzo 14. Valencia 15 / Lorenzo / Márquez / Pedrosa 15. Jerez 17 / Pedrosa / Márquez / Lorenzo 16. Czech Rep. 17 / Márquez / Pedrosa / Maverick 17. Aragón 17 / Márquez / Pedrosa / Lorenzo 18. Holland 18 / Márquez / Rins / Maverick 19. Spain 19 / Márquez / Rins / Maverick
Photos from as.com