INEOS showed off in Leeds and Lawless gave his first win
Chris Lawless won the Tour of Yorkshire overall after a lot of previous work from his teammates. First triumph as INEOS. Van Avermaet won the stage.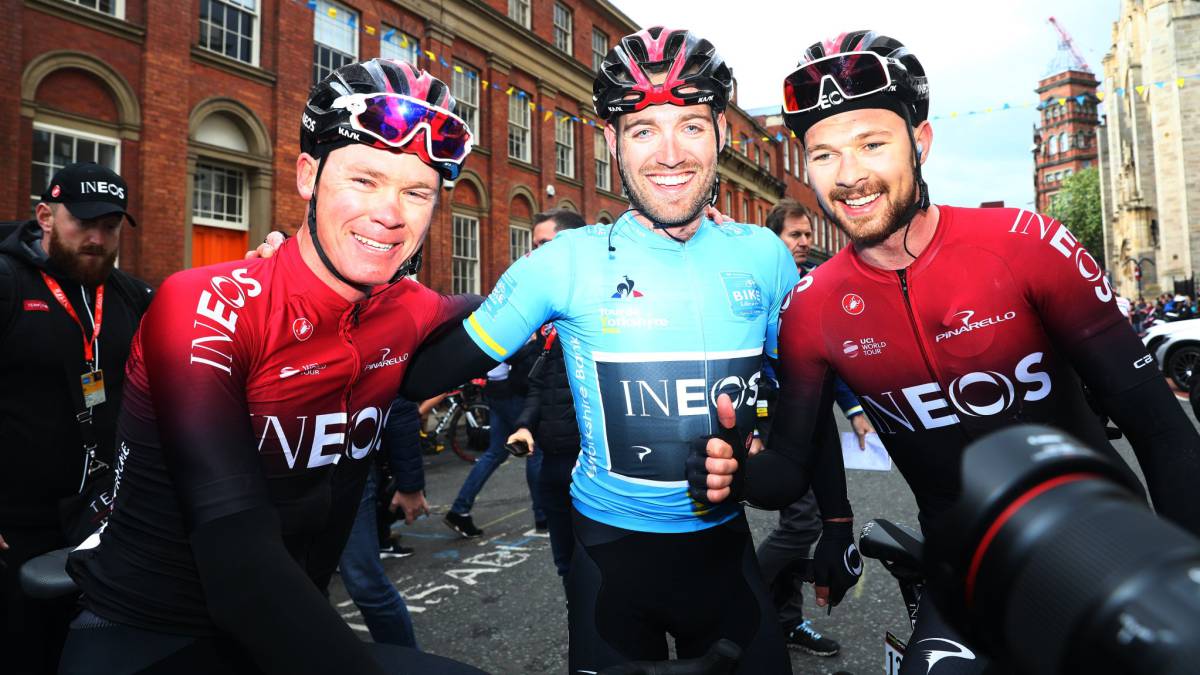 The INEOS plan went perfectly with the Yorkshire Tour. The old Sky presented its new name in one of the last tests before the Tour of Italy, in the United Kingdom and wanted to premiere with victory and mass bath. Except for the environmental protests against the petrochemical company, which were a constant during four stages, the rest went according to plan. They had to wait for Leeds, in the last stage, to get their first win, but Chris Lawless (Wigan, 23 years old) ended up winning the overall (they also won in teams) in a day to frame for the team. He sent in the platoon, dynamited the race and two were their runners were paired with Van Avermaet to share the joys. The Belgian won the stage with Lawless stuck, did not dispute him as he was worth the position to be the fifth winner of the test (in five editions and first English) .
The test had two parts very marked. With 175 kilometers ahead, two speeds were seen. A flight of nine, with the Spanish Julen Irizar (Euskadi Murias), left early. The Group was always controlled by the peloton and remained unchanged until Greenhow Hill (penultimate climb of the day). The breakaway began to disintegrate and the platoon, too. In the last one, Cote de Otley Chevin, he saw himself for the first time at Froome. The British changed the pace, broke the race and left the road paved to his partner, Eddie Dunbar, who was four seconds behind the lead and went for the head of the race. The responsibility behind was for the CCC of Van Avermaet, who accepted it. There were 20 kilometers left and everything was to be decided.
In the absence of 5 kilometers to go, the cyclists found a hard 800-meter steep slope, it was not scoring, but it was the final step. Van Avermet attacked and Lawless went to his wheel. INEOS had two tricks and played them. They soon joined Dunbar, who emptied himself until they saw four pursuers coming from behind. The Lawless pact was clear with Van Avermaet. Or strips or they hunt us. The Belgian entered the relay and victory had to be played between the three. The Olympic champion accelerated in the sprint, Lawless endured his wheel, but only sought to ensure and let the CCC celebrate. Leadership for one, stage for the other and everyone happy. Also the audience that vibrated with the first triumph of INEOS, and is that despite the protests, cheers and encouragement were many more than complaints. The old Sky triumphed before its public.
Photos from as.com