Ibaka: "It's the most important moment of my career"
The Hispanic-Congolese player plays his second NBA final after he lost in 2012 with the Thunder and also appeals to the hardness to stop the Warriors.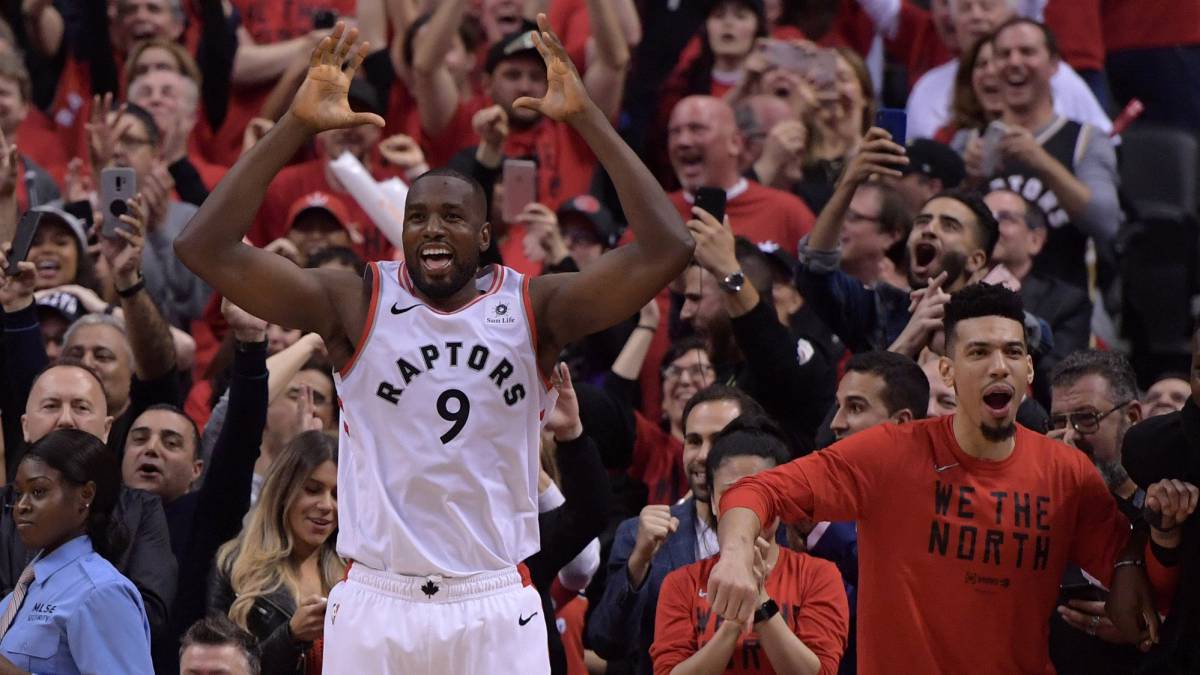 How does it feel to be able to play some Finals so much later?
For me it is the most important moment of my career. Being here seven years later reassures me. The Warriors have five straight and they make it seem easy to people, but I can assure you that it is not easy. Not even for them.
What feels to know that players like Marc or Lowry are going to be able to fight for their first ring?
It's great. Kyle has been in the NBA for seven years, Marc eleven ... And here they are for the first time. Is beautiful. I remember when we started working in summer for this season with great enthusiasm. So it's great for everyone to be here.
Will you advise the youngest of the team?
Claro. When a team reaches this stage of the season it's always good to have veterans who can talk to you on the court, tell you how to face this kind of matches. We have Kawhi and Danny (Green), who already know what it is to win a ring. It's a part of my job now and I'm going to do it.
What tactic do you have to follow against a team like the Warriors to secure these first two home games?
In defense we have to play very, very hard. The key is not to relax and not be afraid. Sometimes it happens that you face teams that you fear and that's when you start to get out of your plan. We can not do that. We have to go for them and work hard. They are going to score, because they are very good, but you have to put it very hard.
Where is the line that separates the respect for a rival like the Warriors and the saying 'here we are and we are going for you'? "
When you You respect a team as dangerous as they are because you know what they are capable of. You know how they play. They are the best attack of the last ten years, so this motivates us even more to try to stop them.
How do you prepare mentally to play some Finals?
You have to focus everything on the now. We can not think about how we got here because it is a different tie, with a different opponent and we know we will have our opportunities.
We have seen how his game has changed over the years, each time coming out more times out of the area. To what do you attribute that change?
I always try to improve because the way of playing changes every year. Whoever follows the NBA knows that the game is changing and I as a player can not stay anchored. I have to try to change little by little so as not to be left behind. Now you can see how almost any big man can shoot from the outside and go inside to defend. So I have to improve on this to be able to continue enjoying basketball.
Do you think Durant will play at some point in the final? Because it has been said that he was holding not to jeopardize the new contract he signed in summer.
I do not know if he will play because I do not know exactly how he is. But what I do know is that if he has a minimal opportunity to do so we will see him on the court. Kevin loves this sport, it's what he likes the most in the world. I've seen a couple of videos out there about what you were telling me and I'm sure it did not work out for you.
You were in the Thunder that lost a 3-1 lead in the Western finals against the Warriors. Marc and the Grizzlies were also eliminated in another conference final. Could this be an extra motivation for you?
I suppose a little yes. When you play against the best you want to win. And if they have been the ones who have thrown you then you still have more desire. So if we have an opportunity to beat them, we have to go for them. I say this from my own experience.
Is this the best team you've ever been in the NBA?
I do not know if it's the best, but it's different. It's a different NBA, in the last five years the style has changed a lot. I do not think it's something that can be compared. Those Thunder were also very good.
It's the first time that two Spanish players are going to play the NBA Finals. How do you see this aspect of the sport of our country?
The sports level of Spain is well reflected in this. In addition there is also Sergio (Scariolo) on the bench. I am sure that many people there are going to be aware of this final and for Spanish basketball this helps a lot and motivates the youngest ones who notice us.
Photos from as.com