"Abelardo has made an extraordinary season"
The former national coach has visited Vitoria to sponsor the 'Olivos solidarios' project. He also spoke about Valverde: "He is a coach who gives prestige to football."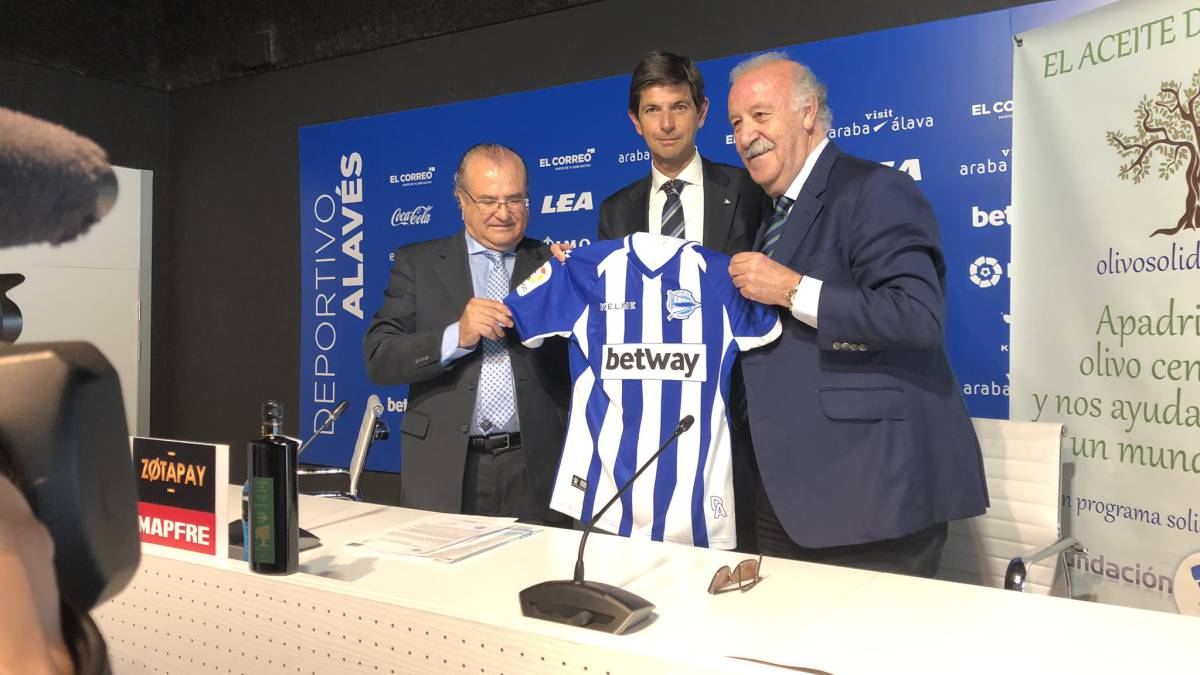 Paying 100 euros a year (or 150) you can sponsor an olive. The funds raised are allocated to several NGOs. Behind the initiative is the Lumiere Foundation and Vicente del Bosque is the sponsor of the initiative in Spain. Zidane is in France and Beckenbauer in Germany. Leganés and Alavés have already been involved in the program. There are 30,000 olive trees on a farm in Almagro (Ciudad Real) waiting to be sponsored by fans of the Vitoria club. The managers have already made the gesture with 30 of them.
Taking advantage of the passage through the Basque capital, Del Bosque analyzed the football news. The first thing he did was to ponder the work of Abelardo in the club of Vitoria. "It has made it extraordinary.If we look back, the difficulties that this club had last year and how it got back in. Watching Alavés without the nerves of staying in a day with as much tension as yesterday was fabulous. What happens is that the first round was very good but I think you have to admit the season as it has developed and it has been sensational.This is a sport with many emotions but that is what attracts people ", commented.
El marqués also He talked about Casillas' heart attack last week. "It seems that was an unforeseen episode but we are all on the edge of the razor. Look at Iker, in his physical plenitude, do not trust at all, even people who seem very calm can be doomed to scares like this," he added.
The hegemony of English football is, this year, unquestionable since the four finalists of Champions and Europa League are British. "For the results it is clear that things have changed, I remember that years ago they did not win a world title at the national level, since 1966. English teams have not been at the level of Spain in recent seasons, which has maintained A hegemony in continental football, expectations are always created and now the kids have forgotten the results and look at the signings. Madrid won three European titles recently and it seems that it has remained old, "he said.
Del Bosque He also spoke about the elimination of Barcelona in Champions at the hands of Liverpool and the voices that have questioned the figure of Ernesto Valverde. "From the club they have had a correct behavior and the truth is that he deserves it." He is a coach who gives prestige to soccer because he has always been moderate in victory and also in defeat ", he warned.
About the future Copa del Rey with professional teams but also with Second B, Third and even non-professional football, he warned that "I come from amateur football but I believe that the principle of equality must always be applied. That it does not benefit one or the other because it belongs to a category higher or lower ". He also commented on the ongoing war of statements between Javier Tebas and Luis Rubiales. "Everyone defends their interests but a anyone can think that they should be in the same tune," he said. Finally, he referred to the first year of implementation of the VAR. "There have been mistakes but believe that it is a necessary tool since we do not have to turn our back on the advances that we have in this society," he concluded.
Photos from as.com