Embiid, sunk: "It's disgusting, I do not care about the Process"
The Cameroonian thanked Marc Gasol to go to console him after the defeat: "He told me that I will overcome situations like this in my career."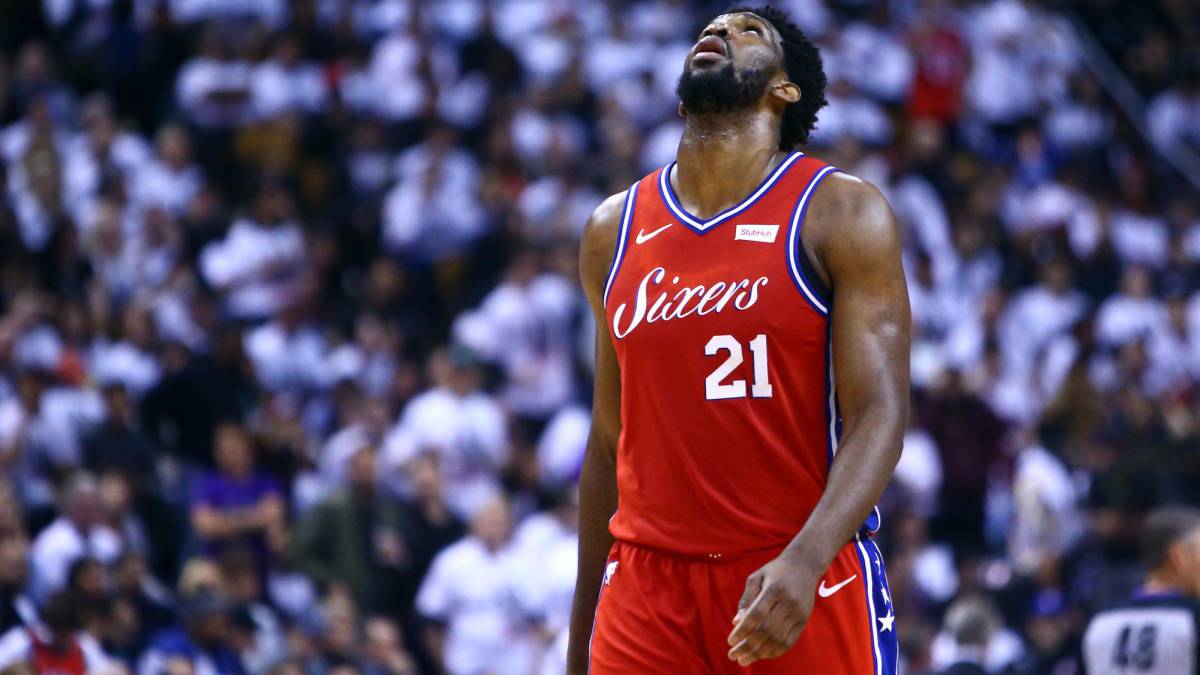 Joel Embiid is 25 and already one of the most dominant players in the NBA. All Star in the last two seasons, the thorn that has returned to nail in a race that still has the best ahead is a defeat in the playoffs too early. In 2018 his team fell in the second round against Celtics plagued by low because, above all, accumulated sins of youth and inexperience. Now, after eliminating the Nets, came alive against the rocky Raptors to the last play of the seventh, but there he shot them an impossible shot that bounced four times in the ring of Kawhi Leonard.
The player who tried to stop that shot, the first buzzer beater winner in a seventh game, it was an Embiid that ended up broken, crying inconsolably and consoled by Marc Gasol, who has made life very difficult for a player who was dragging knee problems when he reached the playoffs and then it has also passed by a viral process. However, has been the best player of a few Sixers without relay for him: in this seventh game, Greg Monroe played two minutes and ended with a -9.
"Losing like that, with that shot ... after such a hard battle ... ", he said after the match, still very affected," I felt we could win, so many things went through my mind ... It's a disgust ... I can not explain it, now, I do not know ... It's disgusting ... ".
Embiid had words of thanks for the gesture of sportsmanship of the much older Marc Gasol: "He came to talk to me because he wanted me to know ... he tried to tell me that I would do well, that I would overcome moments like that and go further in my career " And he did not want to talk about the Process, the name with which his Sixers are known, created through years of industrialized tanking and designed to take on players like him and Ben Simmons: " I do not know, right now I do not give a fuck Process ".
When the next season starts, the Sixers can be a very different team. They end up contracting three of their starters (JJ Redick, Tobias Harris and Jimmy Butler) and their coach Brett Brown is in a delicate position as some information suggested that he would not remain on the team if they were not able to eliminate the Raptors. After such a tough defeat, he did not want to focus on his personal situation: "In the franchise they can answer about it, what I think is that this group of players has been joining together, finding the necessary cohesion. Our quintet is as good as any the whole NBA, and I think we have to try to keep it together as much as possible. But that's not my job, what you have to do is try to have a deeper bench without losing the strength of our quintet. "
Con the transfers during the season and the injuries, that quintet (Simmons-Redick-Butler-Harris-Embiid) has only played 21 games, and Ben Simmons believes it would be a pity not to see how far they are able to go: "We could not To play a lot together but there is a lot of potential there. In the last months we have grown a lot, I am proud ".
Photos from as.com