Conchita Martínez: "Nadal and Djokovic reach a point above Roland Garros"
In an interview with EFE, the former tennis player analyzed the expectations of the Parisian major in the men's box and the options of his pupil, Karolina Pliskova, after winning in Rome.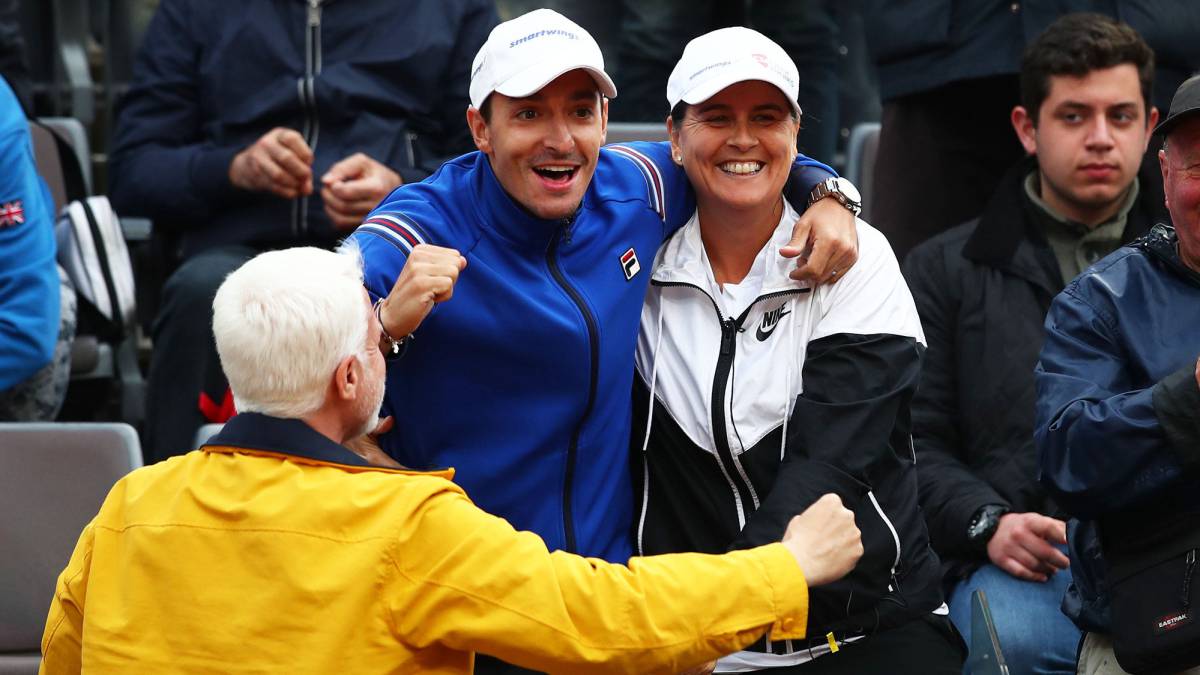 Conchita Martínez played in 2000 the Roland Garros final, the second Grand Slam of the season that starts this Sunday.
In this edition, the player she trains, the Czech Karolina Pliskova, lands in Paris with the title of Rome under the arm.
Animated by this victory, and because her pupil appears second in the two world lists, the one of the WTA and the Race to Shenzhen (Masters), Conchita trusts the possibilities of Pliskova, but is aware that in the female circuit "everything is more open than in the male, where Rafael Nadal and Novak Djokovic are one dot above the others" .
In Paris, Conchita is also part of the team of Eurosport tennis experts together with Alex Corretja, Mats Wilander or Boris Becker. The chain plans to broadcast more than 250 hours live from the unofficial world tennis on clay.
- After her success in Rome, Karolina Pliskova appears as second in the race to Shenzen and logically is one of the favorites this year at Roland Garros. Is it an added pressure?
- Is the two in both classifications and that means that all the hard work is giving its results. The Rome thing has been a little surprise because it did not arrive in the best conditions after physical problems that it had from Miami. But in Rome has recovered feelings and now what you have to do is enjoy Paris, the moment and the confidence gained.
The pressures must be left out. You have to try to play the way you have played in Rome, wearing a very positive tennis. If she plays without pressure she is a great player capable of winning anyone.
- Recently Pliskova has said that she is now more patient. What part of guilt does Conchita have in that?
- I try to advise her in the best possible way. As a player I liked to work the point. And she is now at a mid-point, because she is neither the most sticky nor the most defensive of the circuit. You have to find a balance and build the point in an aggressive way, but do not rush too much, with margin, and that's difficult for the players to understand.
- This year very few players have been able to win two tournaments, does it mean that Roland Garros Is it more open than ever?
- It's reality. The female circuit is very open. There are many who can do it very well, and we have seen different winners. What you have to find is the stability and consistency in the tournaments and I'm transferring that to Karolina. It would be difficult to bet on a player this year in Paris, but if she continues playing as she has done in Rome, it can be.
- Who are the favorites then?
R. It is difficult to choose a player. In the male box you see it clearer. In the female, being the best of three sets is very open. Halep is a good asset, because she is a clay player who can find her most aggressive game and her patience does a lot of damage on this surface.
Karolina, if she plays in this way, she has good chances without being the land her favorite surface . We must also mention Petra Kvitova, without forgetting Garbiñe, who at any time with his potential can turn his results this year.
- Six years after his triumph at Wimbledon, you were a finalist in Paris in 2000. What do you remember of that final against Mary Pierce?
- Sadly I remember. They are sensations that come to you over time and what I remember is that I did not give everything I could have given of myself in that final. I feel a little sad that I have not been able to react before. But then, over time, you feel joy, because to lose a final you have to get there, and then you have to keep growing as a tennis player. It was a very important result, but I would have liked to do better.
- In the men's box, what will happen? Can there be surprise?
- I do not dare say who can beat Rafa to five sets, just maybe Djokovic. There are great players and we are seeing it during the season. And there are young people like the Canadian Felix Auger-Aliassime. But in a Grand Slam, the best of five sets and on clay, it will be very complicated to have surprise.
Zverev has had difficult times to develop his best tennis. Thiem in some tournaments has done well. There are also young players pushing hard, but at the best of five there are few surprises. Rafa and Djokovic I see a dot above the others. And, of course, Federer, but also with age it's hard for you to recover more. Roger can go far, but to win seven games andtwo weeks I would bet more for Rafa and for Djokovic.
- Winning in Rome must have been a great boost of morals for Nadal. Does it arrive at the right time?
- Little by little he has been making a progression and he was waiting for it. In Rome he has played in a forceful way. The problem is that we always ask him to win the tournaments, but he has great faith in himself. In the gym in Rome I met him and said "I really like your clothes", "me too", he replied, "but I do not win a tournament!" He told me, and he told me that in Paris he would not play with the same (laughs) .
Photos from as.com