Cerezo: "I'm disappointed ..."
The president of Atlético de Madrid, for SER: "I do not know the reasons why he has decided to leave". And in RNE he said: "If I sign a contract, what you have to do is fulfill it."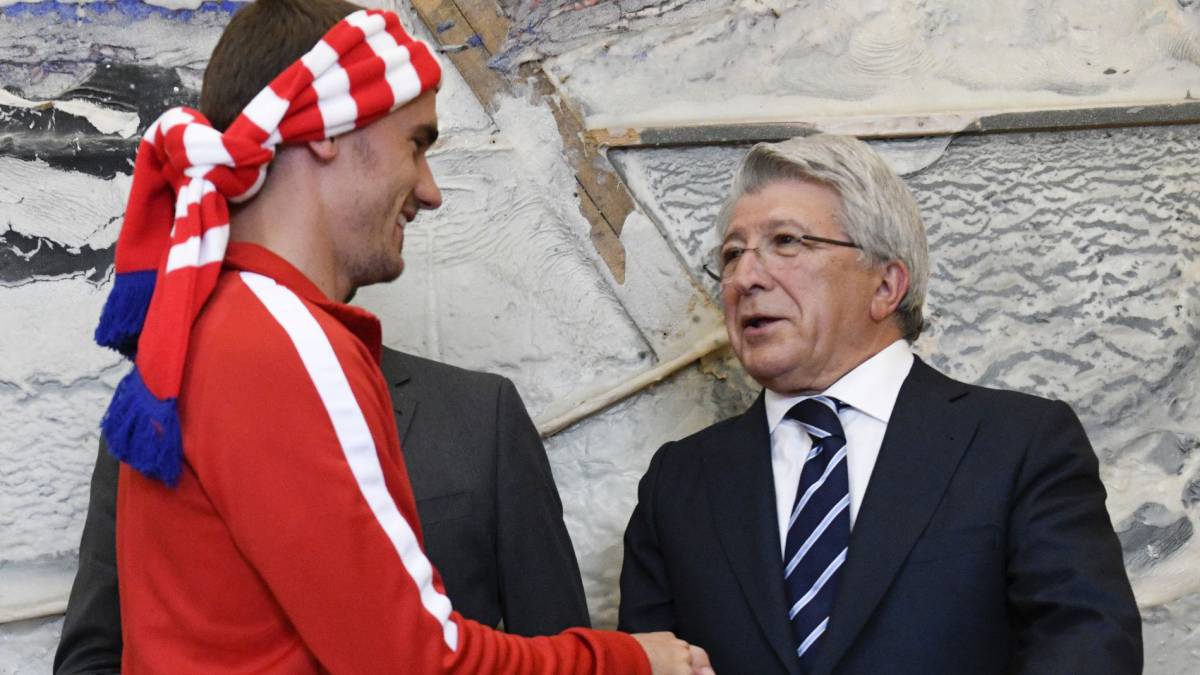 Enrique Cerezo gave explanations of the march of Griezmann in the microphones of El Larguero of SER: "I found out by Miguel Ángel Gil Marín I have not spoken with Griezmann and I did not expect this Ni I know the reasons why he has decided to leave" . The president of Atlético showed his disappointment with the frightened of the Frenchman: "I do not know where he is going or what interests me, once he leaves I do not care either he goes to Barça or outside of Spain. Disappointed? Yes I think that when you make an effort to keep a player and tell you to leave because he disappoints. " Cerezo added in the Manu Carreño program that if it were Cholo it would be different: "In my opinion, yes, of course I would be more concerned if Simeone were to leave, now it will be a question of bringing the signings that have to be done and continuing" .
Enrique Cerezo also spoke for Fox Sports of Griezmann's situation. The president of the club rojiblanco was hurt with the exit, but acknowledged that he does not feel angry with the French player, who on Tuesday communicated to Miguel Ángel Gil Marín, Simeone and Andrea Berta who left the team, which will pay its clause, but did not say his destiny: "More than angry, I am disappointed, I think Antoine had a great future at Atlético, with great titles and great championships. The problem is that each person thinks differently, we respect his decision, I and all the athletes. the fate of the world One will leave and others will come.I do not have the lightest of where he will play, ask him.The player will go anywhere. "
Crerezo continued in the Central FOX program:" It has been a surprise. If I had been his counselor I would have told him to continue here, life is free and everyone does what they consider appropriate. "
El presidente del Atlético of Madrid also spoke on Radiogaceta de los Deportes, of RNE: "I only hope that you continue to treat him as we have treated you here. Money has made evil in football. If I sign a contract, what you have to do is fulfill it. The contracts are not fulfilled, but not only with us, all over the world ".
Y sent a reassuring message: " The situation is what it is. At least he has said it with time. You have to wish him luck, that he does very well, and that he has the correction that has been given to him in Atlético and by the fans. A the people of the Atletico de Madrid that are very calm, that is not the first time that happens and will continue to happen. "
Reinforcements
A Enrique Cerezo asked him about the possible reinforcements of Atlético de Madrid, one of which is being rumored is the Inter Milan striker Mauro Icardi, although he dodged saying: "At this moment we are not thinking. I have not spoken to Simeone, but what the míster díga will be in first term. It is one thing to be disappointed and another to be angry. Griezmann will be well or badly advised ... it will be a matter of him ", added the Spanish leader.
Simeone and Argentina
In the closing of the interview, Enrique Cerezo spoke about the possibility of Cholo Simeone directing the Argentine national team: " As every Argentine, he hopes to one day be in the Argentine national team. The day I'm there, I'll be at the stadium celebrating with the Argentines ".
Photos from as.com