Carvajal presents its campus: "It's a pride to be from Leganés"
The Real Madrid defender has referred again to the whistles he receives from some of his countrymen: "All opinions are respectable."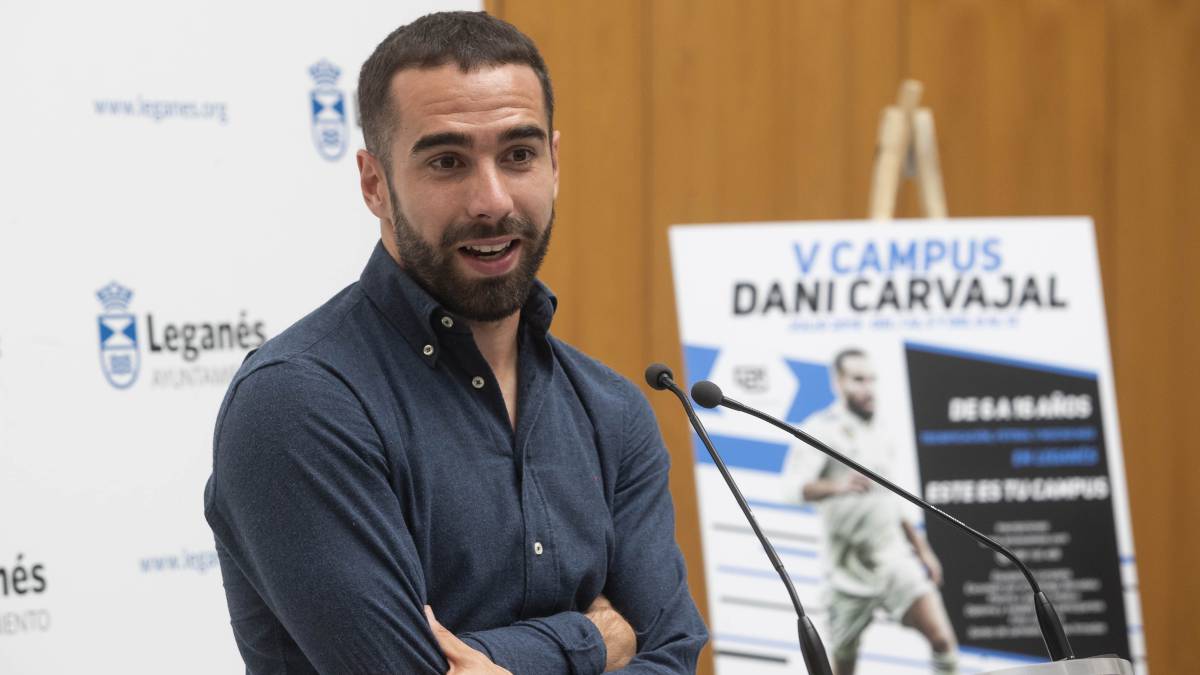 Dani Carvajal, right side of Real Madrid (27 years) has presented on Wednesday the V edition of its campus, the 'Campus Dani Carvajal'. It will be held in two phases (July 1-5, July 8-12) in Leganés, his city, that receives him in a strange dichotomy. Sometimes loved. Sometimes hated. The defender, who declined to talk about the team's sports situation, has defended himself from the whistles that, when he plays in Butarque, he receives part of the pepinera fans for an incident of his time in Castilla.
He has done it unexpectedly dragged by Santiago Llorente, the mayor of the town, who, in the initial speech that has taken place in the City, wanted to throw a cloak to his countryman. "I would like to make a request to the Leganenses, every time that Real Madrid comes to Butarque, there are neighbors who insist on calling Dani Carvajal. I would like to ask our neighbors a little affection for a fantastic sportsman like him. He is an example for all: Adults and children ", said Llorente.
A barely started talking, in the face of Carvajal, who is the favorite son of Leganés, he has drawn an unexpected smile. "Of this it did not touch to speak", it seemed to say the gesture. But he has not wrinkled and just picked up the micro, he thanked the mayor his gesture.
"We must respect the views of all, but it is true that Leganés take as far as I can. All the places I can, I put it on top, it's the best city in the world, I feel very proud to have lived here, that my roots are from Leganés, that's how it will always be, "said a Carvajal who has confessed that is chopped with Nacho by the divisions that occupy their cities in Spanish football.
"With Nacho I spike and tell him to see when his Alcala [now in Third], which is from there," has joked.
Carvajal has taken the opportunity to compliment the season of Leganés. "It is to take off the hat, teams like Celta or Villarreal that have very good squads have been struggling in the last few days to save themselves and Leganés, however, they have had it calm, it has been a great season", he concluded before cheering , again, to the children to sign up to their campus so it can be the experience for the kids.
"When I was a boy I went to the Plaza Inmaculada, which I would catch near the house, and that was where Victor Fernández from Villarreal, Valladolid, Tenerife ...] Your family is also from the neighborhood, I was astonished to see it, to bring the children of the city to be with a Real Madrid player, to be seen as an idol or a mirror, is something to be proud, just for your excitement, it's worth it ", concluded the defender, who like every year will personally participate in the campus with his presence in one of the days. Registration can be done at www.smceventos.com.
Photos from as.com